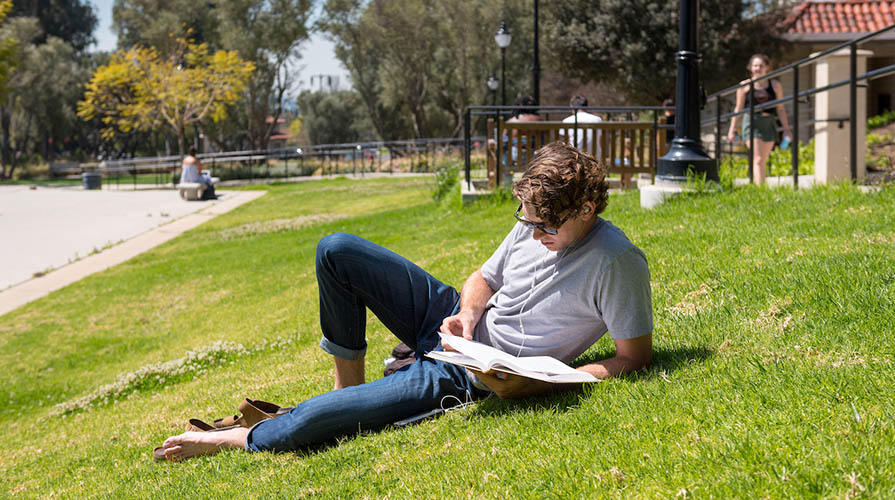 The economics department provides mentorship and academic support to help students achieve their goals.
Seeking academic support? Meet with your professor in office hours or visit the economics peer tutors.
Curious about awards and honors for economics students? See award descriptions below.
| Professor | Teaching and Research Areas | Office | Office Hours (Fall 2021) |
| --- | --- | --- | --- |
| Bevin Ashenmiller | Environment, Recycling, Energy, and Climate Policy | Fowler 224 | On sabbatical leave |
| Lesley Chiou | Industrial Organization, Information and Technology, and Arts & Media Markets  | Fowler 221 | M 1:30-2:55pm, Tu 3:05-4pm, Th 11:35am-noon |
| Daron Djerdjian | Trade, Political Economy, Development, and Austrian Economics | Fowler 413 | MWF 12:30-1:55pm |
| Jorgen Harris | Labor and Economics of the Family | Fowler 208 | On sabbatical leave |
| Andrew Jalil | Macroeconomics, Economic History, Financial Crises, and the Great Depression | Fowler 215 | M 3:30-4:30pm & W 2:30-3:30 (Fowler 215). Additional rotating office hours each week are posted here: https://www.oxy.edu/academics/faculty/andrew-jalil |
| Brandon Lehr | Microeconomic Theory, Public Economics, and Behavioral Economics | Fowler 217 | On sabbatical leave |
| Mary Lopez | Labor, Immigration, Race, Gender, and Poverty | Fowler 214 | T 10:30-11:30am, W 3:45-4:45pm, Th 4:45-5:45pm |
| Jesse Mora | International Trade, Development, and Applied Microeconomics | Fowler 222 | T 1:30-3:00pm (Fowler 222) & Th 11:30am-1:00 pm (Mosher 2) |
| Diana Ngo | Applied Microeconomics, Development, and Health | Fowler 213 | T 3:00-4:00pm on Zoom, W 1:00-2:30pm in person, Th 1:00-1:30pm on Zoom. Zoom: https://occidental.zoom.us/j/86524266575 (Passcode: ngo) |
| Daryl Ono | Accounting and Corporate Finance | Fowler 206 | T/Th 8am-8:30am |
| Victoria Umanskaya | Environmental & Resource Economics and International Trade | Fowler 412 | M 11:45am-1:45pm & W 11:40am-12:40pm |
| Kevin M. Williams | Education, Applied Econometrics, Data Science, and Labor  | Fowler 225 | T 3-4:30pm & Th 10:15am-12:00pm |
| Jason Wong | Aviation and Regional Economies, Environmental Economics, Development Policy, and the Economics of Language | Fowler 223 | T 4-5:30pm & Th 11:30am-1pm |
The economics department recognizes its majors with a number of awards each year:
Bennett W. Schwartz Award. This award is given to a graduating senior majoring in Economics who is deemed outstanding and best in his or her class by the department faculty.
Outstanding Junior Award. This award recognizes juniors who have distinguished themselves for outstanding academic achievement and potential. (Note: For the purpose of this award, "juniors" are students we expect to graduate in the academic year following the one when we consider them for the award.)
Jim Halstead Award. This award recognizes an Economics major (in any class) for outstanding contributions to helping others learn economics. The Department faculty selects the winner from a pool of candidates nominated by Oxy students who have taken classes in Economics.
Betty Tracy Award. This award is given to an Economics major (in any class) for outstanding service to the Department.
Robert L. Moore Award. This award recognizes the honors thesis that the department faculty judge to be of the highest quality among those awarded College Honors.
College Honors. Seniors may receive College Honors through excellent performance throughout the major, including their performance on their senior comprehensives, and approval of the department. To be considered for admission to the Honors Program, students must have achieved a grade point average of 3.5 or higher both in Economics and overall by the end of their junior year.
Departmental Letter of Commendation. Seniors who do not receive College Honors will be considered for this recognition if they have achieved a grade point average of 3.5 or higher both in Economics and overall.
"Pass with Distinction" on the Senior Comprehensives. Seniors will be considered for this recognition if they receive a grade of A- or above in their Senior Seminar or Senior Thesis (Economics 495 or 490).
Selection for membership in Omicron Delta Epsilon, the international honor society for Economics. Seniors will be eligible for selection if their academic standing is in the upper one-third of the class of graduating Economics majors.