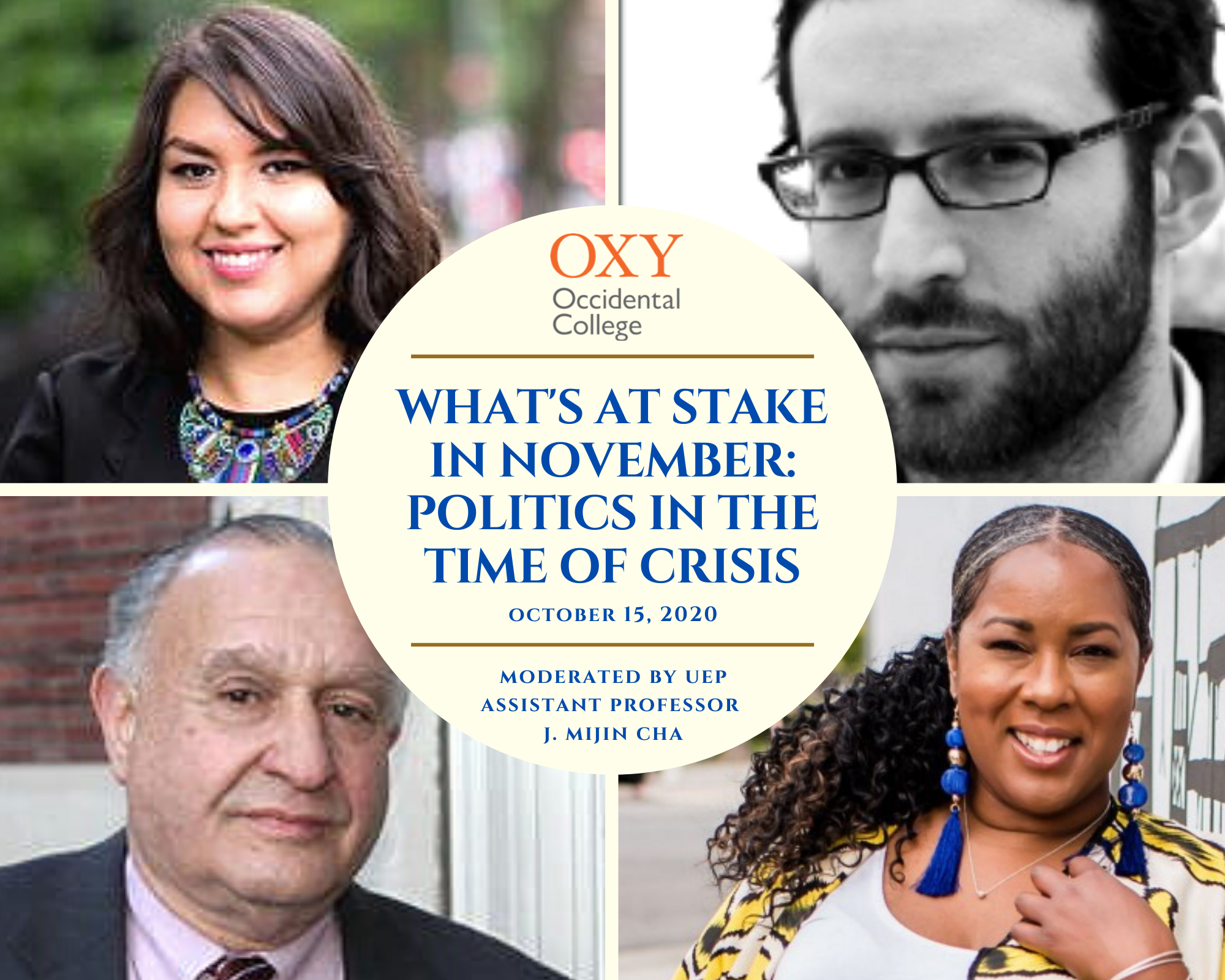 A recorded webinar with expert panelists discussing "What's at Stake in November: Politics in the time of crisis" moderated by UEP Assistant Professor J. Mijin Cha.
Click here for the recorded webinar. 
Passcode: g2c&&1S=
The Presidential election comes at a time when several crises are converging. Record-breaking temperatures, devastating wildfires, and extreme weather events show the climate crisis is unfolding. Widespread protests continue in the wake of a summer of racial unrest ignited by police killings of Black people. Thousands of people are still dying from coronavirus as unemployment and eviction crisis looms on the horizon. What does this mean for what's at stake in November? This panel brings together experts to discuss these crises and the role of the Presidential election in paving a path forward. 
Moderated by UEP Assistant Professor J. Mijin Cha. 

Panelists
Lupe Victoria Aguirre is a Bertha Justice Fellow at the Center for Constitutional Rights. At the Center for Constitutional Rights, she continues to advocate for immigrant rights and racial justice by challenging government misconduct, abusive immigration practices, and mass incarceration. Lupe was a first generation college student and holds a B.A. from UCLA and a J.D. from UC Berkeley School of Law.

Daniel Aldana Cohen is an assistant professor of sociology at the University of Pennsylvania, where he directs the Socio-Spatial Climate Collaborative, or (SC)2. Cohen led the research for the Green New Deal for Public Housing Act, as proposed by Rep. Ocasio-Cortez and Sen. Sanders. He is the co-author of A Planet to Win: Why We Need a Green New Deal. His research and writing on climate politics in São Paulo, New York, and elsewhere have appeared in Nature, Public Culture, The International Journal of Urban and Regional Research, NACLA Report on the Americas, City, The Guardian, The Nation, Dissent, and elsewhere.

Miles Rapoport is currently the Senior Practice Fellow in American Democracy at the Ash Center of the Harvard Kennedy School of Government. He served in the Connecticut legislature representing West Hartford from 1984-1994, and as Connecticut's Secretary of the State from 1995-1998. He also served as President of Demos, a public policy center in New York City, and as national President of Common Cause.

Nicole D. Vick has spent the last fifteen years providing tools and strategies to stakeholders, community-based organizations, and residents to improve health and prevent disease in some of Los Angeles County's most underserved communities. She is currently an adjunct professor in the Urban & Environmental Policy and Public Health departments at Occidental College. Ms. Vick serves on three boards which are the Physicians for Social Responsibility Los Angeles, Public Health Advocates and Esperanza Community Housing. 

Co-sponsored by the Urban & Environmental Policy and American Studies departments.