All students are required to submit a Graduation Application in order to earn their degree.
Students that have earned at least 70 units and are currently enrolled at Oxy are eligible to submit the Graduation Application. Students should be in touch with their academic adviser before submitting their application as you will need to specify when you expect to complete your degree.
The graduation application becomes available in MyOxy once a student has earned 70 units.
MyOxy > Academics > My Academic Records > SSB Section > Apply to Graduate
You will then be taken to this page where you will select "Term Selection"

Select the current term from the drop down list.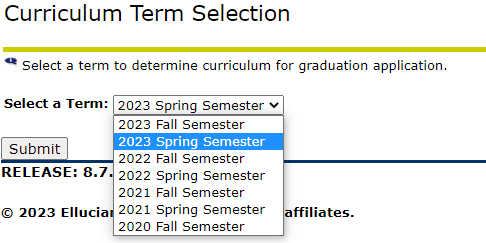 Select "Current Program" and then click "Continue"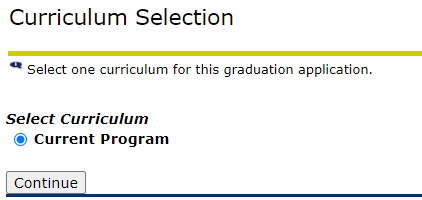 Select your expected graduation date from the drop down list. If your expected graduation date is not on this list (i.e. it is after the latest date listed), you will submit your graduation application with the next class.
Indicate whether you plan on attending the Spring Commencement ceremony. This decision is not final. Our office will send out a survey in April to all eligible students that have submitted the Graduation Application to confirm your attendance.
Note: Oxy only has one commencement ceremony, held every May, for those students who completed their degree since the previous ceremony.
The next page is where you will indicate the name that will be used on your diploma. This name is also what will be printed in the Commencement program that is shared with all attendees at the graduation ceremony.
Select New if you want to change the name that is displayed. The name requested must be associated with a name currently on your student record.
Select Current Name if you want to select the name that is displayed or make minor changes (e.g., abbreviations, hyphenations, accents, etc.).

Note: There are graduate programs, particularly those that are abroad, and government positions that may require a copy of your diploma along with your academic transcript for the selection process. If this is something that you are considering, it may be important for your names to match on the various documents that you will need to submit. The academic transcript will need to show your legal name.
     8. Review the information you have entered and submit your request
Once your application is submitted, our office will conduct an initial review of your record using your Degree Works audit in order to determine if your expected graduation date is realistic. Any administrative issues (e.g., Course Substitutions, transfer credit, study abroad, petitions, minor declarations, minor drops, etc.) should be resolved ASAP.
A second review of your record will be conducted once you have registered in the courses you will take during your last semester at Oxy. Our office will be in touch if any issues arise to provide you with questions or instructions on next steps.
Our office cannot clear you to graduate or participate in the Commencement Ceremony with any missing requirements noted on your audit. Therefore, you should start to resolve these now.
Once a graduation application is submitted, any changes to your expected graduation date will need to be filed in writing with the Registrar's Office. We recommend speaking to a Registrar Office staff member before making this request as this change can affect your participation in the Commencement Ceremony.
Once your graduation application is submitted, students may change their diploma name for a period of time. Once the Commencement Survey is completed in April, no further changes can be made. The information that is submitted and confirmed by you in this survey is what is submitted to the printers for both the diploma and the Commencement program.
If you have legally changed your name, you will need to bring in the original copies of your paperwork for us to process the change. We will then make copies of your paperwork and update your name throughout the system.
If you would like to abbreviate or expand an abbreviation, you can either stop into the office to make the request or email us at registrar@oxy.edu.
If you will be adding a middle or last name that we do not have a record of, we will need you to bring some form of government issued ID in order to update your record.