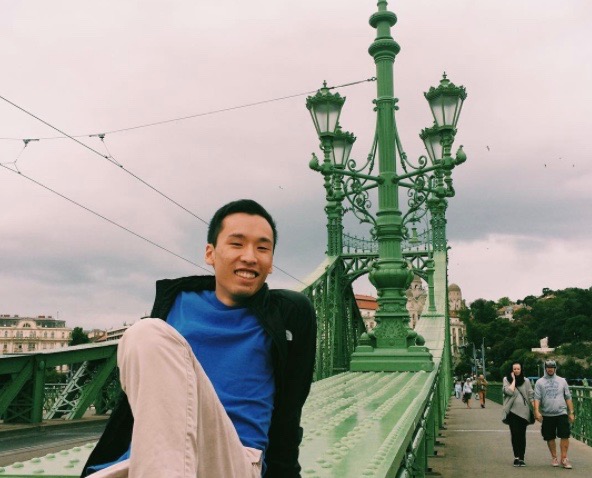 Hey Oxy, it's me Matt! Where am I currently writing this, you may be wondering? Marketplace? Green Bean? The Clapp?
Though all excellent places for blog writing, I'm actually sitting by the Danube river in Budapest, Hungary! What?? No, I didn't decide to jet across the world for a weekend, I decided to jet across the world for a semester. That's right people, I'm studying abroad in the beautiful city of Budapest. Now, if you're a prospective student, or even a current tiger, wondering if you should apply to go abroad, KEEP READING. Don't worry, I'm not going to go on some fake tangent about how life changing abroad is for me, but I'm going to try and keep it as real as possible.
Before leaving for the semester, I constantly would get that one question -- why Budapest? To be honest, I tried to come up with some super academic answer - I was thinking of writing about right wing European politics for my comps, or I wanted to research and compare the daily lives of Hungarians and Americans considering we currently have very similar people in power. But in all honestly, I chose Budapest because I had heard only great things about the city, and it is pretty centrally located in Europe. I did, however, want a place in Europe that wasn't too similar to American culture, so that pretty much crossed off most of Western Europe. In regards to choosing a place to study, I think my one main piece of advice would be to choose a place where you are genuinely excited about going. Yes, you do have the ability to travel often, but you are going to be spending a majority of your time in your study destination, so make sure it is somewhere you can see yourself living for four months!
Ok, I know some people are thinking, "We get it Matt, but what's it actually like to study abroad?" Personally, I love it. Studying abroad is an opportunity that doesn't come around very often. I mean, when are you ever going to be able to put your life on hold for a few months, travel around the world, and come back to the way it was. Probably...never? I was on the fence for a while about studying abroad, but that realization made it a clear choice. Budapest itself is an amazing city. I've seen some amazing architecture, eaten GREAT food, and spoke to some really cool people; all the things you would expect. My program went on this excursion to rural Hungary where we got to join in on the Harvest Festival with a local village. We tried some pretty interesting food, attempted to speak in Hungarian (they don't speak English at all), and sampled pálinka shots.
I just came back from another excursion with my program to Transylvania, Romania, where we ate THE BEST home cooked meals I've had in awhile and got to ride in horse-drawn carriages into the Romanian countryside. This brings me to my next piece of advice: take advantage of the program excursions. I know to some people it's annoying to have to follow the rules of the program when you're travelling, but the program excursions give you the opportunity to do things you never would be able to do travelling alone. I never would have thought to even go to Transylvania in the first place (fun fact: it's a region bigger than Hungary) let alone go on a horse ride to a buffalo farm.
Going abroad is definitely a huge culture change, but that's the reason we go right? I will say, studying in a new country has given me a new appreciation for home and studying at Oxy. Just in the past few months, I have learned to appreciate my Oxy education in a way I never would have had I not studied in a completely new and foreign place. So I guess what I'm trying to say is, yes you should for sure at least consider going abroad. Even if you get homesick, there are going to be plenty of friends studying near you, and it is super easy to meet up, and see some familiar faces. Even if it's at a big event like Oktoberfest, people from school you never really hung out with will embrace you with open arms because hey, we all need to see a familiar face every once in awhile. Okay, now I have to go pack because I'm headed to Poland in a few hours, but I hope this blog helped with your decision on abroad, or maybe at least just put a smile on your face.
Signing off from Budapest,
Matt Hao