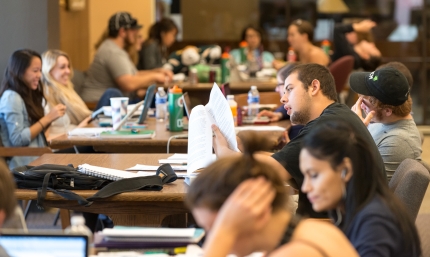 Although I have been avoiding it, that time of year has come back. Between post-Thanksgiving-food coma and pre-snow-and-ski-all-day coma is the wake up call we've all been dreading: finals. Talk in the Green Bean circulates around dread and the need for coffee due to lack of sleep. In the library, students start staking out study spots that they won't leave for hours on end. And in the classrooms, Professors urge us not to worry because we've all been studying for a while...right?
Alas, finals are an inevitable part of the college experience. I remember my first semester last year, I stayed up till 3 A.M studying nightly and called home multiple times freaking out (sorry mom, and thanks for the care package). It didn't take me long to realize that this wasn't the best way to be studying, or the most healthy. Also, my coffee addiction definitely didn't get any better during that week and a half. But now as a wise and learned Sophomore, I think I have figured out finals, and more importantly figured out Oxy finals.
First, find a place to study! During finals, the library gets packed and is too crowded for me. I prefer to study in an academic building like Johnson Hall. The white board walls are great for writing notes or doing problems, or even scribbling down motivational quotes. There are tall tables, rolling desk chairs, and comfy couches for whatever you may need. Also handy: all rooms have projectors so you can display your notes on the big screen as you test yourself.
Second, get snacks! And no, I don't mean pop tarts, hot cheetos, and coffee. It is important to fuel your body with healthy and substantive food. Put good in, get good out right? The Marketplace and Cooler both have healthy AND yummy options (see prior blog posts for more). Right now the Marketplace is ranked 2nd in the country for Vegan and Vegetarian options, and let me tell you, Meatless Monday has some of the best food on this campus. As well as a huge fresh fruit selection, both the Marketplace and Cooler boast a great selection of nutrition bars, trail mixes, pressed juice, and other things to keep you full and focused.
And third, please sleep. Often times, we college kids forget that sleep is really, really important. I know sometimes it's hard to get enough sleep. Right now, I am dreading tonight because I have to create a ten minute long presentation and I haven't started...and it's due tomorrow. Don't be like me, prioritize! If you know you have a final on Monday, Tuesday, and Friday, don't wait till Sunday to start studying. You will be super tired, and then you won't be able to study well for the Tuesday final. The great thing about Oxy, is we get a lot of reading days, and then have time in between finals. So use the time! And if you are feeling stressed but don't want to nap, go visit the OSRL and get a back massage and pet some puppies or bunnies. I promise it's just as good as it sounds.
So don't worry fellow Oxy students, or prospective Oxy students, finals really aren't that bad. With a good space, plenty of food and plenty of sleep, you can totally conquer finals.