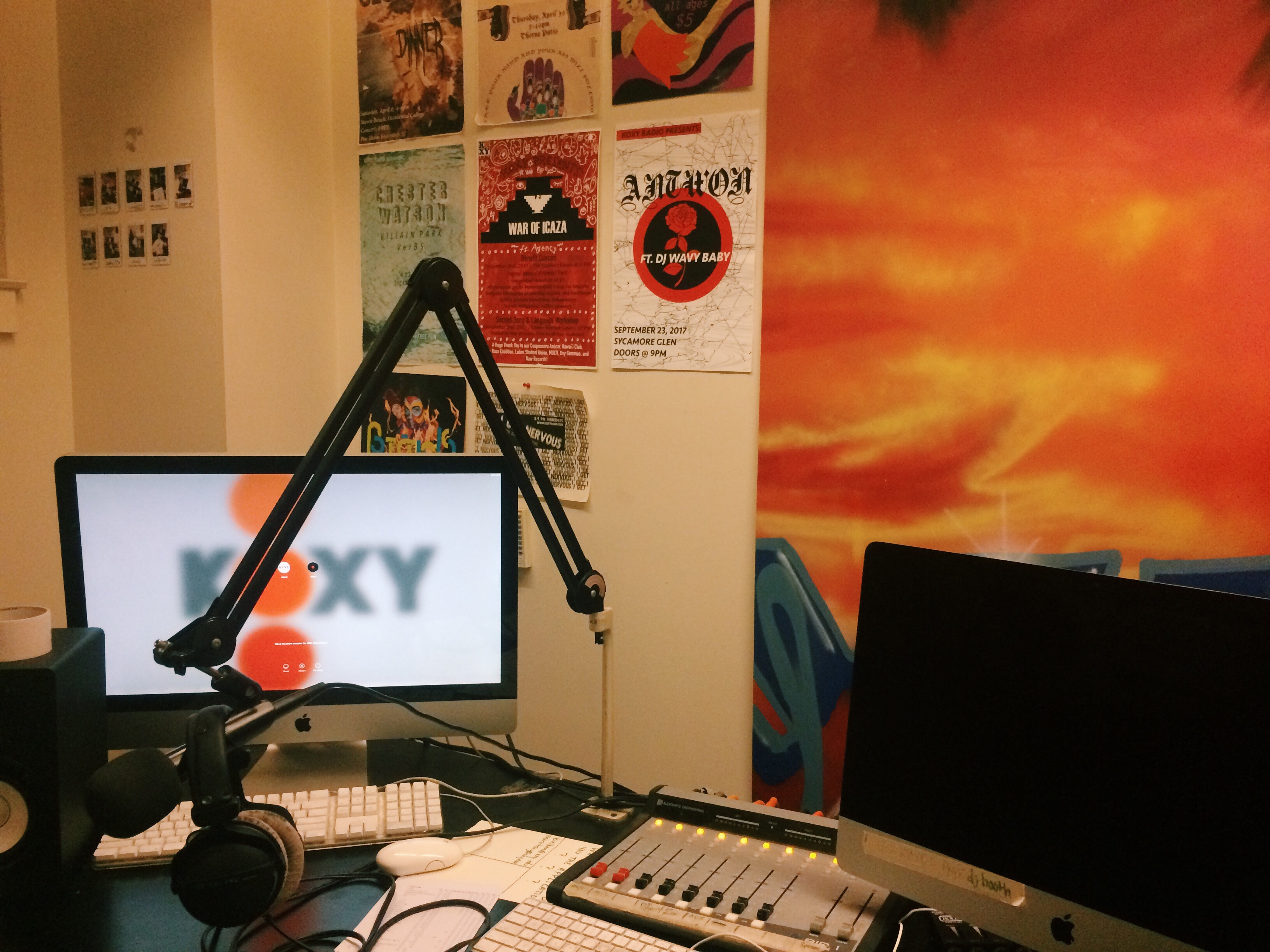 You may have heard that KOXY is Oxy's student-run radio show, but it is so much more than that– it's Oxy's go-to-pregame.
We always run live performances here on campus before large events on such as FallFest or SpringFest (a festival that Oxy throws for its students each semester) and students never fail to attend the entire pre-show performance. From live DJs to bands, sometimes this even includes some Oxy collaboration with the artists! We also hold our own independent events and in the past have had performances from War of Icaza, Qrion, CupcakKe and many other low-key artists to broaden the horizons of students' musical tastes at Oxy. All concerts are free for students with your student ID and anyone can bring guests that don't attend Oxy.
One really cool collaboration project we did was with the programming board of the college, where we held a DJ competition and the winner would perform as the opener for Fall Fest. This took place on the academic quad where the DJs perform live in front of crowds and were judged by the programming board.
As for the radio station, all students are able to participate. Students can host a show anytime between 1-2 hours and to sign up all they need to do is fill in a simple application at the beginning of the semester before choosing a time slot. The most difficult part of the application is definitely deciding on a name for your radio show. Nearly everyone is accepted as Oxy promotes a space where students are always learning from different backgrounds, so KOXY mediates this through the music.
The types of KOXY radio shows vary a lot as students are allowed to play anything they please. Whether this be favorites from the current Top 40 or a live performance or a cool podcast/talk show, it's entirely up to them. That's the beauty of a student-run organization, especially at Oxy - there's so much freedom! A lot of times I don't realize that most of the music I discover now is because of Oxy's location in Los Angeles as well as listening to KOXY. There are concerts all over the place that are so easy to find when you're a music avid like me, which not only gives me music to listen to in my own time, but also allows me to then share it with the Oxy community.
On campus KOXY has its own little booth that is really cozy and provides DJs with many forms of audio media, ranging from physical to digital. On the technical aspect, we have two vinyl players and two CDJ's that are all routed through one mixer, which are all very fun to play with. DJs can also play music digitally through their phones or on the computer with Spotify. To go along with these, we have a full library of vinyl records and CD's that all KOXY DJs have access to. I personally enjoy hosting whenever I'm in there, whether I am mixing live or simply queuing songs on the aux cord. My station is called Oxy's Very Own (every Monday 1-2 p.m. if you're curious on koxyradio.com), where I play a lot of R&B, electronic music, hip-hop, rap, etc. The best part about having a show, in my opinion, is that DJs are giving the freedom to play any genre of music they would like, or really just broadcast any form of audio they would like (as long as it is appropriate, of course).
During the few Tuesdays and Thursdays before a show, KOXY holds quad-sits along with other school clubs and play a variety of music out loud for students to hear as they're chilling on the academic quad or eating lunch or even catching up on some reading. But it's a really chill space that we're always trying to promote! We even have stickers, t-shirts and tote bags which are really popular on campus. Anything could happen with KOXY if students want to facilitate it, and everyone should be a part of it!
Being a radio DJ is a low time commitment if you are looking to only share you musical taste with others, but there are definitely positions for those who are interested in getting more involved with KOXY. For example, I work with the technical staff of KOXY, where our main tasks involve sound support, staging, and lighting. Other positions include event staff and programming. Regardless of our positions, we at KOXY all have a great time together and it honestly feels like a family that I am proud to be apart of!