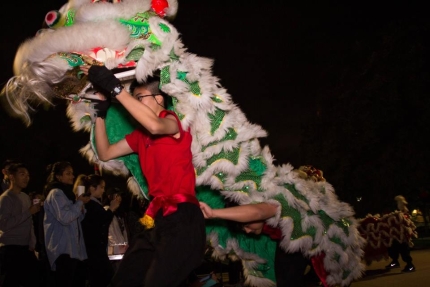 The Lunar New Year Celebration is one of the biggest cultural events here at Occidental. Every year around February, Asian cultural clubs collaborate to bring the most important celebration in Asia to our campus. This year, the Chinese Culture Club, together with the Asian Pacific Americans for Liberation, International Student Organization, Japanese Culture Club, Chinese Student Association, and the Asian American Tutorial Project started to prepare for this event. From fundraising to food ordering, every step in this event is fully student-run.
The event was truly a blast for me! The food was so amazing that a 20 minute line felt worth it. Traditional Chinese arts and crafts, including paper cutting, calligraphy, and lantern riddles were present at the event. My favorite part of the event is definitely the Lion Dance!
The Lion Dance is a Chinese performance specially for Chinese New Year. Performers dressed up as lions and did acrobatics along to the live music of the drums and gongs. What impressed me was that, unlike other cultural events, the Lunar New Year Celebration is completely free and open to all students and faculty members. Student clubs voluntarily helped out and contributed food and activities to this event using their own funding. It was less about each individual club, and more about the shared cultural heritage and the excitement to share this culture with the Oxy community.
Due to the different calendar system, Chinese New Year has always been a few weeks after school starts, making the most important annual festival just another normal school day for those who want to celebrate it. Although this event was not on the same day as Chinese New Year, its large scale and inclusivity really shows how the Oxy community cares about what's important to a cultural group. Diversity is what makes this community amazing.