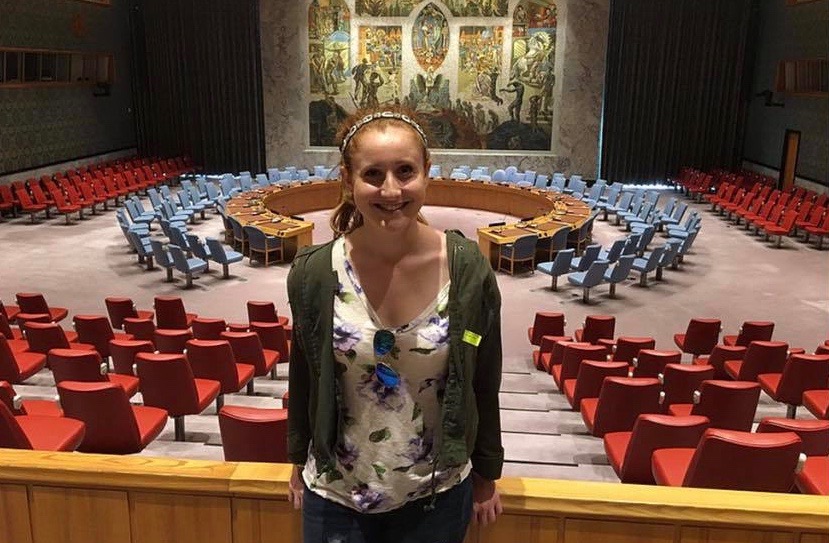 Hey Oxy family! I'm Jenna, a senior DWA/Spanish double-major from the San Francisco Bay Area.
This semester, I have the immense privilege of participating in the Oxy-at-the-UN Program in NYC. I have been assigned to intern with the Permanent Mission of Rwanda to the UN alongside another program participant, Ryan Henderson. My internship is amazing—not only are the staff genuine and kind, but also the pace is rapid and exhilarating. Every day I wake up with a general idea of what I plan to do, but this plan tends to get derailed due to the always-changing nature of the UN system. At first, this was hard for me to grasp, as I require structure in order to function efficiently in academic, professional, and social spaces. However, I have grown accustomed to this way of living and look forward to the new experiences and challenges I encounter each and every day.
Despite my constantly ambiguous daily schedules, I have developed several routines to guide me during my days at the UN. One of my main routines consists of me heading to the UN for a 10am meeting in the morning, crossing the street to attend one of my classes in the afternoon, and then returning to the Rwanda mission to write a report on the meeting I attended that morning. My first UN meeting was in regards to the UN Development Program's (UNDP) and UN Population Fund's (UNFPA) draft of the 2018-2021 Strategic Plan. It was held in the Economic and Social Council Chamber in the UN Secretariat building (so cool!). I felt a great sense of power and importance sitting in the "Rwanda" seat, thinking to myself that, in a way, I am representing an entire country of people! The notes I take will be generated into a report, that report will go to the Ambassador, and she will use my findings to influence relevant political actors to make change on a variety of issues back in Rwanda's capital of Kigali. Again, so cool.
During the week, we take a few classes taught by various professors. On Tuesdays we have DWA 402: Conflict Prevention. This class ponders the question (amongst many others): What are the obstacles affecting the UN from effectively preventing conflict? We have had many different conversations about this issue and have so far concluded that the fault belongs to both the UN as an institution and its member states who are constrained by their own political agendas. On Wednesdays we have DWA 401: Task Force. This class allows us to form pseudo consulting firms, where our real-life client is the UNDP office in Costa Rica. My task force is assigned to create an advocacy campaign to inform international buyers of Costa Rican pineapples about the environmental damages and human rights abuses that occur in order to export these pineapples. On Thursdays, we have a guest lecture series, where we have hosted speakers that range from former participants of the UN Program to the Spokesperson of the Secretary-General. I feel fortunate to have the opportunity to hear each speaker's perspective on the UN and the general career advice they provide us young professionals.
Besides work, I have found some time to play around NYC! One of my favorite activities to do on the weekends is walk through Central Park, just a ten-minute walk from my residence. The park is beautiful, and its expansive collection of trees and grassy knolls comfort the outdoorsy California girl that I am. Additionally, I enjoy exploring areas such as Washington Square Park and Midtown. Also, the bagels and $1/slice of pizza are just as good as they say they are, no matter where you go in the city. One thing I have learned here is that there is never a shortage of things to do in NYC; if you cannot find it here, it does not exist.
Our next big adventure is our trip to Costa Rica. I cannot wait to explore this gorgeous country with the fabulous G17!