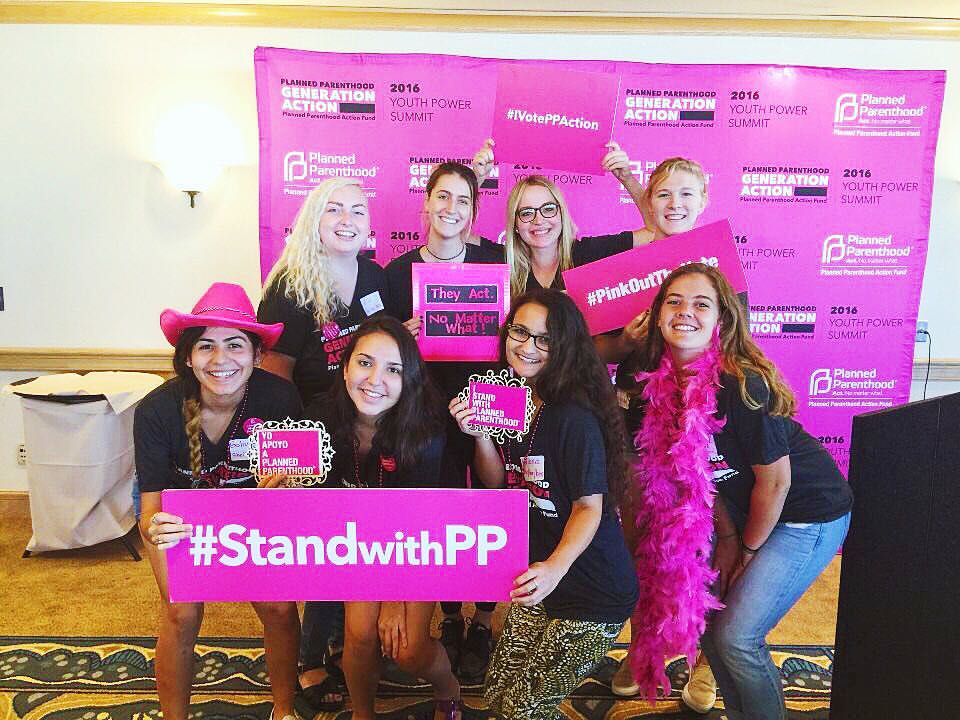 Two years ago, a few female students got together and created what hadn't existed ever before in Occidental College's history: a group that works to protect, promote, and celebrate reproductive rights and inclusive sexual health.
Planned Parenthood Club at Oxy is new, but I'm exceptionally proud to say that we have become one of the most active clubs on campus, and California's most successful Planned Parenthood Generation Action chapter. I am one of the two Vice Presidents, and my participation within our club has been one of my favorite, and most fulfilling parts of my time at Oxy. While the caliber of Oxy's classes and dynamic professors is why I chose to attend this institution, the involvement I have in Planned Parenthood Club is why I enjoy my time here so much, and is what has taught me that what I care about most deeply is women supporting one another.
There is something particularly special about a group of people working together for a common cause, lifting each other up during the process. While every single one of our Executive Board members assumed that we would be celebrating the victory of the presidential candidate who has pushed forth reproductive rights more than any candidate in US electoral history, our assumption was incorrect, and I am mourning. However, the fact that I am surrounded by such passionate individuals who are fighting for inclusivity gives me hope. The fact that we have the opportunity to use our platform to help our community and make sure they can maintain control of their own bodies gives me hope. The fact that ten organizations: Dance Production, Hyper Expressions, Pulse, Phi Kappa Psi fraternity, Alpha Lambda Phi Alpha sorority, Delta Omicron Tau sorority, Zeta tau Zeta gender nuetal greek org, the Queer Student Alliance, Senate, and Los Compadres are supporting and co-sponsoring the biggest event we've ever put on, our #TBT with Sex Positivity dance this weekend, gives me hope. I choose to channel my anger and sadness into my work with our club, and to appreciate and celebrate those organizations and individuals who are joining me.
When I was a graduating senior in highschool, I was voted by my peers to give a speech at a graduation dinner. In it, I stated that one of the things that can transform a life from average to incredible is the ability to care so deeply about something—I am very sure that the importance that feminism has in my life has given me meaning. Through my position of Vice President of Planned Parenthood Club, and my former position as Head of Social Media and Outreach, I have had the privilege of planning, executing, and leading successful events, including the Menstruation Celebration Period Party in which we brought 95 guests. I have had the opportunity of managing our social media accounts, of expanding our member-base and publicizing events. I have had the opportunity of giving away free condoms and lube at our Condom Fridays, yelling at people (and probably scaring them) in the Academic Quad that "safe sex is great sex." I have learned how to manage large-scale events, and have acquired experience in public relations, advertising, logistics, decote, budgeting, and risk management. But, most importantly, I have had the opportunity of being lifted up by the other members of the club. My Co-Vice President Malena has given me strength through her fierce, unafraid feminism. Our Co-President Alex has drastically shifted the way in which I think about genders and inclusivity. Our Co-President Chase has taught me how to deepen my kindness.
I have become a better person through knowing and working with the rest of Planned Parenthood Club E-Board, and I am so thankful to know what it is that I am most passionate about. I encourage students, and all people, to find what it is that gives their life meaning and devote as much time to that as they are able to. Finally, I encourage everyone to celebrate those in their life that have lifted them up.