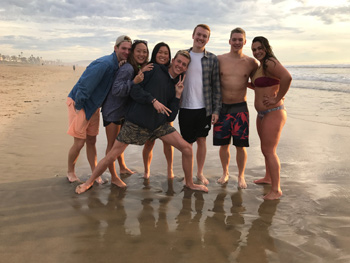 The summer is always an odd time for a college student.
For some it means relaxing after a hard year, for others it means confronting adulthood. For me, this summer meant doing research as part of Occident College's Undergraduate Research Center (URC). The URC provides funding for undergraduates to conduct research in their field for 10 weeks during the summer. As a history major, I am doing research about Vietnamese Amerasians, children with American fathers and Vietnamese mothers. Historically, Amerasians were often abandoned by their fathers and left in Vietnam. In Vietnam they faced a life of discrimination and hardship because of their biracial heritage. Later, this research will go towards my senior comprehensive project, the final work I will do for my degree from Occidental.
In addition to being paid to do research, the URC allows students to have a summer while advancing their academic career. As long as I have produced a paper and will be able to present my findings at a conference at the end of the summer, the URC allows students to choose what their day looks like. On a day to day, I wake up at 8:30 and work till about 5pm. However, if I wanted to wake up at 10am one day, I could easily do that as well. I have a lot of freedom in my schedule, which makes URC the perfect environment for thinking and working at my own pace.
Another benefit of participating in undergraduate research is the partnerships with the library and other services offered by Occidental to hold workshops. These workshops include resume building, research help and a speaker series. This way you are getting not only research experience but career development to prepare for life after Oxy. The URC weekly speaker series is an opportunity for students to listen to speakers from all disciplines. For example, as a history major I knew very little about organic chemistry. During a lecture by Professor Cannon, I got to see how organic chemistry is used make a variety of household products.
As an Oxy student I am extremely appreciative of the URC opportunity because it allows students to get research experience while enabling students to pursue their passions and build their resume. My summer schedule has allowed me to branch out and make friends across all disciplines. The URC summer has been such a positive experience and I am excited to continue this work as I begin my senior comprehensive project.