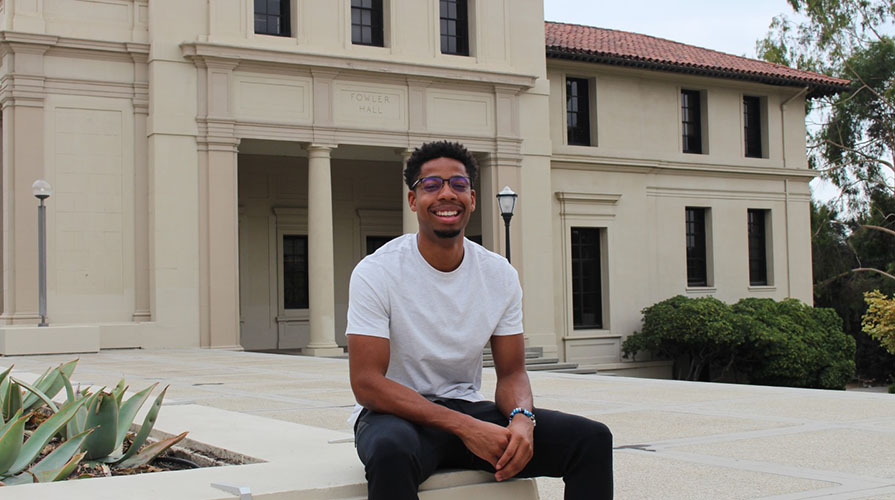 Ruby Ferehawk '21 sat down with fellow transfer student Micah Wilson '22 to discuss his experience transferring to Oxy as a sophomore in Spring 2020.
Micah is originally from Nebraska and transferred to Oxy in the middle of his sophomore year from a small liberal arts college in rural Virginia. He is currently one of our Senior Fellows, the captain of our Track and Field team, an Obama Scholar, and a Resident Advisor in a first-year residence hall. He also participates in Oxy's Black Student Alliance, Transfer Student Union, Student-Athlete Advisory Committee, and the Blyth Fund.
What has been your journey to Oxy?
I always wanted to be in Southern California for school, and during my transfer search, I decided that California was probably a good place to start. I was looking at all the small liberal arts colleges in California and trying to find something similar to my previous institution but with a much different environment. I liked the academic experience of a small liberal arts college, but my last institution was in a small town of 7,000 people including students. You don't realize how small that is until you're there. Being in a global city, like Los Angeles, there is so much to do and so many opportunities. If I want to go to the beach I can, if I want to go to a Lakers game I can. I can take advantage of everything the city has to offer during the many hours that I'm not in class. That's difficult to do when you are in the middle of nowhere.
Why did you decide to transfer?
Ultimately, the deciding factor was I wanted a school where I could continue to speak out and advocate like I did previously, but have more of an impact on the institution. At Oxy, I have much more access to the people who are making decisions and I feel that students have much more of a voice. I also wanted something that was demographically completely different. My previous institution was not diverse at all and a large majority of students were involved in Greek life. Pretty much the only thing you could do was be involved in Greek life. It wasn't really my scene. Any time you have something that so many students are involved in it kind of dominates the social scene. The diversity and social culture of the student body at Oxy are completely different and that was my goal when I transferred.
What made you choose Oxy?
It was a school where I felt like I got everything I wanted that I didn't get at my last institution but kept all of the things I enjoyed. I can run track and still study the same things academically, but it is also culturally the complete opposite of my previous college in almost every way. Especially the advocacy part, it was something I talked to the track and field coach about as well as the previous track captain, Tyler Webb. Students have a voice on campus. They told me about instances where students took action and direct institutional change came from that action. That is very unlike my last school.
How did you get involved on campus and what did you get involved in?
I cast an extremely wide net when I came to Oxy and then narrowed it down a lot. It helped that the Transfer Student Union was there during my orientation and introduced me to some current students. The track team also helped a lot. The benefit of being an athlete is you kind of have a community that's already there and established. So I started there and then continued to branch out. I would say by the end of my first semester the majority of my friends weren't even on the track team. Meeting people helped me find the Blyth Fund and connected me to the administrators with whom I could speak to continue the advocacy work that I started at my last school. It was a lot of me talking with the team and talking with the Transfer Student Union and figuring out Oxy from their lens and then making it my own experience.
What have been the best parts about transferring?
I know some people probably don't like this, but it is nice in my opinion to be in a new setting with a new network of people on a completely different side of the country. I was in Virginia, I made friends and connected with people there, but now I'm in California and building my network out here and able to meet cool people here as well.
I also love being in Los Angeles. The job that I have now and will have after I graduate was all thanks to the Hameetman Career Center. They kind of got me on the finance path. I went to one of the events with Morgan Stanley and that just got me on the whole finance wave. Because of that, I already have a job in finance waiting for me post-grad. And because I'm in LA I'm about to start at that company as an intern while I'm still in my senior year.
What was the biggest struggle of transferring?
Especially as a sophomore transfer student and coming to a small school, wiggling your way into the social groups that may have already formed can be difficult. Also catching up with the culture of the school. All of the acronyms took me a while to learn, and the door holding culture. All of that school-specific lingo and student culture things take a while to get up to speed with. But that all becomes easy with time.
Any advice for future transfer students?
Just talk to people. Especially if you are coming to Oxy. Everyone is super nice and super open. I was surprised by how many people I became friends with just by sitting in the Marketplace. I feel like as a transfer you kind of have to put yourself out there (and there are great resources to start you out like the Transfer Student Union). But putting in that effort to meet people is important. Try to be open and the students here are super receptive to that. Whatever you're interested in there are other people here who are probably also interested in that as well. Once you find people with similar interests and make a couple of friends and then suddenly the whole school becomes your oyster. You'll be surprised how quickly you become involved in every corner of campus.