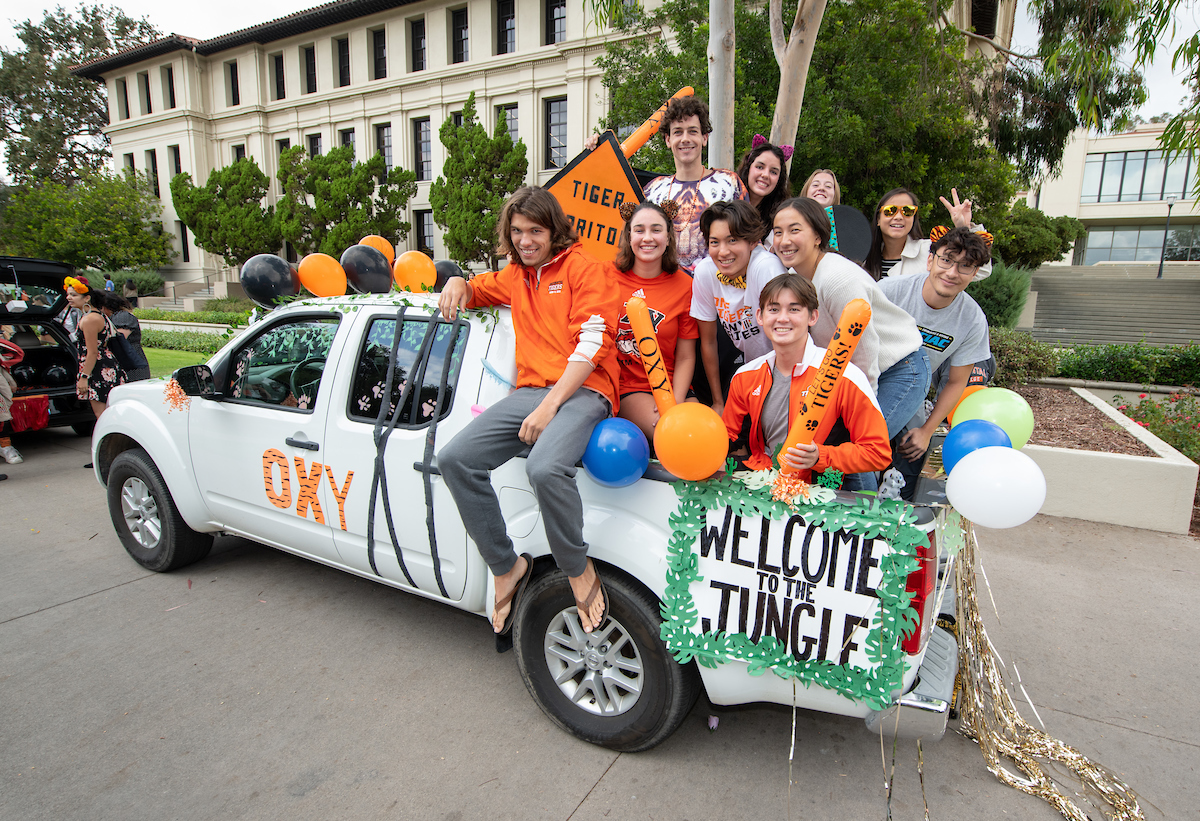 Every path to Occidental is unique. We're excited to spotlight a few of our students as they reflect on their journeys in choosing Oxy! And remember, you can always connect with current students on our Ask a Student webpage. Io Triumphe! 
"Oxy is interested in what will make you stand out."
I chose Oxy because I was looking for a new sense of community. Though I've only been at Oxy for around six months, I have found a multitude of communities through athletics, clubs, academics, and in my friend groups. When I was looking for colleges, I knew I wanted a liberal arts college that had a varsity water polo team and was on the west coast. As I started to learn more about Oxy, I fell in love with the tight-knit community, the beautiful campus and, most importantly, the brand new pool. Conversations that I had with my coach, a psychology professor, and numerous students, really helped me gain a sense of just how willing the Oxy community is to support and guide you through any endeavor. 
I applied to Oxy as an Early Decision I applicant which was the best decision I made. Oxy is interested in what will make you stand out from other people, whether it's a super cool hobby or just a fun talent you have. I'm so sure that I made the right decision to come here. Oxy has provided me with the community that I've always sought, and has grown to become a place I call home. Oxy blew my expectations away and has really taught me a lot—not just academically, but also about life.
- Koko Butcher '25, Aiea, Hawaii 
"The sense of connectedness I felt to the student body was special."
I found Occidental College in the fall semester of my senior year of high school after showing my list of schools to a college counselor. Based on what I was searching for– a small California school with access to a larger city– my counselor suggested I apply to Oxy. Upon visiting the campus, the sense of connection I felt to the student body despite not yet being committed to the school was special and what ultimately sold me on my choice to attend. In addition to the excellent academic culture with amazing professors and engaging classes, Oxy offered me a crucial community that helped me adjust in my move across the country for college.
Kamea' 22 with the volleyball team
Reflecting back on my experience now as a college senior, I am incredibly grateful for my four years at Oxy and feel well prepared for whatever the future may have in store for me. I've met some of my best friends and made some of my favorite memories while in college, but I think the thing I am most thankful for was the connections and guidance I've received from my professors. Best of luck and enjoy the college process, it goes by faster than you realize!
-Kamea Quetti-Hall '22, Pittsfield, MA 
"I was hoping to find a collaborative, rather than a competitive academic atmosphere." 
I knew a couple of things going into the college application process. The factors that helped me narrow my search included location, weather, size, the type of school, the community, and overall atmosphere. Coming from San Francisco, I wanted to venture beyond the wet fog and bask in some sunshine and warmth. I focused on Southern California and particularly around Los Angeles because I was hoping to study and live in a large, urban city to which I had already been accustomed. As the youngest in my family, I had also followed along through both of my older siblings' journeys at smaller liberal arts colleges and I thought that I would do best in a similar environment. 
Knowing my learning style and preference for smaller, interactive classes where I could engage with my peers and professors, I wanted an intimate learning environment with access to academic and professional mentors. I was also hoping to find a collaborative, rather than a competitive academic atmosphere where I could see myself participating in study groups and finding community through working on homework together with peers. This narrowed down my search to a collection of about ten small, liberal arts colleges and universities in Southern California. 
I watched all the Youtube videos that I could find about Oxy, searched many of the pages of the extensive parts of the website, and visited Oxy in the spring of my junior year of high school. I signed up for an interview with a recent graduate who shared that Dance Pro and Peer Health Exchange may be opportunities of interest if I attended. When I came to Oxy in April for Admitted Students Weekend, I was able to sit in on a class that I found particularly interesting and engaging. The instructor was Professor of Politics Regina Freer, who is now teaching one of my current courses, "Community Planning and Politics Practicum." (I would highly recommend Professor Freer to any student attending Oxy, even if you are not planning on a politics major!) 
Nathan Tam and friend Marissa hiking in Arches National Park, UT
After shadowing Professor Freer's class, my mom and I decided to make the trek up to the Urban and Environmental Policy Institute on Upper Campus. I was interested in the catchy department name and wanted to learn more about the major to see if I'd be a good fit for the program. I remember walking into the quiet house in the early afternoon and asking Sylvia Chico (one of the nicest people you will ever meet) if there was a professor available that I would be able to speak to about the Urban and Environmental Policy (UEP) major. She called Associate Professor Martha Matsuoka down from her office upstairs and my mom and I sat with her for half an hour chatting about the content of the program and the type of students that fit into it. I initially went into the college application process thinking that I wanted to be a politics major, but after this short conversation with Professor Matsuoka, I was drawn to and compelled by the UEP program.
Once on campus, I enrolled in Professor Matsuoka's UEP 101 course entitled "Environment and Society" and declared my major that first semester at Oxy. Professor Matsuoka is now my advisor and we regularly meet about everything from planning my UEP Senior Comprehensive research topic, post-Oxy plans, what shows we're currently watching, or our weekly tai chi class with a few other students. I am very grateful to be at Oxy and have found people within the community who I've developed deep relationships with!
-Nathan Tam '23, San Francisco, CA
"The People I've met at Oxy are interesting, dynamic, and want to change the world for the better."
My college admissions process, like most high school students', was confusing, taxing, and stressful. I was frustrated with how unnecessarily difficult it was to navigate the Common App and the various application websites for different schools. I ended up applying to 17 schools, and I felt drained after submitting my last application, in addition to handling my rigorous course load and extracurriculars. Being a California native, I felt it necessary to apply to one CSU school and three UCs, but I also applied to several liberal arts colleges around the country, including Oxy. I had learned about Oxy from my high school counselor, who suggested that I might like a smaller college experience. I applied to Oxy Regular Decision, and I knew after visiting I wanted to go to a school like Occidental: a small liberal arts college with a commitment to equity and inclusion. During my tour, our  guide sold me on the experiences she'd had at Oxy and made me feel like I could see myself on campus, and find like-minded people who I could learn well with. 
Like most Class of 2020 grads, I felt shortchanged by my senior year, and even after getting into Oxy, which was my top choice, I knew that COVID would have a permanent effect on my college experience, which was devastating. As acceptances and rejections started rolling in, I thought about what I wanted my college experience to feel like, especially considering the unique circumstances of the pandemic. After being admitted to Oxy, I accepted my offer and began planning my first year. I spent my first year of college at home, working full-time, and learning virtually. Although I wasn't on campus, I did feel like I was being integrated into a new community. My professors took on the difficult task of helping us feel at home in a virtual environment, and I didn't feel shortchanged by my academic endeavors, as my professors bent over backwards to accommodate the unique circumstances of each student. 
Since coming to campus, I've felt like Oxy has changed my worldview academically and opened my eyes to the possibilities of what a career in international relations could look like. The people I've met at Oxy, including faculty, staff, and amongst the student body, are interesting and dynamic folks who want to change the world for the better, and they inspire me everyday. Although I expected to be happy on Oxy's campus, I truly love my college experience and am so glad I chose to be a Tiger. 
-Julia Henry '24, Laguna Beach, CA
Julia '24 and friends on the JSC Academic quad