Productivity Software
We provide Microsoft Office software on all college computers (PC and Mac). You can convert Word documents to PDFs on your computer but if you wish to edit or work with PDFs you'll need to purchase Adobe Acrobat Pro or work at one of our Creative Stations.   
Academic Software
The academic software on our lab computers can be accessed by going into the Start menu at the bottom left side of the page and then opening the All Programs list, where you will find sub-folders for specific disciplines; the software programs are listed within those folders. You'll find ArcGIS, Chemdraw, Mathematica, MATLAB, SPSS, and Stata as well as other course-specific applications.
Creative Software 
The Creative Stations and oMac Lab have Adobe graphics and publication tools.
Software available for your personal computer
Sophos Anti-virus Software
Available for Students, Faculty and Staff for both Windows and Mac. Keep your computer safe from viruses and malware by downloading and installing Sophos' free versions for Windows or Mac. Please note these links are only for personal computers; contact the Technology Helpdesk if you need assistance with Sophos software that is installed on an Oxy computer.
If you have Windows 10:
Windows 10 includes anti-virus protection courtesy of Microsoft Windows Defender. Therefore, you do not need to install Sophos Anti-virus. However, Sophos is compatible with Windows 10 if you wish to use it but it is recommended that prior to installing it, you manually remove any other anti-virus products you might already have installed (e.g. McAfee, Symantec/Norton, etc.).
Microsoft Office
Available for Faculty, Staff, and Students. You may use Office365 which is an online version of the Microsoft Office suite on your personal machine at home or on campus for the duration of your career at Oxy. Simply visit https://www.office.com and sign in with your OXY login credentials. Please email the Technology Helpdesk to let us know if you have any questions.
Mathematica
Available for faculty and students. Go to https://www.wolfram.com/mathematica/  and click on the Orange banner to check for institutional access. Enter Oxy email address that leads to download page.
MATLAB
Available for Students. Sign up for an account and download the software.
Remote Computing
OxyAccess
Available for Faculty and Staff. OxyAccess (provided through a software called Parallels RAS) provides access to files stored on your G: and H: network drives. PC users can also be set up to access their office PC desktop from a personal machine (useful if departmental software is installed locally on your Oxy PC). Contact the Technology Helpdesk to be set up for access. View installation instructions. 
FTPS connections
Available for Students, Faculty and Staff. You can use an FTP client that supports secure FTPS connections to access files stored on your Oxy network drives such as the G:, H: and S:/ drives.
View set-up instructions
Step 1: Downloading an FTPS program
There are a number of FTPS programs available and many of them are free: two of the most popular are WinSCP, for Windows, and FileZilla, which can run on Windows, Mac or Linux. You can also use Fetch, SmartFTP and CuteFTP (but NOT the Lite version). The basic procedure will look like the following. Note that the exact mechanics of how you perform each step will differ based on the program you're using. The examples below are for WinSCP and FileZilla, but you can always refer to the documentation for your preferred program if you run into problems.
Step 2: Create a new server connection
In WinSCP, there's a button labeled "New" and on FileZilla, you need to open up the "Site Manager" from the "File" menu and click "New Site".
Step 3: Configure your new connection
Most programs will ask you to specify a server and settings. Below is a snapshot of what the settings look like for WinSCP and FileZilla. If you decide to use a different program, the key settings to configure are "FTP" as the protocol or server type. For encryption, look for the setting with the word "implicit" in there. For the port, 990 is what you want.
WinSCP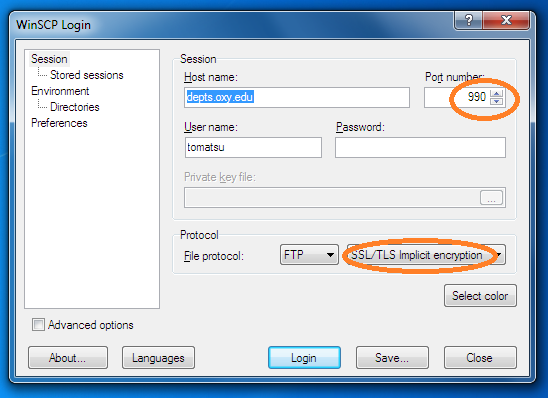 Filezila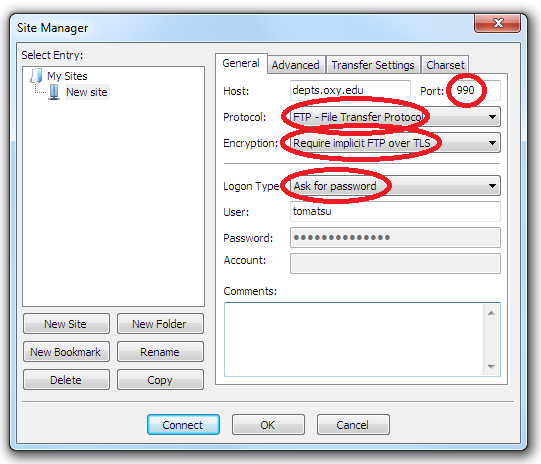 The actual server or host name will determine what location you can access. Here's a list of what's available:
For students:
Your student profile can be accessed on the server stuaccounts.oxy.edu. This will get you access to the files you see on your Desktop and My Documents folder when you log in to a lab machine.
The academic shared space, also known as the S: drive, can be accessed via the server acadshared.oxy.edu.
For administrators, faculty and staff:
Your personal space, also known as your G: drive, can be accessed via the server accounts.oxy.edu.
The departmental shared spaces, also known as the I: drive, can be accessed via the server depts.oxy.edu. Note that your H: drive is just a shortcut to your department's folder on the I: drive. So if you work in ITS, the "ITS" folder on the I: drive is the same as your H: drive.
As with students, you can access the academic shared space, the S: drive, via the server acadshared.oxy.edu.
Step 4: Save your connection and go
From this point on, you should be able to list the files that are available on the server and download and upload files as you see fit. For those used to accessing FTP sites using a specially-designed program, you should feel right at home with either of these tools but as mentioned before, lots of FTP programs support FTPS so these aren't your only options available. For those who accessed our old FTP servers using a web browser, this new process is unfortunately not as simple but it is far more secure and full-featured. As always, the Tech Helpdesk can help you out if you run into any problems.
Purchasing Software
If you would like to purchase software for yourself or your department, please contact the Technology Helpdesk with your request. We'll work with you to make sure the software will work in our network environment, review the licensing you need, obtain the quote and place the order.  Note that we have a Volume License Agreement with Adobe that allows us to get the best possible pricing for Occidental College Adobe licenses. Pick a single product from their catalog or compare the Creative Suite options, let us know what you would like to purchase, and we'll take it from there.