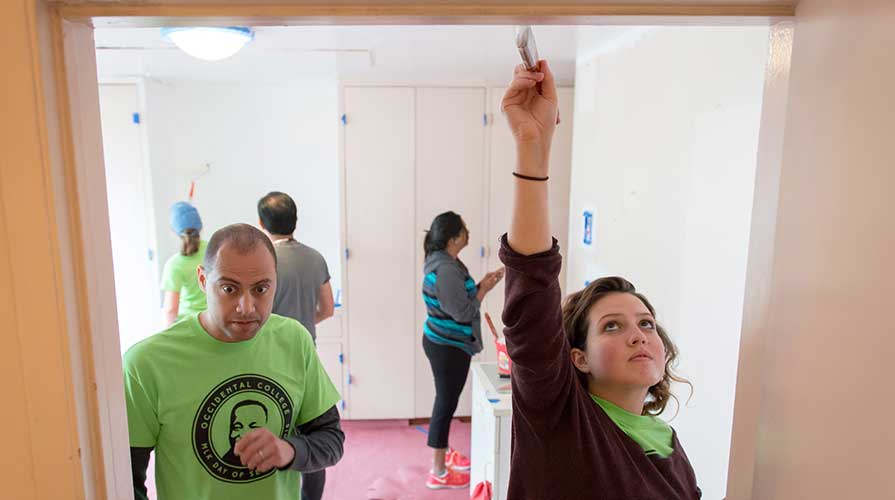 Not your typical Spring Break.
Each spring break, a select number of students, faculty and staff participate in an Alternative Spring Break experience that focuses on themes centered on democracy and citizenship. The Office for Religious and Spiritual Life, SLICE, and Residential Education and Housing Services collaborate together to create a program that will allow participants to engage in an in-depth study of citizenship in the United States; and, how political, economic, cultural and social forces have both protected and compromised the rights of U.S. citizens. "Exploring Citizenship" fosters student learning about social justice and diversity, and they have the opportunity to gain more insight about themselves and the people in their community. 
Specific learning objectives of the Alternative Spring Break Experience include:
To learn how to describe our identities by articulating our core values, beliefs and world views, particularly within the context of understanding the themes of each year's Alternative Spring Break Experience;
To develop and demonstrate respect for difference (of identity, beliefs, and lifestyles), to build solidarity across these differences, and to engage work that forwards liberation for oppressed communities;
To develop a deeper commitment to social and civic responsibility and cross cultural communication and social justice;
To gain historical knowledge through a process that links past struggles to present and future understanding and engagement;
To challenge the dominant narratives we have learned about through experiential learning that will allow us to see the complex, dynamic, and intersectional dynamics of different historical movements and experiences;
To identify how we can respond to experiences of intolerance in our local communities as well as nationally and as global citizens.
Past Trip Themes:
Japanese Internment
Islamaphobia
Immigration
The Civil Rights South
Sustainable Communities
Youth and Incarceration