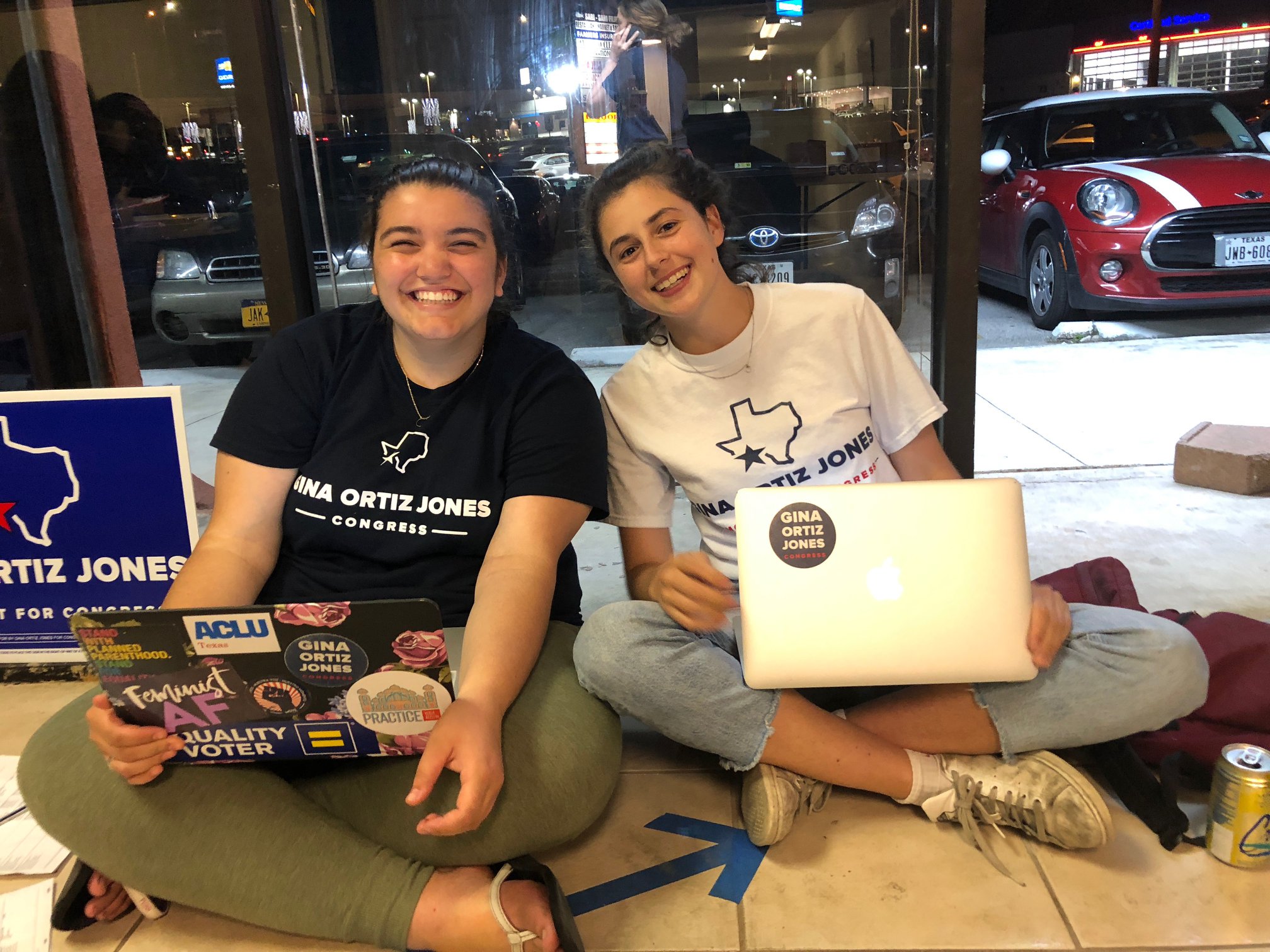 While trying to figure out where to study abroad during the spring of my sophomore year, Oxy's unique Campaign Semester program floated into my awareness as a possible option.
I wanted a way to merge my political science education with "real world" experience without sacrificing time or class credits. The prospect of working full-time for a political campaign seemed daunting: there would be no other college students to mingle with and I would be thrown into an intense professional environment—not to mention one in which I had no prior experience. But these same qualities of Campaign Semester that unnerved me were also super exciting.
Me with a Texas-shaped waffle
So I started the campaign search. I sent a few emails to random campaigns that I had briefly seen on the news: Randy Bryce for Congress in Wisconsin's 1st district (Paul Ryan's seat); Beto O'Rourke in the Texas Senate race; and Phil Bredesen in the Tennessee Senate race. Despite the offer of free labor, none of the campaigns got back to me. Additionally, on a whim, I sent an email to the campaign of a candidate in Texas's 23rd district: Gina Ortiz Jones. My mom's colleague had worked with her about a decade ago and insisted that she was not only a super impressive candidate but also a really good person. Someone from the campaign responded to me within a few hours with the offer of an interview.
Me and Congressional candidate Gina Ortiz Jones.
I spent an hour talking on the phone with one of the campaign's field organizers and knew that if nothing else came forward, this was the way to go. They had a small team, meaning I could take on bigger responsibilities. The office was based in one of the largest US cities, San Antonio, which appealed to me much more than being in Janesville, Wisconsin or a satellite office in rural Tennessee. And finally, I would be working for a woman! A badass, young, veteran woman of color at that. I made my decision—I would work for Gina Ortiz Jones during the Fall 2018 semester.
In late August, I drove from New Jersey to San Antonio, Texas in my newly-purchased used Honda Civic, stopping in Nashville, Tennessee, Little Rock, Arkansas, and Dallas, Texas, among other places. Once in San Antonio, the campaign had set me up with supporter housing, a lovely couple whose kids were away at college. My first few days on the campaign were weird, and slightly confusing—kind of like the first few weeks of freshman year. I wrote in my journal that I felt like "a fish out of water." The campaign was in full swing, getting into the last few months before what was widely known to be one of the most important elections of our lifetimes. All the staffers seemed a little too busy talking to supporters, going to events, traveling with the candidate, or communicating with the press to walk me through my role on the campaign.
But eventually, I got the hang of it. I would listen in on every meeting; I would ask every question. I tried to understand the responsibilities that fieldwork entailed. And pretty soon, I was asked if I wanted to be a full-time field organizer. The campaign team was small, and our field director needed someone to oversee Medina County, a rural county west of San Antonio. Almost every day, I would drive to small towns in Medina and talk to voters. One day it would be Hondo, a working-class, mostly Hispanic town of about 8,000. I'd talk to people about immigration, health care, and the importance of veteran benefits. Another day would be Castroville, a whiter, conservative town of about 3,000. Here, I'd talk to people about social security, gun rights, and Gina's military experience. I'd drive to Lytle: 2,500 people. Natalia: 1,800 people. Devine: 4,000 people. D'Hanis: 548 people. All the while, talking to people about Gina and what she stands for, making connections with progressive organizations, and most importantly, listening to the issues people cared about.
To say I was outside my comfort zone would be quite an understatement. I saw a few too many guns than I cared to see. I ate more meat than I think I have in my entire life. I had conversations with people that I disagreed with that made me feel uncomfortable. I spent a lot of time driving through rural Texas roads by myself.
Me with my team!
But it also allowed me to understand the inner workings of America. I was forced to not only listen to Trump supporters' opinions on issues but to try to understand them. I talked to thousands and thousands of people, and in the end, I learned that we have more in common than we have differences. I know it sounds cliché, but after this experience, it really feels true. I will never forget one conversation with a 51-year old Hispanic man named Alejandro. At first, he saw my t-shirt and waved me off, declaring that he would never vote for a Democrat. But he guiltily apologized and waved me back over. He told me that he was most concerned with veterans' issues and the gridlock in Washington. I told him that Gina was a veteran herself and that she worked as a bureaucrat doing trade and national security in Washington, first under Obama, but then under Trump. He told me that he thought Dreamers should not be deported, but they should not receive free health care or education before Americans born here. By now, I had learned how to talk to people whom I disagreed with. When I asked him more about this, he told me that he had grown up very poor in Los Angeles, and had to work extremely hard to get to where he was now. He felt like Trump was listening to him in ways that other politicians never had. But something happened. The more I listened, and the more I understood, the more he opened up to me. He thanked me profusely for talking to him about this, as no one ever had-- usually they just yell at him for having a Trump sticker and move on. Before I left, he gave me an American flag pin that he got when he retired from the military. With tears in his eyes, he told me this was extremely important to him, but he wanted me to have it. I told him that it would always remind me of "that Trump supporter who wasn't that bad." He laughed, and shaking the literature I had handed him almost 40 minutes ago, said: "You know, I might vote for this Gina person."
Election night!
Participating in campaign semester was the best decision I have ever made. I learned so much about this country, and so much about myself. I came out confident, independent, and well on my way to figuring out what I want to do in life. And I know I did everything in my power to make this country a better place.