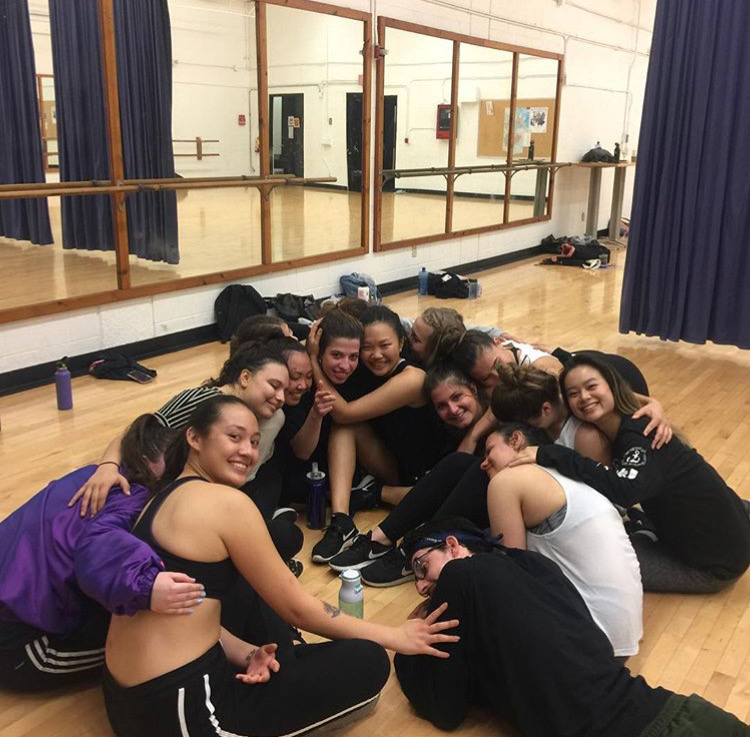 As soon as I learned how to walk, I started to dance.
For as long as I can remember, dance has held presence and weight in my emotional and physical experiences. It's my way to stay sane, build up serotonin, and challenge myself. I devoted myself to dance for sheer enjoyment, taking classes in every style I could — jazz, tap, hip-hop, ballet, contemporary, burlesque, etc. You name it, I've at least attempted it.
On my first tour at Occidental, during the Multicultural Visit Program (MVP), my tour guide mentioned Dance Production and I instantly felt confident that a school that rallied around dance in such a way was a school I wanted to be at. Although Dance Pro wasn't the only affirming factor in my decision to come to Oxy, it did represent what the Occidental community valued and excited me when anticipating what my life at Oxy could look like.
On this same trip, I happened to be placed with a host student that had a similar enthusiasm and commitment to dance. Thanks to her, I dived headfirst into the dance opportunities present on my first night. I ate dinner with members of Hyper Xpressions (one of a few dance groups I later joined) and being a wide-eyed and bushy-tailed prospie, I found myself incredibly enamored with both their explanations of the many dance groups on campus and the pesto pasta. The following night, I took a drop-in PULSE class. I met more members of the dance community, learned choreography to "HUMBLE" (which was then a recent release), and experienced for myself what the dance vibe at Occidental was like. Those first nights, I felt invited and welcomed by the students involved in dance at Oxy. The next day, I committed to Occidental.
When I came to Oxy as a first-year, I made it my mission to take part in this community. By second semester, I was on executive board for PULSE (alongside my previous host student, now a peer and good friend) and a member of both Hyper XPressions and Dance Pro. I can confidently say that the dance community at Occidental has been an incredible addition to my first year of college: inviting me without judgment, supporting me with lasting friendships, incredible memories, and a newfound love and appreciation for the presence of dance in my life. It may sound like a Hallmark card, but it's incredibly honest.
Although I am involved in many of the Dance Orgs on campus, there are even more than the three I find myself most invested in. Performance and practice opportunities are available for everyone, on any level, and with any background experience of dance. PULSE weekly classes are student-led, student-choreographed, and entirely free — providing an experimental, diverse, and supportive community. Azúcar is Occidental's first ever Latin dance team, providing styles not previously offered by performance groups at Occidental such as merengue, bachata, and street-style salsa. The mission of most, if not all, dance organizations on campus is to spread the joy and power that movement and dance can hold for everyone, regardless of background. Due to this shared mentality, the dance community is super close-knit and many organizations work collaboratively or actively support one another.
I am grateful to the community I have found here that has allowed me to experience movement in new ways and that seeks to support everyone in their personal relationship with dance. There are opportunities at Oxy for those who consider dance a part of their identity, those who just like to get down on the weekends, and those who have never even entered a dance studio before.