Belonging in the Academic Commons (BAC) is a collaborative program between the Intercultural Community Center, Academic Commons, and Special Collections & Archives that is designed to honor culturally rooted national holidays in an interactive and informative way.
Through regular events, BAC aims to foster a sense of belonging and community at Oxy, specifically among students whose own identities and histories are often underrepresented in the academic setting.
2020-21 Programming
BAC will usher in the Fall 2020 semester by celebrating Latinx Heritage Month. In order to accommodate the unique circumstances of the remote semester, Belonging in the Academic Commons will be translated into a digitized format that will include the following:
•Occidental College's Latinx Alumni Association (OCLAA) Annual ¡Bienvenidos Mixer! on September 27th, at 5pm PST.
A virtual "Writing 'Authenticity' Workshop" with John Paul Brammer, author, illustrator, and creator of the popular advice column ¡Hola Papi! on October 1st at 3pm PST.
•A hand curated book collection, which are available for check-out via curbside pick-up or request by mail at library@oxy.edu. Many books can also be accessed electronically.
•The creation of a virtual historical exhibit entitled 'At The Crossroads of Latinx Heritage and LGBTQ+ Identity,' curated by Special Collections & Archives and ICC Equity Ambassador Jack Tripp. 
2019-20 Programming
During the 2019-20 school year, Belonging in the Academic Commons celebrated LGBTQIA+ History Month and Black History Month. Our celebration of these two national events consisted of the following: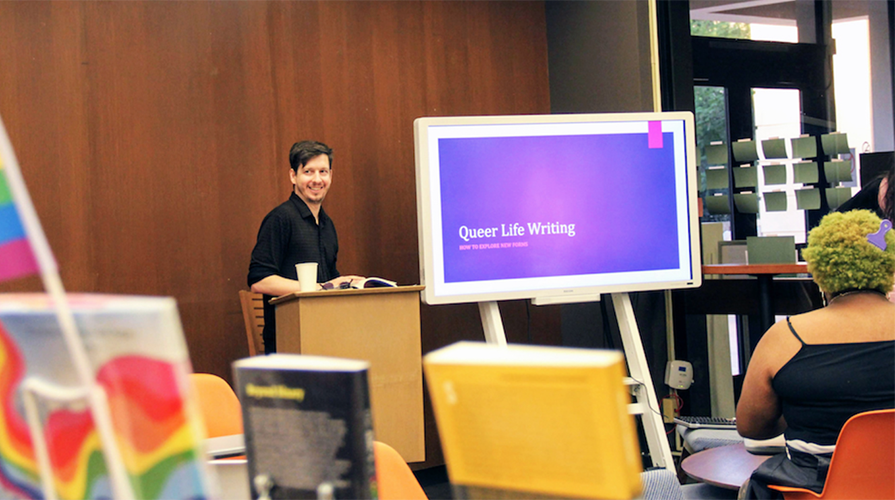 •Workshops, training, and discussions led by scholars, authors and activists, coordinated by the ICC. For LGBTQIA+ History Month, this included a "Self Care Workshop for Queer Writers on the Edge," by local author and psychotherapist Wendy C. Ortiz and a "Queer Life Writing Workshop," led by Oxy Alum Stephen Van Dyke '06 (see image, left). For Black History Month, this included an "Athlete of Color Leadership Practicum," led by Oxy Alum Marcus Forbes '18.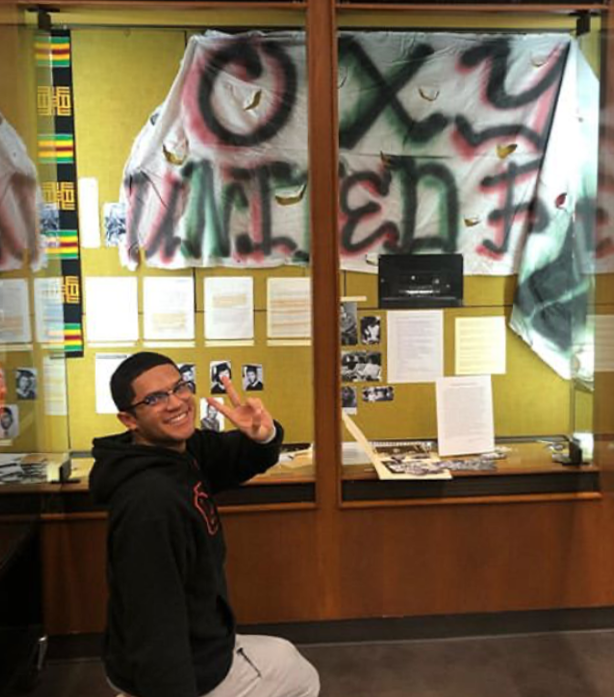 •The curation and display of historical exhibits in the Academic Commons, coordinated by Special Collections & Archives, with assistance from ICC Equity Ambassadors (see image, right). These exhibits highlighted the history of LGBTQIA+ and Black activism at Occidental College.
•The purchase and display of hundreds of new books related to LGBT+ and Black history, coordinated by the Academic Commons and with student input on title and author selection.