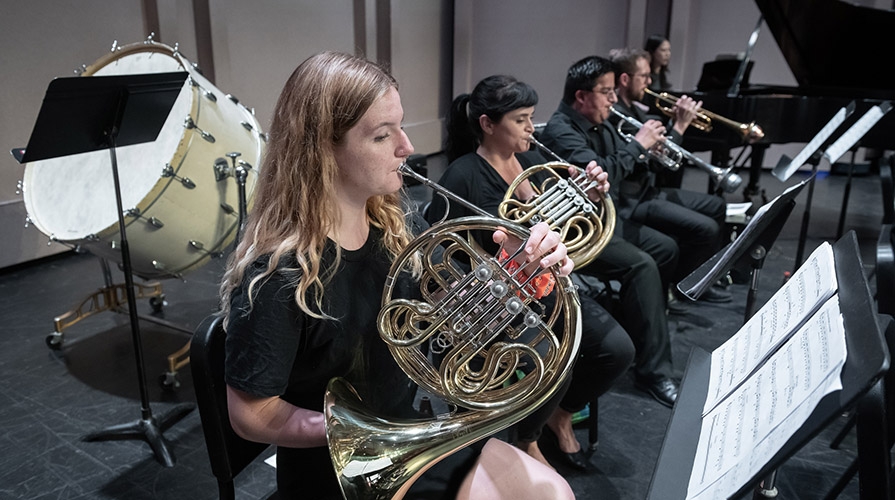 Welcome to a list of our current members as well as a bit about our conductor, Chris Kim. 
---
Current Member Spotlight
Learn a little bit about some of our current members!
Clara Thielke 
Instrument: Cello
Major: Cognitive Science
Graduating Year: 2023
How I started playing my instrument:
"I started playing cello in 4th grade after my mom asked me if I wanted to play and I said "Sure!"'
Why I play music:
"I play music because I enjoy the process of working hard on pieces and collaborating with other musicians to create beautiful sounds and to share our music with an audience. Playing music is also a great stress relief, and it allows me to get into a "flow" state where I am not concerned about anything else."
Class of 2023 Feature
We'd like to highlight a few of our amazing rising Juniors.  
Yolanda Patzkowski (violin) has participated in Occidental Symphony since her first year in college. Besides her passion in violin performing, as a big fan of Hisaishi and Ghibli, she also enjoys playing piano. In a masterclass of Professor Aroussiak Baltaian, with a true care about global humanity and history, she played Komitas Grung, which is an Armenian folk song in memory of the Armenia massacre. It is also shown in her choice of majors: pre-med track and Diplomacy and World Affair. Her multiple years of volunteer in Cambodia speaks for her identity outside of the campus: a human right activist. In everyday life, Yoli's warm smile and warm hugs always make my day. Thank you for being wonderful! - Lane Wang '23
---
Class of 2022 Feature
Although this past year has been entirely virtual, we would like to recognize the rising seniors.  We look forward to seeing everything that you will accomplish after Oxy!
Trevor Mairs (Violin) recognizes music as an indispensable means of self-expression, and thus approaches his artistry with passion when playing with the Oxy Orchestra. Although he has only been a part of Orchestra since the Spring 2020 semester, he has both shared many memorable experiences with the Orchestra and left a positive influence for future members. Some of Trevor's fondest memories include participating in the Orchestra's Concert for Young People during Spring 2020. At this concert, he especially enjoyed playing Danzón No. 2 by Arturo Márquez. Amongst performances, Trevor continues to relish in some of the more local experiences within Orchestra, such as being able to sit down during in-person rehearsals, develop lasting friendships with the other violinists, and have the opportunity to be inspired by fellow musicians. During the COVID-19 pandemic, Trevor is enhancing his musicality by learning a Bach violin partita (No.2) on mandolin. Along with this, he has been able to experiment with developing his sound through different recording methods. Along with his musical ventures, Trevor is a biochemistry major. He is interested in education and educational reform, and hopes to teach language arts at the high school beginning fall of 2021. Within his clases, he aims to empower students by centering inclusivity and critical thinking. Trevor, thank you very much for all that you have done for both the Orchestra and the Oxy Community, and we look forward to seeing what accomplishments you make in the future! - Chester Cahill '24
Hyun Gill (Viola) is no stranger to the music department here at Oxy. As a Music (viola performance track) and Biochemistry major with plans to enter the biomedical sciences, Hyun's ambition is quite remarkable as seen in her engagement with different areas of the music department. Since her first year, she has participated in the Symphony Orchestra where she was able to expand upon her previous musical experience from her time in her high school string orchestra. Hyun recalls her favorite experience with the Symphony Orchestra to be the performance of a concerto with the whole orchestra her sophomore year. She also enjoyed playing Danzón No. 2 by Arturo Márquez. In addition to her participation in the Symphony Orchestra, Hyun participates in Chamber Music and takes private lessons. Although her primary instrument is the viola, Hyun plays the piano, has started to learn guitar, and hopes to learn how to play the tenor saxophone. Hyun's engagement with music is so evergrowing, not even a pandemic can stop her. She has maintained her relationship with music during these unprecedented times by filming a few videos of herself playing and by playing with her friend who plays the cello as they live on campus. Hyun, thank you for your great involvement in the orchestra and for being so welcoming! - Leslie García '24
Sherwin Zhang (Clarinet) has been an influential member of the Orchestra since becoming involved in his first year at Oxy. Some of Sherwin's favorite orchestra experiences have included playing in the Caltech-Occidental Wind Orchestra, performing Berlioz's Symphonie Fantastique at a combined Halloween concert with the Pasadena City College Orchestra, and performing the Mozart Clarinet Concerto as soloist and winner of the Occidental Concerto Competition. Alongside his involvement in the Orchestra, Sherwin has been a student worker in the music department since his first year, at first as a music librarian and now as a tech assistant. During the COVID-19 pandemic, he has played a vital role in seeking out new ways for the Orchestra and Chamber Music groups to perform and record music remotely. Sherwin is double majoring in music composition and computer science, with plans to work as a software engineer developing music notation software. In his free time, he enjoys practicing mixing and recording techniques, coding, playing games with friends, skiing, and cooking. Sherwin, thank you for everything you have done to make the Orchestra such a great community! - Timothy Shortell '24 
Sven Slattum (Bassoon) is a veteran of Oxy Music. He has premiered new works in Oxy Chamber Music, plays in the Caltech-Occidental Wind Orchestra, and of course, performs with the Occidental Symphony Orchestra. One of his fondest moments as an orchestra member is his performance of Weber's Bassoon Concerto in the Spring of 2020, where his friends tried to hand him a pineapple on stage. However, his favorite aspect of the Orchestra is its close-knit community, where he credits making his first friends at Oxy. After rehearsals, he and other orchestra members would go to the Tiger Cooler to wind down, eat, and socialize. Although his main instrument is the bassoon, Sven has played the baritone, tuba, and drum line in marching band, and also trumpet and trombone in jazz band. He likes the bassoon the most, since it has such a wide range, complex fingerings, and its ability to blend well within the orchestral texture. Sven is a Computer Science major interested in Game Design, as well as a Math minor. In his free time, he likes to play video games (Overwatch, Super Smash Bros) and practice his bassoon. - Sherwin Zhang '22
---
Class of 2020 Feature
Because of the multitude of recital and music event cancellations due to the COVID-19 pandemic, we wanted to recognize the senior class of 2020 here. We thank you for everything you have done for the orchestra and at Oxy!
Michael Kwan (Concertmaster) has been one of the most familiar faces in the Oxy Symphony Orchestra, serving as first violin concertmaster for several 2019-20 concerts. The favorite piece he's played at Oxy was, like for many others, the thrilling Danzón No. 2 by Arturo Márquez. Michael isn't much of a Green Bean person, but his favorite Cooler snack after a Tuesday evening rehearsal is a cold can of Yerba Mate tea. The third floor of the Academic Commons, or library, is his favorite place to study on campus, with its independent study desks and general quiet that help people buckle down on their work. An extremely talented virtuoso violinist, Michael is always working on ways to unify the violin section through shared techniques or bowings, especially during complicated pieces. Michael also provides constant, reliable guidance when leading the section. Thank you for all you do, and we can't wait for what's next for you!! - Angelina Lee '22 
Lauren Chin (flute, piccolo) approaches music with intent and it is obvious that she has also applied this same resolution to her participation in the Orchestra. Lauren can typically be found coming into rehearsal with her flute, a giant science textbook, and a lab notebook in hand. Even with a heavy course load that has followed her throughout her Oxy career, Lauren has shown a steadfast dedication to playing music (both in the Orchestra and in chamber groups) as well as in being a kind and welcoming friend of the Orchestra. Her favorite piece to date has been the Phantom of the Opera Medley and her typical post-rehearsal Cooler snack is a Philly cheesesteak on rice with veggies – talk about delicious! When she's not contributing to Oxy's music scene she can be found ordering a green dynamite from the Green Bean or studying, similarly to Michael, on the third floor of the Academic Commons. Lauren, you, and your gentle smiles from across the Thorne stage will be dearly missed. Still, we are so excited to see where your resiliency and passion that we have all come to know so well will take you! - Maya Angulo '21
Dominique Wright (Flute) is always ready to offer new members of the Orchestra a smile and warm welcome to the Oxy Orchestra family. A music major with a focus on flute performance, Dominique enjoys playing exciting pieces that plays to her versatility as a musician. Some of her favorite pieces that the Orchestra has played include Night on Bald Mountain and Video Games Live. When not practicing or at rehearsal, Dominique can be found sipping on a blue velvet from the Green Bean (that's an early grey tea with lavender) while studying on the Hameetman Science Center Patio overlooking the rest of campus and parts of the rest of the Eagle Rock area.  Dominique, thank you for being a pillar of stability and love within our Orchestra family. You have delighted us all with not only your playing, but also your kind and bubbly spirit – offering advice, a shoulder to lean on, and many fun post-rehearsal Cooler snack and chats. You will be dearly missed, but we are so excited to see where you go! - Maya Angulo '21
Jiaqian Wu (Piano), looks back fondly on her years in the Occidental Orchestra.  She especially enjoyed playing Danzón No. 2 by Arturo Márquez this past February for our Young Person's Concert.  Her favorite Green Bean drink is one that you can't go wrong with: the cold brew.  After a long evening rehearsal Jiaqian enjoys heading to the Tiger Cooler for a chilled yogurt parfait.  Right before a big test or project is due, you can find Jiaqian studying frantically in a cubical in the library.  We've enjoyed getting to know you these past few years at Oxy Jiaqian and we look forward to seeing where you go next!  Good luck in all you do.  - Joaquín Madrid Larrañaga '23
Kevin Conroy (Second Violin), having been involved in Orchestra even before attending Oxy, has been a highly involved and engaged member. As a violinist and the current manager, Kevin has "had the pleasure of seeing [the orchestra] grow year by year" noting, "it was pretty explosive". From the moment he sat in on a rehearsal when the orchestra was barely forming, to performing in concerts all four years at Oxy, Kevin has had a wide range of experiences. He thinks back positively on the collaborations the orchestra has done with the Glee club or a Phantom of the Opera Night he coordinated with other orchestra members where they shared food and could bond over the music they were playing during rehearsals. Of course, it hasn't been entirely easy. Being a History and East Asian studies double major, Kevin has overcome the problems of balancing time while still enjoying music. When it comes to time management and you have a lot on your plate, he offers, "When you need time to practice you just pick up your instrument for 20 minutes and be strategic with the time you use to practice". He is excited to see the orchestra grow further and positively suggests to "make the orchestra your second home" where everyone can stay interconnected and develop strong relationships through the years.  - Yoli Patzkowski '23