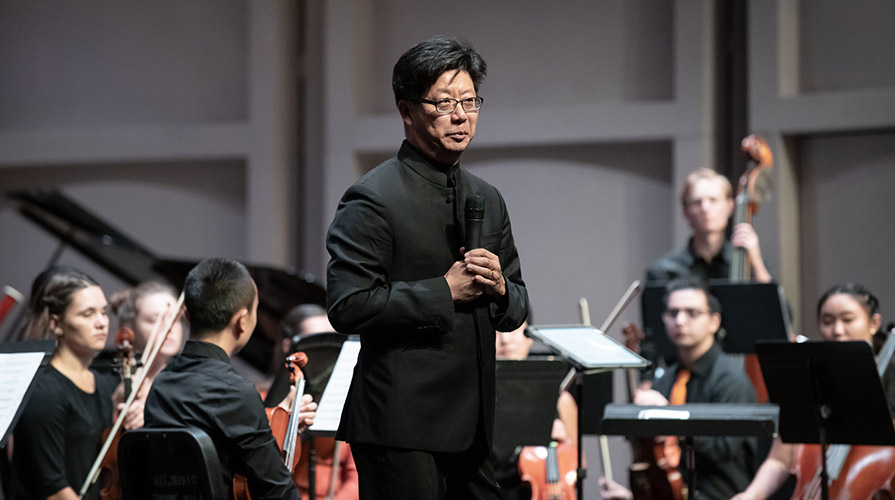 Here is a list of our current repertoire for the 2019-20 season. We welcome you to join us for any of our upcoming concerts!
Click here to see the entire Fall 2019 concert on YouTube.
Overture to Idomeneo, K.366 - W.A. Mozart (1756-1791)
Little Bluestem - Forrest Pierce
I. Buffalo Commons
II. Kaw River, Late Autumn
III. Controlled Burn
Pelléas et Mélisande (Pelléas och Mélisande), Op. 46 - Jean Sibelius (1865-1957)
I. At the Castle Gate
II. Melisande
III. At the Seashore
IV. Spring in the Park
V. The three blind Sisters
VI. Pastorale
VII. Melisande at the Spinning-Wheel
VIII. Entr'acte
IX. The Death of Melisande
Ritual Fire Dance from "El Amor Brujo" - Manuel De Falla (1876-1946)
Choral Prelude "Wachet auf, ruft uns Die Stimme" - J.S. Bach
Holiday for Strings - David Rose
Serenade of Carols - Morton Gould
White Christmas - Irving Berlin
Musicological Journey Through the 12 days of Christmas - Craig Courtney
Click here to see our promotional video.
Click here to see the entire performance on YouTube!
Potpourri (Mit Fantasy) for Viola and Orchestra, Op. 94 - Johann Nepomuk Hummel
Featuring soloist Hyun Gill '22 on viola.
Concerto for Bassoon in F Major, Op. 75 (J. 127) - Carl Maria Von Weber
I. Allegro ma non troppo
Featuring soloist Sven Slattum '22 on bassoon.
Violin Concerto No. 2 in D minor, Op. 22 - Henryk Weiniawski
I. Allegro moderato
Featuring soloist Michael Kwan '20 on violin.
Kol Nidre for solo cello, Op. 47 - Max Bruch
Featuring soloist Tiffany Kim '23 on cello.
Piano concerto No.1 in E minor - Frederic Chopin
I. Allegro maestoso
Featuring soloist Irene Li '21 on piano.
Danzón No. 2 [1994] - Arturo Márquez
Spring 2020
Unfortunately, due to the coronavirus outbreak, we have cancelled our spring concert.  Below are the pieces we would have performed.  We are in the process of exploring virtual options so check back soon for more updates!
Canto for Orchestra - Adam Schoenberg
Overture No. 1 in E Minor, Op. 23 - Louise Farrenc
Requiem - Gabriel Faure