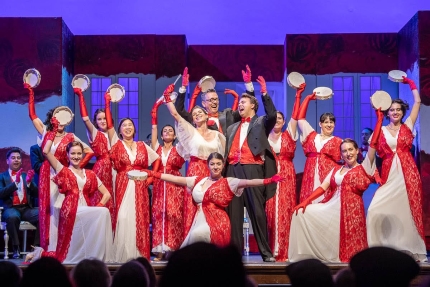 In an ongoing partnership with the Occidental College Music Department, Highland Park's Pacific Opera Project stages Verdi's masterpiece La traviata in Thorne Hall.
Following up on a successful production of Stravinsky's The Rake's Progress in 2016, Highland Park-based Pacific Opera Project (POP) partnered with the Occidental College Music Department again this October to present Giuseppe Verdi's masterpiece, La traviata. After a Thursday dress rehearsal, open to Oxy students and faculty, POP played to a full Thorne Hall on Saturday evening and Sunday afternoon, bringing fans from all areas of Los Angeles to the Occidental campus.
In addition to supporting POP, praised as one of L.A. Weekly's best opera companies of 2017, by hosting the shows in Thorne Hall, Occidental's collaboration allows Glee Club members to gain experience rehearsing and performing with professional opera singers by serving as the chorus, both on-stage and behind the scenes. In La traviata, students appeared in full costume as party guests in two of the opera's three acts.

The Glee Club performs alongside POP cast members as Parisian party guests, toasting and singing with protagonists Violetta and Alfredo.

Before the Sunday matinee, patrons enjoyed a champagne brunch in Booth Hall's courtyard, with a guest lecture by Professor David Kasunic, Music Department Chair, on 19th Century Paris's treatment of the relationship between singers and tuberculosis, the disease that takes Violetta's life at the end of La traviata.