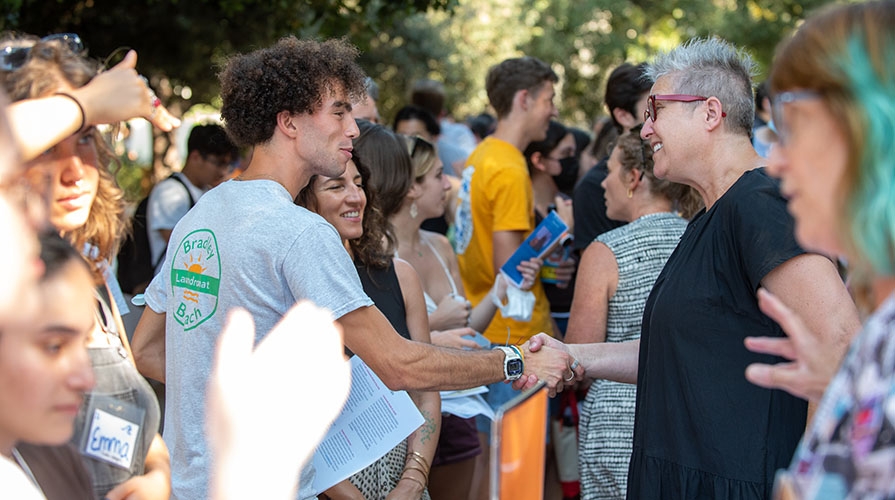 Oxy is committed to creating a safe, welcoming and respectful environment on campus for our entire community.
COVID-19 Safety
In order to continue to deliver the full Oxy experience, Occidental College continues to monitor the pandemic closely. For the safety of students, staff, and all visitors, Occidental has implemented COVID-19 vaccination, testing, and masking requirements for the entirety of campus. 
A Culture of Care
While Occidental's park-like setting is a peaceful one, we are ever mindful of our location in a major metropolitan area and remain committed to providing a safe, secure and healthy environment for all members of the campus community. Therefore, Occidental works to proactively assist all of our students as a part of our "culture of care." For more information, please visit the Dean of Students Office website.
Emmons Wellness Center
Health and wellbeing is important to students' personal and academic success and Emmons Wellness Center is here to help! Emmons is Occidental's student wellness center, dedicated to providing high-quality, accessible, culturally sensitive, and student-centered medical care and psychological counseling services. Emmons' staff utilizes a comprehensive approach to wellness services that seeks to enhance the physical and emotional wellbeing of students so they may be fully engaged in all aspects of college life.
Occidental's Campus Safety department provides security and emergency response services for the College 24 hours a day, seven days a week, with full-time, unarmed, uniformed officers who patrol the campus on foot, on bicycles and in marked cars. All officers are certified in first aid and CPR.
Disaster Preparedness
Occidental has established a standing committee on emergency preparedness to plan and prepare for various emergencies. If a major emergency should occur, Occidental will carry out its Emergency Operations Plan, which details response procedures to a variety of possible scenarios. All students are automatically enrolled in the Oxy Alert notification system.
Emergency Contact
Should you need to contact your student in case of an after-hours emergency, please call Campus Safety at (323) 259-2599.