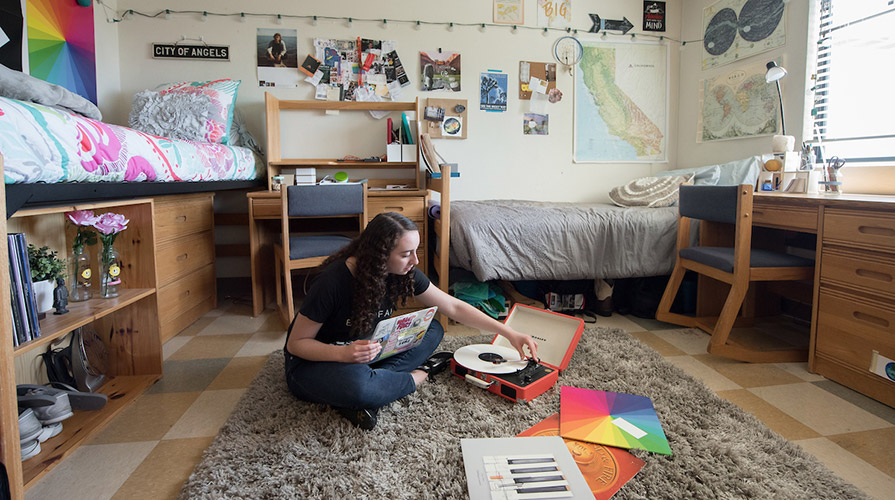 Roommate and Room Assignment Information
REHS will spend the months of June and July reviewing all incoming student housing applications, making room assignments and matching roommates. As this is a significant task, this will take several weeks to complete. Students can expect to receive their room assignment and roommate(s) information in early August.
Themed Living Communities
Themed Living Communities (TLCs): TLCs, a signature program offered by REHS, create affinity spaces for students with shared identities and provide opportunities to learn and build community through intentional programming that centers the TLC theme. 
First Year Students: If you are interested in applying for a TLC, you are able to indicate this when you complete your housing application; there is no separate application process.
Space is limited in each of the communities and all applicants will be notified when they receive their housing assignment in early August. Students who are unable to be assigned to a TLC will receive roommate and room assignment information in August. 
Disability Housing Accommodations
2023 Spring Transfer students—if you have a medical need for a housing accommodation due to a documented medical or psychiatric disability, or have questions about housing accommodations, please review the Housing Accommodation Policy on the Disability Services website and contact Disability Services directly at accessibility@oxy.edu or (323) 259-2969. First-year students (starting Fall 2023)—please wait to contact DS until further notice. 
Transfer Students
We do have housing for spring transfer students. Admitted students who commit to Oxy by December 9, 2022 (and indicated an interest in on-campus housing on their application), are confirmed for housing. Oxy's Residential Education and Housing Services office will reach out to you about housing opportunities. Due to limited availablity of housing in the middle of the academic year, students will be housed in a double or triple (single rooms are not available). Housing may be available for spring transfer students who commit after December 9 on a space-available basis; information will be provided later in the winter. 
Questions?
If you have any additional questions, please contact the Office of Residential Education and Housing Services at resed@oxy.edu or (323) 259-2531. We are looking forward to welcoming you into our residence halls and onto campus!