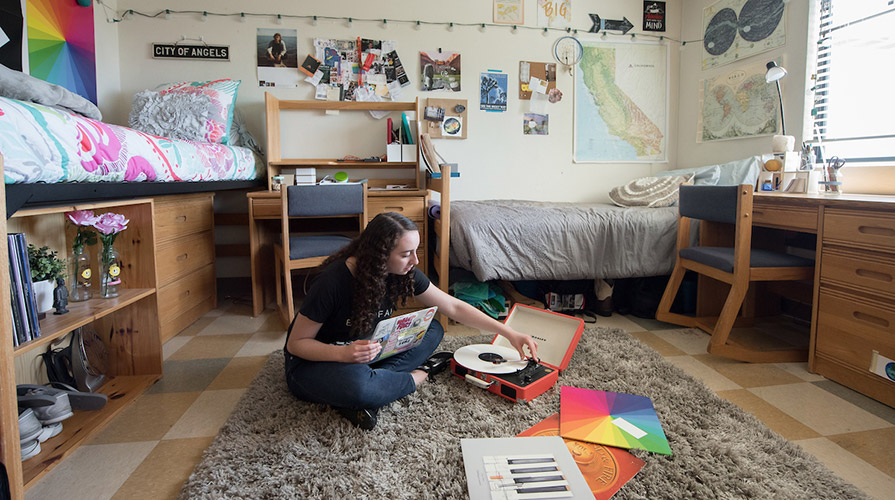 How to Complete Your Housing Application
The Fall 2022 Housing Application is now open! REHS utilizes a software program called eRezlife to manage housing. eRezlife allows you to complete your housing application, indicate roommate preferences and review additional resources and bulletins pertaining to housing at Oxy. Please review the step-by-step eRezlife instructions and be sure to complete your housing application by July 1. We recommend that you sign up as soon as you are able.
Step 1: Log into oxy.erezlife.com using your Oxy credentials (the same login used for your myOxy account). When l​ogging in, you will use the tool bar on the left side of the screen under the header "Housing" to complete all of the steps. Note: You will need to have your Oxy login credentials in order to log in. If you do not have your credentials OR if you are having trouble logging in, you will need to contact Oxy's Information Technology Services (ITS) department at: helpdesk@oxy.edu or by calling (323) 259-2880 during College business hours.
 
Step 2: Select "My Housing Profile," confirm that all of your information is correct, and press SAVE. Go back to the toolbar and select "Housing Overview"​ and ​click "Apply Now" to access the Fall 2022 Housing Application.
 
Step 3: Complete the Fall 2022 Housing Application. You must submit the application by July 1. Once the housing application closes, we will be unable to re-open it. If you do not complete the application by this deadline, you will be automatically assigned a roommate(s) and room. 
 
Step 4: Please read the Terms & Conditions file on the confirmation page of the housing application. This is where you will review your Housing License Agreement. Don't forget to click "Submit."
 
Step 5: If you have a preferred roommate, go back to the toolbar and select "Roommate Groups."​ Next, create a group name, making sure to put in your desired roommate(s') Oxy email address(es). Members of the roommate group will receive an email asking for their acceptance; members must confirm their placement in the group. Note: Roommates and room type (e.g. doubles and/or triples) are not guaranteed based on your roommate groups. Though we try to honor all requests, students will be placed in what is available at the time housing assignments are made. For example, a roommate group of two people does not guarantee a double room; you may have a third person added to form a triple.  
Roommate and Room Assignment Information
REHS will spend the months of June and July reviewing all incoming student housing applications, making room assignments and matching roommates. As this is a significant task, this will take several weeks to complete. Students can expect to receive their room assignment and roommate(s) information in early August.
Themed Living Communities
Themed Living Communities (TLCs): TLCs, a signature program offered by REHS, create affinity spaces for students with shared identities and provide opportunities to learn and build community through intentional programming that centers the TLC theme. 
First Year Students: If you are interested in applying for a TLC, you are able to indicate this when you complete your housing application; there is no separate application process.
Space is limited in each of the communities and all applicants will be notified when they receive their housing assignment in early August. Students who are unable to be assigned to a TLC will receive roommate and room assignment information in August. 
Disability Housing Accommodations
If you have a medical need for a housing accommodation due to a documented medical or psychiatric disability, or have questions about housing accommodations, please review the Housing Accommodation Policy on the Disability Services website and submit your accommodation request online starting June 1. The deadline to submit housing accommodation requests for incoming students is July 1st.
Transfer Students
We do have housing for transfer students. Students who committed to Oxy by May 30 are confirmed for housing and will submit the housing form by July 1. Housing may be available for transfer students who commit after May 30. Information will be provided later in the summer. 
Questions?
If you are having difficulty with your Oxy login credentials, please contact ITS at helpdesk@oxy.edu or by calling (323) 259-2880 during College business hours.
If you have any additional questions, please contact the Office of Residential Education and Housing Services at resed@oxy.edu or (323) 259-2531. We are looking forward to welcoming you into our residence halls and onto campus!