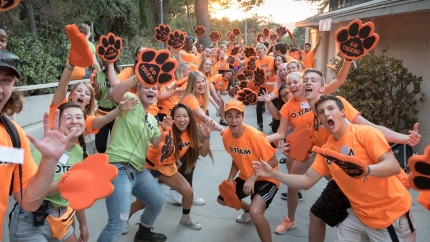 I hope everyone had an amazing summer vacation and is ready to dominate this semester! For those of you who don't know me, my name is Dominique Wright and I am a Junior Flute Performance major with a double minor in Economics and MAC. For the past two years, I have served as the social media editor for the division of student affairs. What is student affairs you ask? Well, let me tell you a little about our division. 
Our division is made up of 10 departments on campus: Community Engagement, Student Leadership, Involvement & Community Engagement (SLICE), Office of Religious and Spiritual Life (ORSL), Dean of Students, Emmons Wellness Center, Neighborhood Partnership Program (NPP), Campus Safety, Residental Education & Housing Services (REHS), Upward Bound and, our newest member, Athletics. Our mission as a division is 'providing students with an exceptional co-curricular experience, which compliments and enriches the College's outstanding academic programs. Student learning doesn't just happen in classrooms. There are teaching opportunities everywhere and at all times on campus that will help students develop and it's our job to identify these moments. As student affairs, our job is to encourage these interactions. Stimulating an understanding and respect for diversity, the virtues of individuals and supporting our students in their needs are just examples of our mission for the students. 
Therefore, we want to hear from you! Our social media intiative has been active for the past 2 years and we want to know what y'all think of it so far and what changes you would like to see this year.