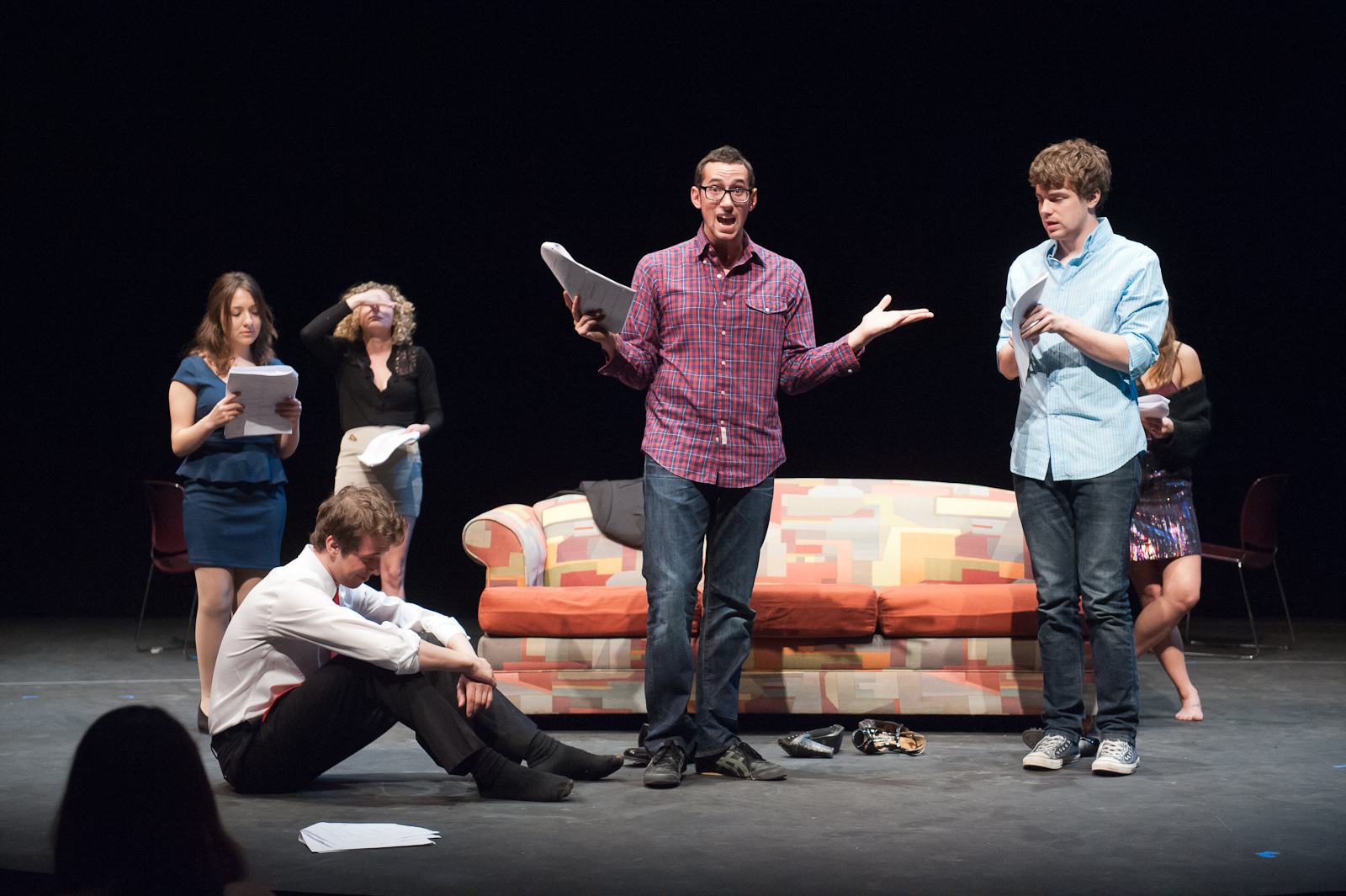 Read about what our NPF alumni are up to now and how NPF and the playwriting program helped them get there.
Gladys Eva Angle | Brandon Baruch | Karen Baughn | Soren Bowie
Nina Rose Carlin | Joe Chandler | Courtney Dusenberry| Kirsten Easton | Zee Echo Eskeets | Maricela Guardado | Hilly Hicks | Jeff Kauffmann |
Angela Kang | Winston A. Marshall |
Rachel Noll | Erik Patterson |
Anne Garcia Romero | Marvin Solomon | 
Tristan Waldron
Gladys Eva Angle '11 - FACULTY EMAIL CHAIN
Gladys is a hot shot screenwriter in Los Angeles. She worked in film production post-Oxy, and is currently (begrudgingly) holding down a day job while writing scripts for Youtube Channels and various independent filmmakers. Also, one time she shook hands with the dude who played Ted Mosby on How I Met Your Mother, and thought he seemed like a nice enough guy.
"Participating in the New Play Festival awarded me a fantastic opportunity to workshop my creativity as a young writer. My experience to date is unparalleled. I received a level of support and guidance that you just do not encounter as a creative professional. I entered the festival just after receiving a rejection notice for a study abroad application--and it couldn't have worked out better. Seeing my one-act play grow into a fully fledged performance was an amazing gift . Experimenting with story and character within the stage play format assisted my development and fluency within the screenwriting format. I've maintained friendships with my classmates who performed in my one-act play, and made connections with the professional actors who read my full length play (which was also my senior thesis). I've since developed my full length play into a TV pilot. I hold this program in high esteem, and hope it will endure for many years to come." - Gladys
Brandon Baruch '07 - 32
Brandon Baruch is a Los Angeles-based Playwright and Lighting Designer. His most recent script, Tim, received a workshop production in August 2017. His plays Me Love Me and NO HOMO have been performed in both Los Angeles and New York, and NO HOMO garnered five awards at the 2014 Hollywood Fringe Festival, including Best World Premiere and Best Playwright. His design work has been seen internationally.
"I honestly believe I owe my career to NPF, since it introduced me to L.A.-based director/producers Jessica Hanna, Mark Seldis, and Bart DeLorenzo." - Brandon
Karen Baughn '08 - KECK NINJA WARRIOR
Karen Baughn is a writer and comedian in Los Angeles. She has been lucky enough to write for years along side the one-and-only Berry Gordy and had a hand in helping him create the script for Motown the Musical. She also writes and performs for the iOWest house sketch team "The Truce" who recently made their Comedy Central Stage debut and for the house character team "Character World." She also teaches Sketch Writing at iOWest, which at the time of writing this bio is NOT in financial trouble and plans on staying open for 100 years.
"I don't know where I would be if it wasn't for Laural and the New Play Festival. I graduated in 2008, right in the pit of the financial collapse. But while my brilliant, beautiful, college-educated friends were struggling to get enough hours as tutors and baristas, I was getting a steady paycheck as a writer and being served grilled salmon on the veranda of a multimillion dollar Beverly Hills super-estate. It wasn't because I was any BETTER than them. It was because of NPF. You see, when Motown legend Berry Gordy wanted an intern to work on the script for his musical, he came to Oxy, Oxy went to Laural and Laural went to me. Because she knew what I could do from NPF.  The New Play Festival gave me a chance to work my skills, hone my voice, and develop my script in a collaborative team environment - exactly the things that I needed to be ready for that once-in-a-lifetime job. That part-time internship turned into a weekly paycheck that payed  my rent for four years and allowed me to continue all my other creative pursuits. I think it is entirely possible that, without the experience and connections that NPF gave me, I would not have been able to survive in LA during those years and I would be a very cute but unfulfilled office assistant in Idaho somewhere. Thanks NPF!" - Karen
Soren Bowie '04 - THE RIVER STYX
Soren Bowie graduated in the class of '04 and is currently a staff writer at American Dad. He was formerly an executive editor and senior writer at the comedy website Cracked.com. He has never published any novels but knows that writers frequently refer to them as their babies and he does have one of those. A literal baby.
Nina Rose Carlin '15 - BARK BITCH
Since graduating from Occidental College in 2015 as a theater major (and lover of the New Play Festival), Nina has written, directed, and produced When I Was Sacred and Black Widow Laughs at the Hollywood Fringe Festival. She was a selected writer in ABC's 2017 Talent Showcase, where her original work was performed in both LA and NY as part of their program for emerging screenwriters. Her play, Jack Courage in the Land of Olives, (which she originally wrote for the New Play Festival in 2014!), was recently work-shopped at The Bima in Tel Aviv. She currently works as an on-camera reporter / red-carpet host for Super News Live and Regal Cinemas, and continues to pursue a career in entertainment as a writer and actress. Catch up with her at www.ninarosecarlin.com.
Joe Chandler '01 - HOPE. A PLAY.
Joe Chandler writes for TBS's animated comedy American Dad! where he is a Co-Executive Producer.  Prior to his work on the show he wrote for Fox's animated adaptation of Napoleon Dynamite.  Joe also writes and performs at UCB theater in "The Midnight Show."
"When I arrived at Occidental I already knew that I wanted to pursue comedy as a career, but it wasn't until I participated in the New Play Festival that I realized that my path could be as a writer.  The festival was an excellent way to discover that things I wrote down could make people laugh without the added pressure of having to say them myself." - Joe
Courtney Dusenberry '09 - UNEARTHLY INTERVENTION
While at Oxy, Courtney wrote and produced two original works, and produced many other students' work with NPF.  After receiving her MFA from The Peter Stark Producing program at USC ('13), Courtney decided to pay the bills as a props master and scenic artist. This way, (she thinks) she has time to write/develop her own projects, like The Roaring Twenties; an original Virtual Reality series, set in a 1920's speakeasy, and adapted from a short story by Carrie Vaughn.  Fun fact: The VR series is also being produced by fellow Oxy theater alums, Kari Swanson '10 and Sienna Beckman '11.

"For me, the New Play Festival was a formative learning experience that solidified my belief that I would like to very much put on plays and/or entertainment for the rest of my life (I wrote one year, and produced three others for the festival.)  But, perhaps, more importantly:  The festival gave me the privilege to call myself a writer.  The feeling of having your name on a playbill, and a poster, and multiple emails with the title of "writer" meant so much to me then, and today, as I struggle to make time for my own writing projects outside of my regular day job.  At the time, Laural had to remind me that I deserved to be there: I crafted those words and my piece was chosen to be produced and it will be on the stage, as written.  If I could go back in time and shake some sense into that collegiate writer, I would, because it was a blessing to have my young/budding talent believed in and produced.  The New Play Festival is a place for new, raw talent to be treated like professional mainstays; directors and sometimes actors from the professional community would come into Oxy's equally supportive theater department to make these new plays a reality on the main stage, with lights, sound, sets, and props.  Today, I have many titles in my work: Designer, Coordinator, Manager, Artist, Props Master.  And though I still call myself a writer, it's not blasted on many emails or any posters, of late.  Still, though writing is (unfortunately) not my first priority on most days, it is still a passion of mine and a part of my identity thanks to Laural Meade, her playwrighting class, and the New Play Festival at Occidental." - Courtney
Kirsten Easton '13 - A THOUSAND DIFFERENT WORLDS
Kirsten Easton was born and bred in the suburbs of sunny Southern California. Though she now makes her home in Colorado, she's a California girl at heart and finds any excuse to wear a good sandal. She holds a B.A. in both Theater and Sociology from Occidental College and an M.F.A. in Playwriting from Southern Illinois University. Her plays have been performed in Los Angeles, New York City, Chicago, Milwaukee, and Houston (among others). She is currently playwright-in-residence at La De Da Performing Arts Company, where she also teaches playwriting. When she's not writing plays, Kirsten enjoys the challenge of keeping her succulents alive and befriending introverts.

Zee Echo Eskeets '07 - #stillbroke
Zee Echo Eskeets is a bartender by day and a crime fighting ninja by night. She has a Bachelor of Arts in Theater from Occidental College and was inspired by her Playwriting Professor, Laural Meade and The New Play Festival to pursue further education in playwriting. The play she wrote while attending Prof Meade's class, Exquisite Ruin, landed her a spot in the 3 year Playwriting Master Program at The University of New Mexico. In 2013, she graduated with distinction. She currently resides in exotic ABQ, New Mexico and has written a few plays/screenplays for Two Worlds Native Theater and Film. Zee plans to return to the City of Angels where she dreams to write for TV but until then, Albuquerque needs her. Hopefully there will come a day when life finds a balance of its own and the world will be at peace.
Maricela Guardado '17 - UNTITLED ACTO
Maricela is a theater writer and performer. Born and raised in Los Angeles, she studied theater at LA County High School for the Arts and at Occidental College. Through Oxy's New Play Festival, Maricela was able to develop her first full-length one-act, This Is How The Pacheco Brothers Make Their Mama's Chicken Soup. As an Institute for the Study of Los Angeles Fellow, she workshopped a second reading of the play, which she also directed in 2016. New Play Festival also allowed her to experiment with many theatrical tactics, which led to the development of her site-specific performance, Las Tres Santas de Malinalli, presented as her senior comprehensive project. She currently resides in Seattle, WA.
Hilly Hicks '92 ALUMNI GIVING
Hilly Hicks '92 writes for theater and television. His plays have been workshopped and produced at South Coast Repertory, La Jolla Playhouse, the Mark Taper Forum, Manhattan Theater Club, the Humana Festival and Seattle Repertory, among many others. Hicks is the recipient of the Berilla Kerr Foundation Award for playwriting, a Backstage Garland Award for Best Play and a Van Lier Playwriting Fellowship from New York Theatre Workshop. His television writing includes work on Kidnapped, Army Wives, The Big C, Jessica Jones and Chicago Fire. 
Jeff Kauffmann '01 - THE AGONY AND THE ECSTA-SEATS
Jeff Kauffmann is a writer and producer on TBS's American Dad!, has written and performed with The Midnight Show at the UCB Theatre,  and wrote and executive produced the movie Welcome to the Jungle.
"The NPF was huge for me in developing skill, confidence, and love for writing for the stage (and, by extension, screen). The opportunity that early on to have a work produced with real, live, actual performers in front of a real, live, actual audience was encouraging, edifying, and most of all just incredibly fun. It's possible I would have forged ahead into a writing career even without that experience to get me started on the path, but I can't say for sure... and I'll always be grateful to have had it." - Jeff
Angela Kang '98
Executive Producer/Showrunner, "The Walking Dead"
"I participated in the New Play Festival as a student (and for several years beyond as an alum), as an actor, writer, and director. I look back on those experiences with such fondness and gratitude -- I developed cherished friendships and a lifelong love of writing for performance during those intense February rehearsals. I want to thank (in print) the wonderful Theater Department at Occidental for their continued support of the creation and development of new work. So many of us that were first finding our voices during the NPF have gone on to become professional writers, but beyond that, the innovation, collaboration, and sheer grit required to "put on this show" will serve every student well no matter their life's path. Huge congratulations to all the artists taking part in this year's NPF -- you are part of a long and truly special tradition!" - Angela
Winston A. Marshall '10 - KECKIN' NIGHTMARE
Winston A. Marshall (2010) or AMar as he was known at Oxy has been pretty busy. If he isn't hosting trivia nights at the local bar or coming up with theories about what will happen in the next Marvel movie, he's using that theater degree to change the world one joke at a time. He attributes his love for sketch comedy writing thanks to Laural letting him write a crazy play loosely based on a true story of his family. In it he found his voice and developed a passion for exploring the nerdy black experience (an experience he is very familiar with). Having worked for REVOLT, Fullscreen, BlackTreeTV and various YouTubers, he started his own show Positive Black People News which can be found on YouTube and Facebook.  Oh and he's hella good at dodgeball too.
Rachel Noll '08 - CADENCE
Rachel is an award winning screenwriter and filmmaker. Rachel's first feature film was Don't Pass Me By, a film she wrote and produced. Rachel won Best Feature Writer at the LA Femme Festival for the script, and the film was released worldwide in February of 2014. Rachel also wrote and produced the feature The Storyteller which won multiple awards in the festival circuit as well as the Silver Prize in the PAGE Screenwriting Awards before being picked up by Hallmark Movies Now for distribution. Rachel also wrote and produced the multiple-award winning short film Paramnesia that was selected as part of the acclaimed horror anthology Fun Sized Horror and released worldwide. Rachel made her directorial debut with the short film Half Light, a film she also wrote and produced. This film landed her as a quarter-finalist in the NexTV Directing Talent Search, and was picked up for exclusive distribution through Seed and Spark. She then went on to write and direct the short film proof of concept for Follow the River, a female driven Western currently in development.
"The new play festival was a highlight every year, a chance to see new works by classmates, and participate in the premiere of student plays - some that rivaled the main stage plays put on when I was there! Whether participating in the festival or cheering on my peers from the audience, the plays really touched me and gave me a taste of the potential that was stirring in me to explore new worlds as a writer myself." - Rachel
Erik Patterson '00 - REUNION
Erik Patterson writes dark, twisty plays and princess movies. He won the Los Angeles Drama Critics Circle award for his play One of the Nice Ones, and has been nominated for Ovation Awards, LA Weekly Awards, and the GLAAD Award. His TV and film work has garnered him the Humanitas Award, the Writers Guild Award, and two Emmy nominations. He recently wrote a sequel to the cult film Deep Blue Sea, which will be available on VOD in April, and will air on the Syfy Channel during shark week.
Anne Garcia Romero '86 - excerpt from STAGING THE DAFFY DAME
Anne García-Romero's plays include Provenance, Paloma, Earthquake Chica, Mary Domingo, and Santa Concepción. Her plays have been developed and produced most notably at the New York Shakespeare Festival/Public Theatre, the Eugene O'Neill National Playwrights Conference, The Goodman Theatre, The Denver Center Theater, The Mark Taper Forum, Hartford Stage, Borderlands Theater, National Hispanic Cultural Center, Los Angeles Theatre Center, and South Coast Repertory. She's been a Jerome Fellow at the Playwrights Center of Minneapolis, a MacDowell Colony fellow and is an alumna of New Dramatists. She holds an MFA in Playwriting from the Yale School of Drama and Ph.D. in Theatre Studies from the University of California, Santa Barbara. She's an Associate Professor in the Department of Film, Television and Theatre at the University of Notre Dame. She's a Resident Playwright at Chicago Dramatists.
"I am a playwright because of my wonderful playwriting experiences at Occidental College. In my junior year, I took a playwriting class with Oxy alum David Parrish. He was very encouraging of my work and chose my one act play, Land of the Free, to be included in the 1986 Oxy One Act Festival. Land of the Free, a two-character play about my immigrant father's complicated relationship with life in the U.S., was beautifully directed by another Oxy alum, Irene (Brandenburg) McDermott. As I sat in the theater, I witnessed the intense connections between the performers, the electric quality of attention in the audience, and I knew I needed to continue to pursue playwriting. During my senior year, I wrote a thesis play, with the guidance of my wonderful advisor, Alan Freeman, which culminated in a staged reading. Those two seminal experiences launched me on a playwriting journey that continues to this day. I am eternally grateful for the guidance and mentorship I received at Oxy." - Anne
Marvin Solomon '00 - FOR LAMAR - DONKEY SHOW, THE MUSICAL
Marvin Solomon is a Los Angeles based filmmaker whose short films have screened in festivals around the world, most recently being honored with the Coup De Coeur at The 2017 Cannes Film Festival. He's a proud Oxy alum and this marks his 8th time as part of the New Play Festival. A turning point in his creative life was watching Laural Meade's artistic process, both through the New Play Festival and her play, Leopold and Loeb: A Goddamn Laff Riot.
Tristan Waldron '12 - IS THERE A WORD FOR THAT?
Tristan Waldron is an actor, director, and writer originally from Sherborn, MA and now living in Silverlake. Since graduating from Oxy with a double major in Theater and Biology, Tristan has worked all sorts of jobs from a Barnes and Noble cafe barista to a marine research video editor. He is currently gearing up for his third year as director of the Occidental Children's Theater summer show (shameless plug, come see it!) and working on some upcoming projects with 134 West Productions. Tristan has a lifelong goal of winning NPR's Sunday Puzzle and playing the puzzle live on air with Will Shortz.
"Although I never worked as a playwright in the festival while I was a student, I always loved working the festival as an actor. The New Play Festival was one of the few things at Oxy that connected our department with the professional Los Angeles theater community. I'm always amazed by the nurturing environment Laural has created for undergraduate students, and love returning every year to see the new and diverse ideas that are given a voice and chance to grow." - Tristan