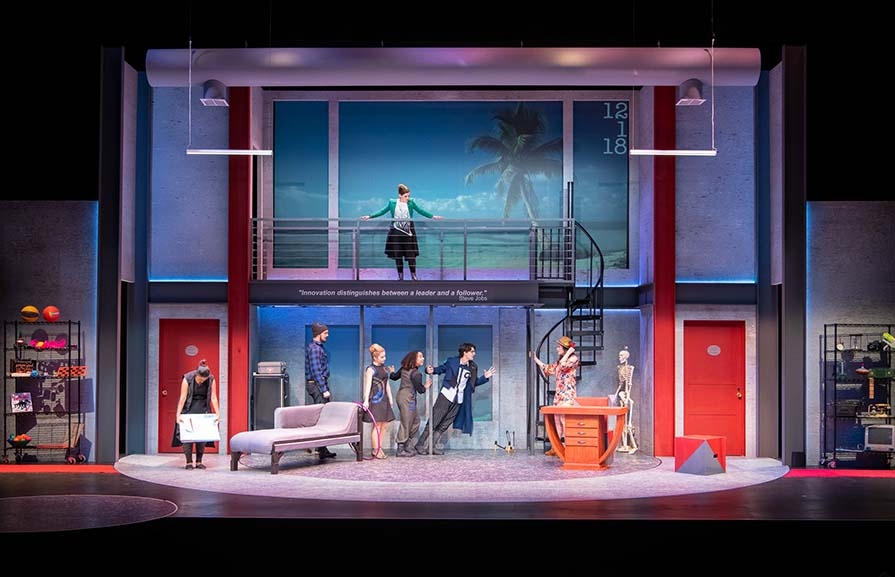 Creativity          Expression          Insight          Innovation
Mission | Acting | Directing | Playwriting | Design | Technical Theater & Production |
Devised & Community Based Theater | Theater History & Criticism |
Los Angeles Theater | Summer Program: Children's Theater
MISSION
Students in Theater and Performance Studies explore the art of theater through theory, performance, and production. Each student experiences the essentially collaborative nature of theater through participation in theater productions. Our curriculum enables students to develop a rich understanding of both the enactment of the written word and the essence of theatrical expression. In addition to preparing our students for further study and related careers in theater or film, we encourage each student to explore ideas of self and community and to express these discoveries through one or more aspects of theater. 
ACTING
Moving through physical work, American Stanislavski training and advanced approaches to the psychology of performance, you will find your own way as an actor ready, if you wish, to explore the professional worlds of stage, film and television. You will work with faculty and guest professional directors, writers and teachers in the beautiful Keck Theater as well as in alternative performance spaces. Along the way, you will learn acting for the camera and performing Shakespeare, and have the opportunity to train in musical theater and children's theater.
DIRECTING
As you make your way through the acting program, you are likely to take our directing class. We provide all of our students who have studied directing the possibility of producing their own directing projects, and we help underwrite the cost.
PLAYWRITING
Most of our students find their way into award-winning playwright Laural Meade's playwriting class. In this class you develop imagination, technical facility, and your own writing voice and style. Some of the work is staged in our unique New Works Festival, in which student writers work with professional directors and actors to develop and produce their plays.
DESIGN
We provide you a state of the art production program aimed at producing the next generation of designers and technicians. You will be able to study scenic, lighting, costume and sound design from introductory through advanced courses. Working closely with faculty mentors, our advanced students apply their skills in main stage and studio productions.
TECHNICAL THEATER & PRODUCTION
From an introduction to technical theater through advanced courses incorporating welding and theater engineering, we help you develop a background that leads to the many opportunities available for those who cultivate and maintain the physical infrastructure of the entertainment industry. And for those students wishing to explore theater production, we offer courses in stage management and producing live events.
DEVISED & COMMUNITY BASED THEATER
Various courses that we offer enable our students to study and participate in performance techniques that engage local communities and both illuminate social concerns and spur reflection in our lives. If you choose to enroll in our school-year children's theater courses, you will have the chance to teach in a local elementary school, and to affect directly the children who live just down the street.
THEATER HISTORY & CRITICISM
As you learn to practice theater, you will also learn its history, and develop an understanding of the uses and the impact of theater upon various cultures and societies. From performances in the street through Broadway stages and Court TV, you will see more clearly the place of storytelling and the theatrical impulse in our lives. And you will discover a more sophisticated understanding of aesthetics that will enable you to identify more clearly what in the theater truly matters to you.
LOS ANGELES THEATER
At Occidental, we see that you make yourself at home in the Los Angeles theater community. We regularly take our students to productions across Los Angeles and Southern California, and we offer workshops with Los Angeles based casting directors, writers, directors, choreographers and fight choreographers. In addition, all sorts of  internship opportunites with theater companies and film production companies across the city are available to you.
SUMMER PROGRAM: CHILDREN'S THEATER
In the summer, we offer our critically acclaimed Children's Theater program. All our students are eligible to audition for its hybrid alum/student company. The company presents performances throughout July and August as well as offering classes for children in its Summer Institute of Fun. During the school year, company members offer Saturday sessions of its Youth Acting Program, and collaborate with local elementary and high school partners through several theater classes.