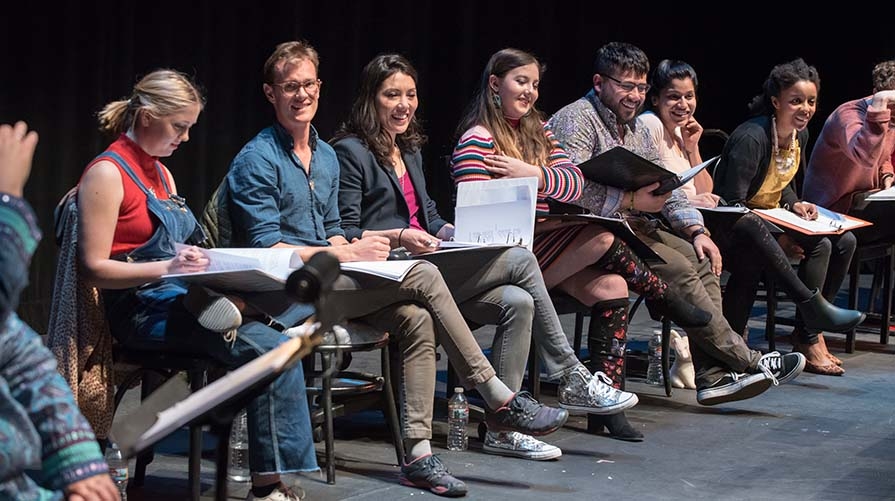 Share news of your projects, achievements, and new directions with us!
Recent News
Sandy Nguyn '21 and Dyoni Isom '19
are producing one of the plays at the Hantext '22 Play Reading Festival, a 4 day festival celebrating the work of queer and trans playwrights of color from the Hantext class of '22. 
Hilary Kang Oglesby '22 and Natalya Nielsen '22 are performing in Mother Sisters by Makaela Vogel '21 at the Echo Theater Company
Hilary Kang-Oglesby '22 and Natalya Nielsen '22 will perform in Mother Sisters by Makaela Vogel '21, a powerful testament to sisterhood and familial history. Based on interviews with Vogel's eight aunts, this docu-play provides a compelling insight into late 20th century womanhood. An earlier draft of this project was staged as her senior comps and will be making it's premiere at the Echo Theater Company. 
Alyssa Escalante '10 directs Amanda Wagner '16 in The Second Coming of Joan of Arc at the Hollywood Fringe Festival
Amanda Wagner '16 stars as Joan of Arc in a contemporary take on the fifteenth century's most documented historical figure. Written by Carolyn Gage and directed by Alyssa Escalante '10, this one-woman show gives the famed martyr a chance to tell her story on her own terms. A searing testimony of her expierences with the church and militrary, The Second Coming of Joan of Arc contends with a brutal history of misogyny that has metriculated into today's modern landscape.
Haley Moran '15 is starring in the world premier of Flex at the Actors Theater of Louisville. 
Flex is set in 1997, just when the WNBA is changing the game. Every player on Plainnole's Lady Train basketball team now dreams of going pro—but first, they'll have to navigate the pressures of being young, black and female in rural Arkansas. Will their fouls off the court tear their team apart? Or can they keep their pact to stick together through hell or high water? With all the adrenaline and swagger of a four-quarter game, Candrice Jones's powerful new play celebrates the fierce athleticism of women's basketball. Starring Haley Moran '15. 
Brandon Baruch '07 is lighting designer for Four Larks & LA Chamber Orchestra's SESSION- Rountree
Featuring site-specific visual concepts staged by art collective Four Larks, SESSION is a unique experience where LACO (Los Angeles Chamber Orchestra) musicians join forces with compelling composers. LACO Sessions are an exciting fusion of music and art, with light design by Brandon Baruch '07. 
New Classic LA called the last Session "the best new music concert in Los Angeles" and "an event I will not soon forget, and that will challenge even the most adventurous program of any series in Los Angeles this year."

Handjob by Erik Patterson '00 opens at the Echo Theater Company September 7, 2019 
In HANDJOB, an encounter between a white, gay man and his black, straight "shirtless cleaner" goes disastrously wrong when signals are misinterpreted, and lines are crossed. HANDJOB explores the aftermath of their meeting, as it reveals deep layers of discrimination, discord, and discontent. How do you know when you've gone too far if you can't agree on where the boundaries should be?
The show will run until October 28, 2019.
Erik Patterson '00 is an award-winning playwright and screenwriter. He recently won the Los Angeles Drama Critic's Circle Award for 
One of the Nice Ones
, which had its world premiere at The Echo Theater Company in 2016. His plays have been produced by Playwrights' Arena, the Los Angeles Theatre Center, Theatre of NOTE, Evidence Room, The Actors' Gang, and the Echo Theater Company, as well as developed through the Lark Play Development Center, Naked Angels, the Mark Taper Forum, and New Group. His plays have been nominated for the Ovation Award, the Stage Raw Award, the LA Weekly Award, and the GLAAD Media Award. With his screenwriting partner Jessica Scott, Erik has written projects for Warner Bros., Universal, 20
th
 Century Fox, Disney, Freeform, MTV, Paramount, Castle Rock, Warner Horizon, and Disney, to name a few. They have been recognized with the Humanitas Prize and the Writer's Guild Award, as well as two Emmy nominations. Erik is a graduate of Occidental College and the British American Drama Academy.
Macbeth at Art Share LA - August 15-September 7, 2019
Alyssa Escalante '10 directs Shakespeare's classic tragedy
Macbeth
at Art Share LA this summer. The production features several Oxy alumni and students including Tristan Waldron '12 (Macbeth/Producer), Courtney Dusenberry '09 (Scenic & Props Designer), Adam Roy '15 (Lighting Designer), Amanda Wagner '16 (Witch), Rachel Goodman '19 (stage manager), Mitch Carswell '20, Megan McKiernan '19, Zoë Speer '20, Kari Swanson '10, Marie Mawji '01, and Tyler Westen '08.
Elena Sánchez '18 in the Hollywood Fringe Festival 2019
Recent alum Elena Sánchez is in the Hollywood Fringe Festival! She will be in the world premiere of "Speak I Will!," a production of Fractured Shakespeare.
Show information:
Preview: Saturday, June 8th at 3:30pm
Performanced: Sunday, June 16th at 7pm; Friday, June 21st at 11pm; Saturday, June 29th at 12pm(noon); Sunday, June 30th at 6:30pm. 
The premiere took place at 
ASYLUM - Studio C
 (Studio C), located on 6448 Santa Monica Blvd.
Sánchez is also featured in the recent short film "Miss Me?"
Kenyon Meleney '15 in Peter and the Starcatcher
Tony-winning Peter and the Starcatcher upends the century-old story of how a miserable orphan comes to be The Boy Who Would Not Grow Up (aka Peter Pan). A young orphan and his mates are shipped off from Victorian England to a distant land ruled by the evil King Zarboff. At sea, the boys are discovered by a precocious young girl named Molly, a Starcatcher-in-training, who realizes that a mysterious trunk's precious cargo is Starstuff, a celestial substance so powerful it must never fall into the wrong hands. When the ship is taken over by pirates, the journey quickly becomes a thrilling adventure. From marauding pirates and jungle tyrants to unwilling comrades and unlikely heroes, Peter and the Starcatcher playfully explores the depths of greed and despair, and the bonds of friendship, duty, and love.
Performed in fall 2016 at the Torrance Theater Company
Maggie Fullilove-Nugent '04 is appointed Production Manager at TimeLine Theatre:
Maggie Fullilove-Nugent '04 is Production Manager at TimeLine Theatre in Chicago, a prominent theater that has received over 50 Joseph Jefferson Awards. She also maintains involvement in her company The Ruffians.