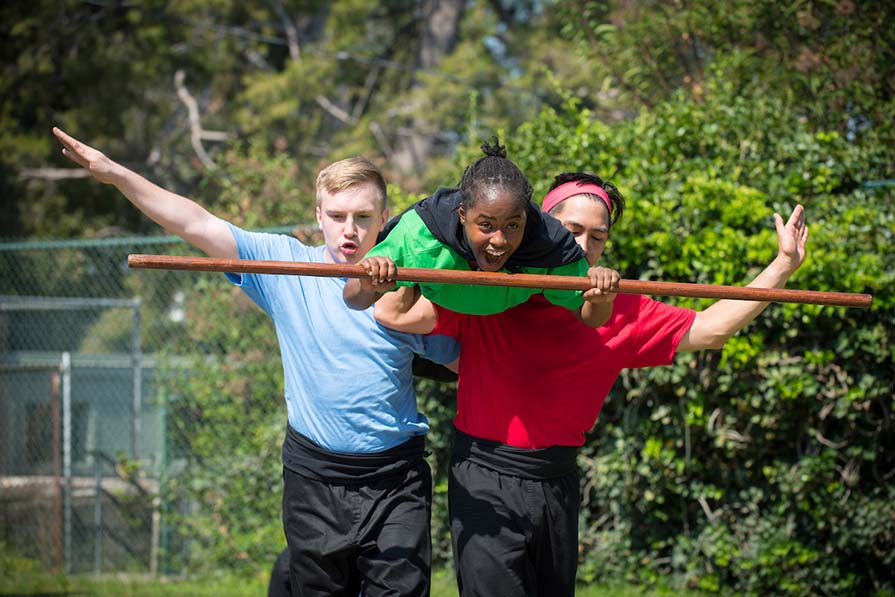 COVID-19 Event Policy
To maintain social distancing, all campus gatherings or events are cancelled until further notice. This includes the Theater Department spring productions. We will not perform live this summer but check out our online stories! As for the Summer Institute of Fun, we have cancelled our acting camp this summer and hope to bring it back in 2021. 
---
Directions to Hillside Theater 
Conceived and written by Jamie Angell

Directed by Tristan Waldron '12
Featuring: Rachel Hayes '21, Dyoni Isom '19, Kai Morfín '22, Sandy Nguyen '21, Sergio Perez '20, and Rosie Stevenson '20
The critically acclaimed Occidental Children's Theater will celebrated it's ​24th year with an original story, The Adventures of Christopher Robin Hood, plus three adventurous adaptations of traditional folktales for a seven-week outdoor run in the Remsen Bird Hillside Theater on the Occidental campus. Summer performances ran Thursday through Saturday, July 11 through August 24, 2019.
In about an hour, ​the cast of six performed four energetic and funny stories without props, sets or special costumes, relying only on their acting and acrobatic skills.              
"The cast carries it off with the unflagging charm that has made this reliable company one of the Southland's – and the summer's – most entertaining children's theater offerings"
---
Click here for maps and directions to the college. Hillside Theater building #41 on the printable campus map. From Campus Road, enter at the Bird Road entrance or the AG Coons Road entrance. From Bird Road, turn left onto Gilman Road. At the stop sign turn right onto AG Coons Road, Hillside Theater is across from Gilman Road and on the left if you enter at AGC Road. Parking is located in first lot on the right. There is also street parking on AG Coons Road.
Keck Theater is #30 on the map and next to Hillside to the south. Follow the same directions. Parking is available next to the theater and on the street. Handicap parking is on both sides of the building.