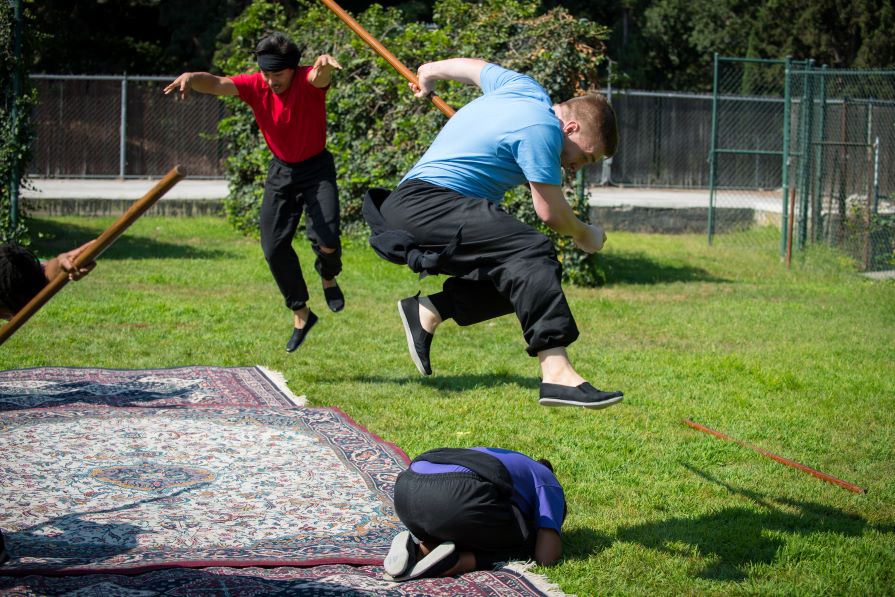 COVID-19 Event Policy
To maintain social distancing, all campus gatherings and events are cancelled until further notice. This includes the Theater Department spring productions and the Summer Institute of Fun. We will be back in 2021 and hope you can join us then. We will not be performing live this summer but we can still tell stories! Check back in July for more information.
What is the Summer Institute of Fun? | Morning sessions | Afternoon sessions | How to sign up | 
More Info 
Our four one-week sessions begin July 13, 2020! 
WHAT IS THE SUMMER INSTITUTE OF FUN? 
The Summer Institute of Fun is a fun-filled, week long acting camp for kids. If you've seen any of our Children's Theater performances, then you know we teach dynamic movement-based physical theater where children learn not only how to perform characters in a story, but how to become the actual set and props as well. Each week will conclude with a folktale performed by the children and you're invited!
Students learn group improvisation and basic movement techniques in a positive and fun learning environment. Our instructors are trained actors under the direction of Occidental Children's Theater Artistic Director and Oxy professor Jamie Angell. Individual attention is guaranteed by limited enrollment with a teacher/student ratio of approximately 1:7.
Many children enroll in more than one session for a deeper and more intensive experience. Since each week focuses on a different folktale requiring different physical skills this allows children to further develop their abilities.
Mat time (extra time after class) is an opportunity to practice what the campers have been learning in an informal playful way through improvisational games based on their area of interest on that particular day.
To top it all off, each child gets the 2020 Children's Theater t-shirt just for joining our camp!
We offer morning classes for younger kids and afternoon ones for older kids. Dates for sessions A,B,C & D and 1,2,3 & 4 will be posted soon.
Morning Sessions for Younger Children
Afternoon Sessions for Older Children
How to Sign Up 
More Information
---
For more information contact us at (323) 259-2771 or email theater@oxy.edu or beatrice@oxy.edu. If you want to be the first to know about Children's Theater or any Oxy Theater events, join our email list!
Minimum Age: Your child must meet the minimum age requirement by June 1, 2020. No exceptions.
For information on Oxy's sports camps, click here.