2020-2021


Photo Credit: Marc Campos
The Occidental Theater Department is excited to present two virtual plays this spring!
---
Events Calendar | Spring | Fall | Student Projects | New Play Festival |
Workshops & Special Events | Past Seasons | Directions to Keck Theater and Thorne Hall | 
Spring 2021
Romeo and Juliet

Written by William Shakespeare
Directed and edited by Will Power
Virtual performances: Thursday - Saturday, April 1-3, 2021 at 7:30pm PDT
Admission is free.
Scenic Design Susan Gratch
Lighting Design Adam Roy
Costume Design by Culley Guest Artist Laura Wong
Sound Design by Woods Innovation Fund Guest Artist Gahyae Ryu
Stage Manager Noa Carlson
A fast-paced, robust and contemporary take on Shakespeare's timeless classic. Utilizing the very latest technological tools, and fusing them with Shakespeare's text, this production of Romeo & Juliet is a no holds barred exploration into the themes of age-old tribalism, modern-day pain, and love for the ages. 
Trope! (Fear Is a Villain)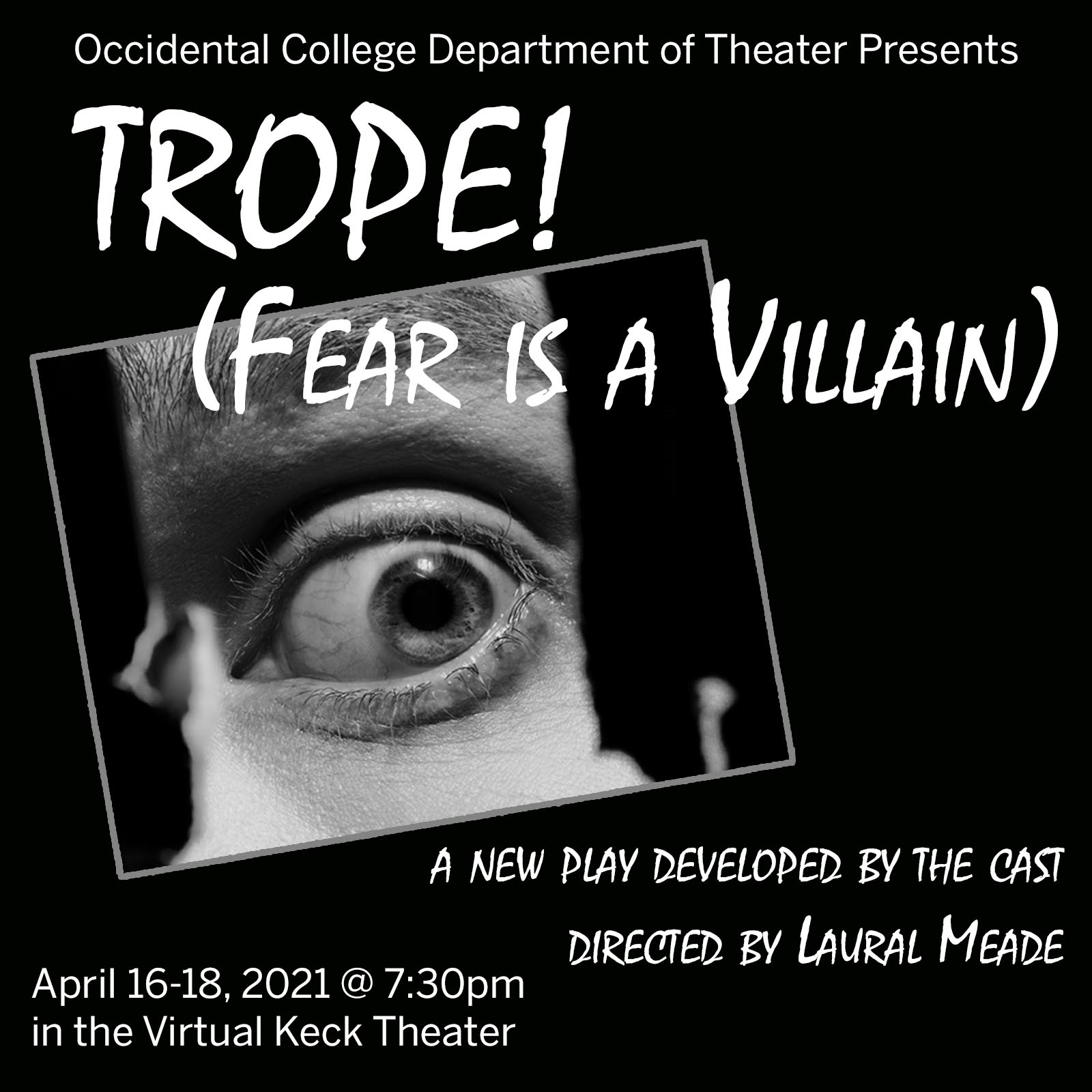 Directed by Laural Meade
Virtual performances: Friday - Sunday, April 16-18, 2021 at 7:30pm PDT
Admission is free.
This production contains mature themes/language and is not recommended for viewers under 12.
For the best experience, watch from a laptop or desktop and wear headphones or earbuds. Before the performance, update zoom to the latest version (while in zoom select "check for updates" from the zoom.us drop-down menu in the upper left hand corner of your screen and follow the dialog box instructions). The show is voluntarily interactive and you will occasionally be asked to turn your mic and camera on and off. Performances may be recorded.
Scenic Design Susan Gratch
Lighting Design Adam Roy
Costume Design by Culley Guest Artist Laura Wong
Sound Design by Culley Guest Artist John Zalewski
Stage Manager Autumn Scott 
An ensemble-created performance event inspired by movie thrillers. Featuring freak-outs, funny bizness and remote flights of fancy, we explore how a year in quarantine has made us look at ourselves squarely in the camera's eye - and how theater's liveness can reach through the digital divide.
---
Fall 2020
SCENES FROM METAMORPHOSES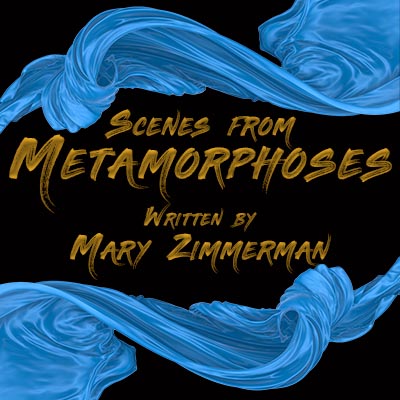 Based on the Myths of Ovid
Written and originally directed by Mary Zimmerman
Directed by Jonathan Muñoz-Proulx
Choreography by Shivani Thakkar
Scenic Design by Susan Gratch
Lighting Design by Adam Roy
Costume Design by Kainan Short
Sound Design by John Zalewski
Performs: October 29-31 at 7:30pm PT
Join us for a Q & A session after the October 30th performance!
Immerse yourself in a magical world of Greek mythology reimagined. This Tony Award nominated spectacle merges hyper-theatricality, heightened poetic language, and a contemporary playfulness to explore love, loss and longing. Engaging Indian gesture work, a devised visual vocabulary, and an ensemble that transforms from Gods to Mortals and back again, Mary Zimmerman's Metamorphoses is a poetic meditation on humanity, heroism, and healing.
Highland Park is Here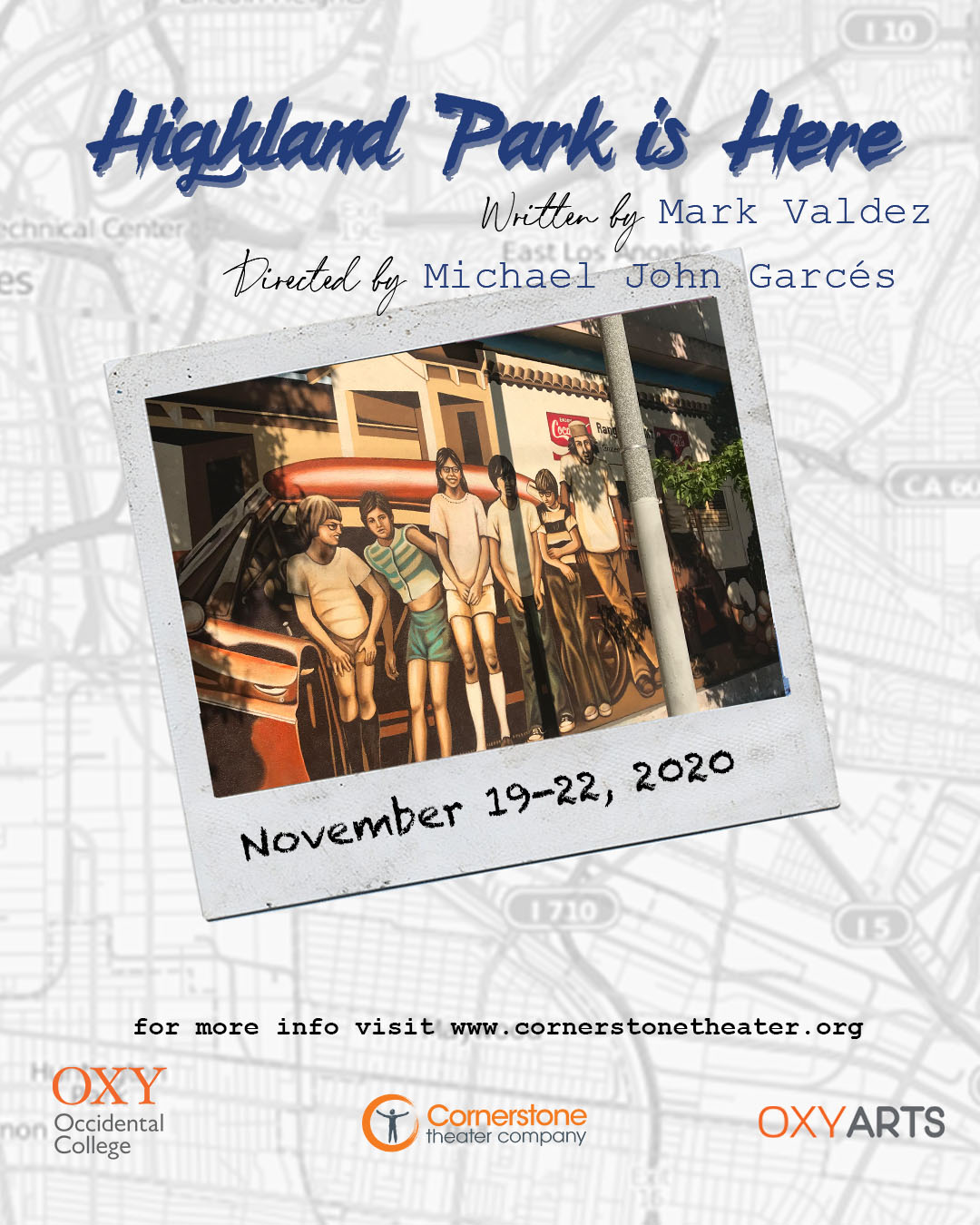 With the Cornerstone Theater Company
Written by Mark Valdez
Directed by Michael John Garcés
Performs: November 19th-22nd at 7:30pm and November 22nd at 2pm PT
Performances are live-streamed online and free, please consider making a donation at checkout.
The murals, the music, the taqueros and tamaleros, the Christmas parade and lowrider parades, the gardens, the hills, the arroyo…and the people. Highland Park is Here connects the fractured stories—past and present—of this iconic Los Angeles neighborhood in this moment of community change, searching for shared spaces and experiences. From our homes to our street corners to on-line, if you are there, then Highland Park is Here.
Performed by a cast of 30+ people from Highland Park, Occidental College and Cornerstone,  Highland Park is Here takes us on a virtual journey from York to Figueroa and the Arroyo, from yesterday to tomorrow, from fact to fantasy, all told through the stories of the people who live there.
The play is told in two paths, Llegamos - the multigenerational story of one family from the 1950s to today - and Movements & Moments, local stories from the 1990s to today.
Thursday, Nov. 19 at 7:30pm - Llegamos will be performed
Friday, Nov. 20 at 7:30pm - Movements & Moments will be performed
Saturday, Nov. 21 at 7:30pm - Llegamos will be performed
Sunday, Nov. 22 Matinee at 2:00pm - Movements & Moments will be performed
Attend two performances if you want to see all of Highland Park is Here, but each path can be experienced without the other, too.
Highland Park is Here is created in/with/for the residents of Highland Park and Cornerstone Theater Company, Oxy Arts, and the Occidental College Theater Department. 
---
Student Comprehensive Projects 
Flying the Nest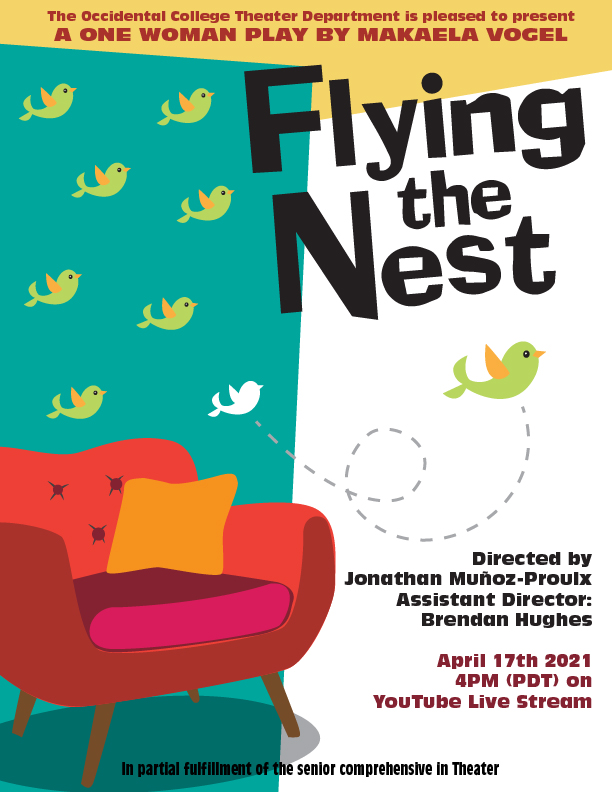 Playwright: Makaela Vogel
Director: Jonathan Muñoz-Proulx
Assistant Director: Brendan Hughes 
Starring: Makaela Vogel 
Music by: Christine DuBois 
Performs: April 17th at 4pm-5pm PDT  
Join us for a post-show talk with Makaela!
Based on interviews Makaela Vogel conducted with her 8 aunts, she wrote a play all about the journey of leaving home. This documentary style play uses exact quotes from her aunts where they explore what it means to be independent and the importance of family. 
Support for this project provided by Edgerton Foundation Program in Theater and Omar's Cookie Jar.
MIRa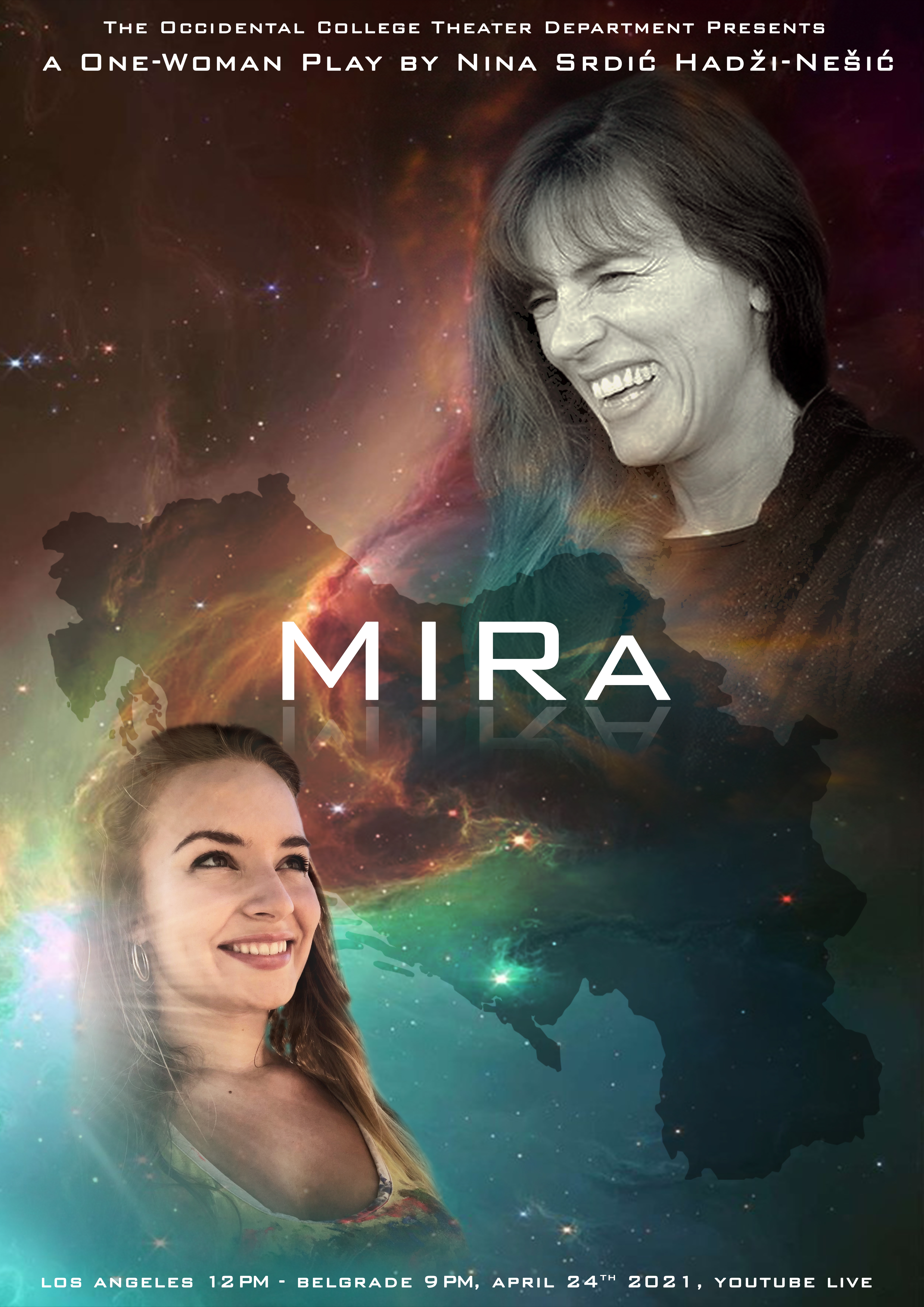 A senior comps project written, directed, and performed by Nina Srdić Hadži-Nešić
Directing consultant: Jonathan Muñoz-Proulx
Playwriting consultant: Kathy Randels
Performs: April 24th & 25th at 12pm PDT
Nina discovers a letter written by a famous actress who fled Yugoslavia in 1991 and landed in L.A. This journey across time and space asks burning questions about the past, present, and future of the Balkans and the U.S.
Support for this project provided by Edgerton Foundation Program in Theater and Omar's Cookie Jar.
Dirty Laundry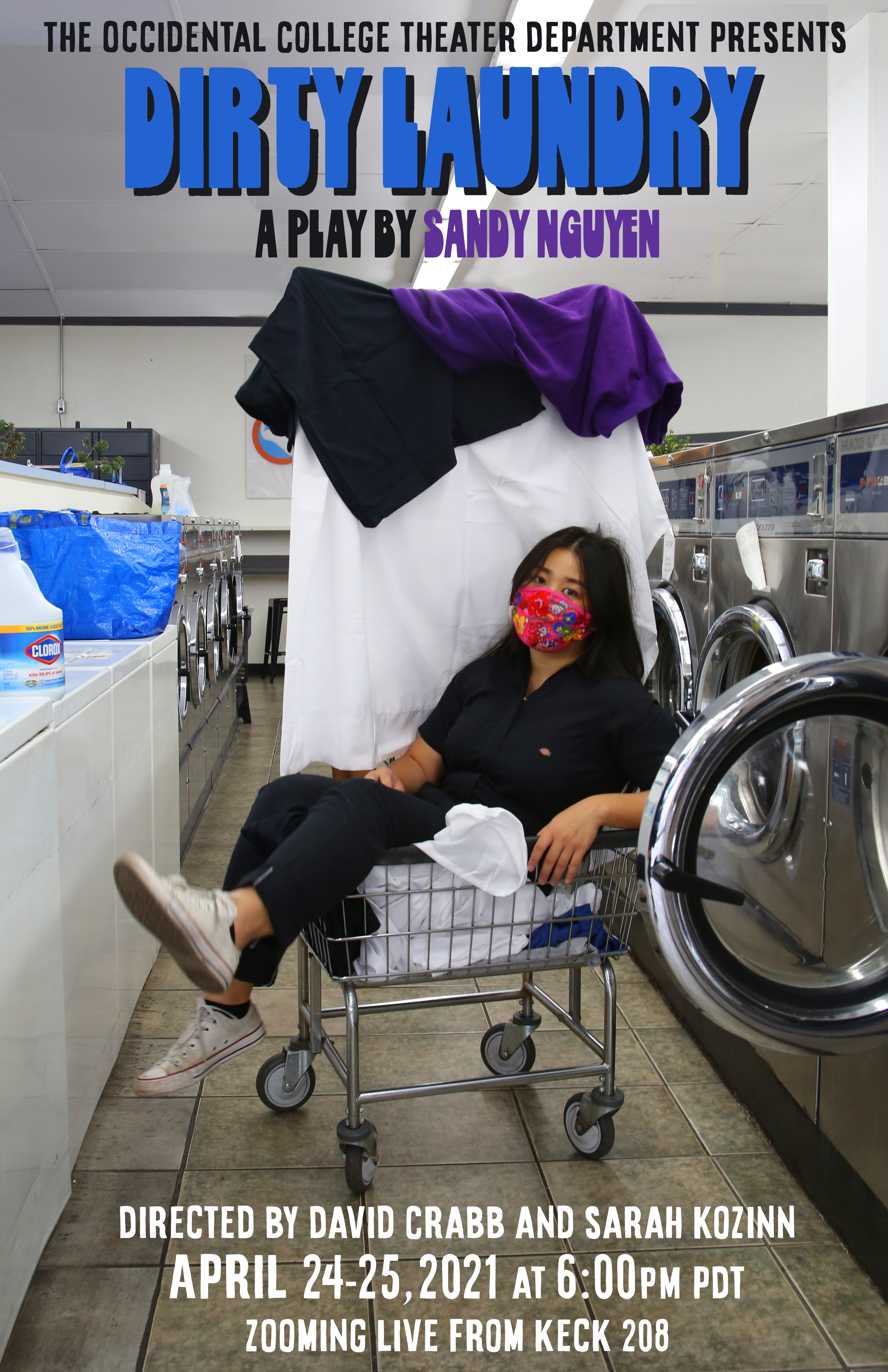 A senior comprehensive project by Sandy Nguyễn
Directed by David Crabb and Sarah Kozinn
Performs: April 24 & 25 at 6pm PDT
Content warning: this show contains depictions of trauma, abuse and violence and may not be appropriate for younger viewers.
Dirty Laundry is a devised, story-telling performance created by Sandy Nguyễn that revisits old wounds, family secrets, and intergenerational trauma. Her play is an offering to heartbroken saps and the low-down dirty b*tches who walk the fine line between hating and loving yourself. By the end of the play, she implores you to ask of yourself, what dirty laundry might I need to air out?
Support for this project provided by Edgerton Foundation Program in Theater and Omar's Cookie Jar.
---
Directions to Keck Theater & Thorne Hall
Click here for maps and directions. Keck Theater is building #30 on the printable campus map. From Campus Road, enter at the Bird Road entrance. From Bird Road, turn left onto Gilman Road. Turn right onto AG Coons Road, Keck Theater is on the left. Parking is located next to the theater in the first lot on the left. There is also street parking in front of the theater. Handicap parking available on either side of the theater.
Thorne Hall is #52 on the map. Parking is available on the street or at the visitor parking lot (#43). Handicap parking is available on Thorne Road next to the theater.
Click here for directions to Oxy Arts, located at 4757 York Boulevard (Los Angeles).