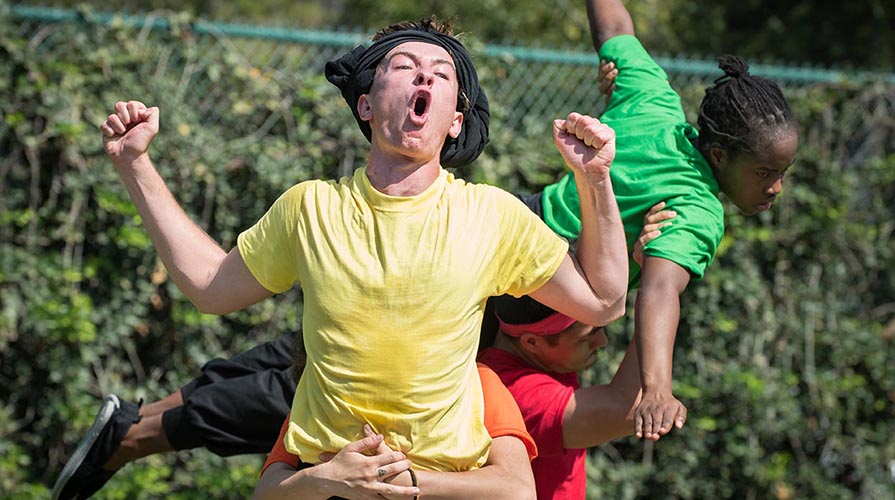 COVID-19 Update
Though the college is welcoming students back in the fall, we are continuing to restrict some activities this summer including the acting camp. Health and safety are the priority in our decisions and we hope to hold our camp next summer. 
We are still hoping to bring back our live, outdoor performances this summer and will have an update in the coming weeks. In the meantime, we hope you enjoy our Children's Theater - ONLINE!
---
We can't perform live, but we can still tell stories!
We're creating new versions of old favorites! Fresh solo storytelling combined with archived video action and photos guaranteed to entertain you wherever you are! Watch or listen to stories that have delighted you over the last 25 years!
Occidental Children's Theater offers you this new version of our 2006 story Tiger in the Forest, Anansi in the Web, told by the inimitable Tristan Waldron. For those of you who have missed us as much as we have missed performing for you, we hope this will tide you over into the next year.
Please feel free to share this link with friends, family and people with whom you have only a passing acquaintance. The more the merrier!
We are all looking forward to a bright new year and to performing in person for you as soon as possible!
All the best and many happy excitements to everyone!
Jamie Angell,
Artistic Director
For previous stories, visit our YouTube channel or click on one of the following links.
Maui Slows the Sun  The Stonecutter  The Boastful Toad  
The Monkey and the Crocodile  Doing a Trick With Eyeballs  
The Water Sprite and the Bear  The Three Simpletons
Cast and Crew
Storytellers and Archival Support
Dyoni Isom '19
Kai Morfín '22
Sergio Perez '20
Jamie Angell - Artistic Director
Tristan Waldron - Director/Editor
Adam Roy - Stage Manager/Technical Supervisor
Beatrice Gonzales - Department Coordinator
Special thank you to the Kathryn Caine Wanlass Charitable Foundation.
Many thanks to all the people who have come to our shows year-in year-out, making the experience memorable and meaningful for everyone and to the actors who created these stories. None of this would exist without your boundless generosity.
Thank you also to our supporters without whom we would not have a show. They include Mark & Carol Burrill, Jim Herr, Nalsey Tinberg & Steven Fader, and Matt Groening.
We gratefully acknowledge the generous archival guidance and support of Oxy's Special Collections and College Archives: Dale Steiber, Anne Mar, Eli Chartkoff, and Helena De Lemos. And special thanks to Lisa Mattia from ITS and Marc Campos, College Photographer.
We'd like to also thank Ursula Angell, Aubree Cedillo, Joe Chandler, Nick Erickson, Brian Fitzmorris, Susan Gratch, Marie Mawji, and Lillian Angell.