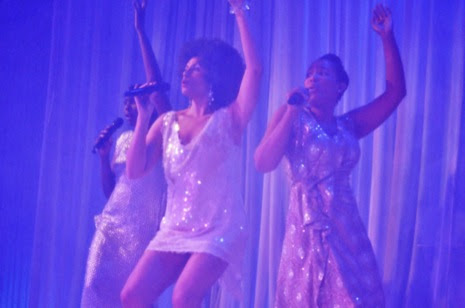 A fully inhabited fictional creation of the performance artist Daniel Alexander Jones, this sultry singer is the headliner of RADIATE, a concert experience happening at Oxy's own Thorne Hall, September 26!
Daniel is bringing together a diverse and intergenerational choir of community members who will share the stage with Jomama at the September concert.
So, do you love to sing?
Can you carry a tune?
Do you enjoy performing?
If so join us for rehearsal on September 23 from 6pm to 8:30pm in the Keck Theater Rehearsal Studio (K208), where we will be singing together and identifying choir members. RSVP by emailing Beatrice Gonzales at beatrice@oxy.edu by 3pm on September 22.
You must be able to commit to about 5 hours of rehearsal the week of September 23 and the performance in Thorne Hall for JOMAMA JONES ★ RADIATE September 26 at 7:30pm.
In addition to the first rehearsal on the 23, the other rehearsals are:
Tech rehearsal: Thursday, September 25, 6:00pm – 7:30pm on Thorne Stage
Dress rehearsal: Friday, September 26, 5:30pm – 6:30 on Thorne Stage
Performance: Friday, September 26, 7:30pm in Thorne Hall
The choir is a vital part of the experience of RADIATE, and your individual enthusiasm and openness are very important to the process. We welcome folks of all ages and backgrounds who want to be part of this special week of work together.
Daniel Alexander Jones is the Theater Department's G. William Hume Fellow, with additional sponsorship from the Politics Department and ICC.