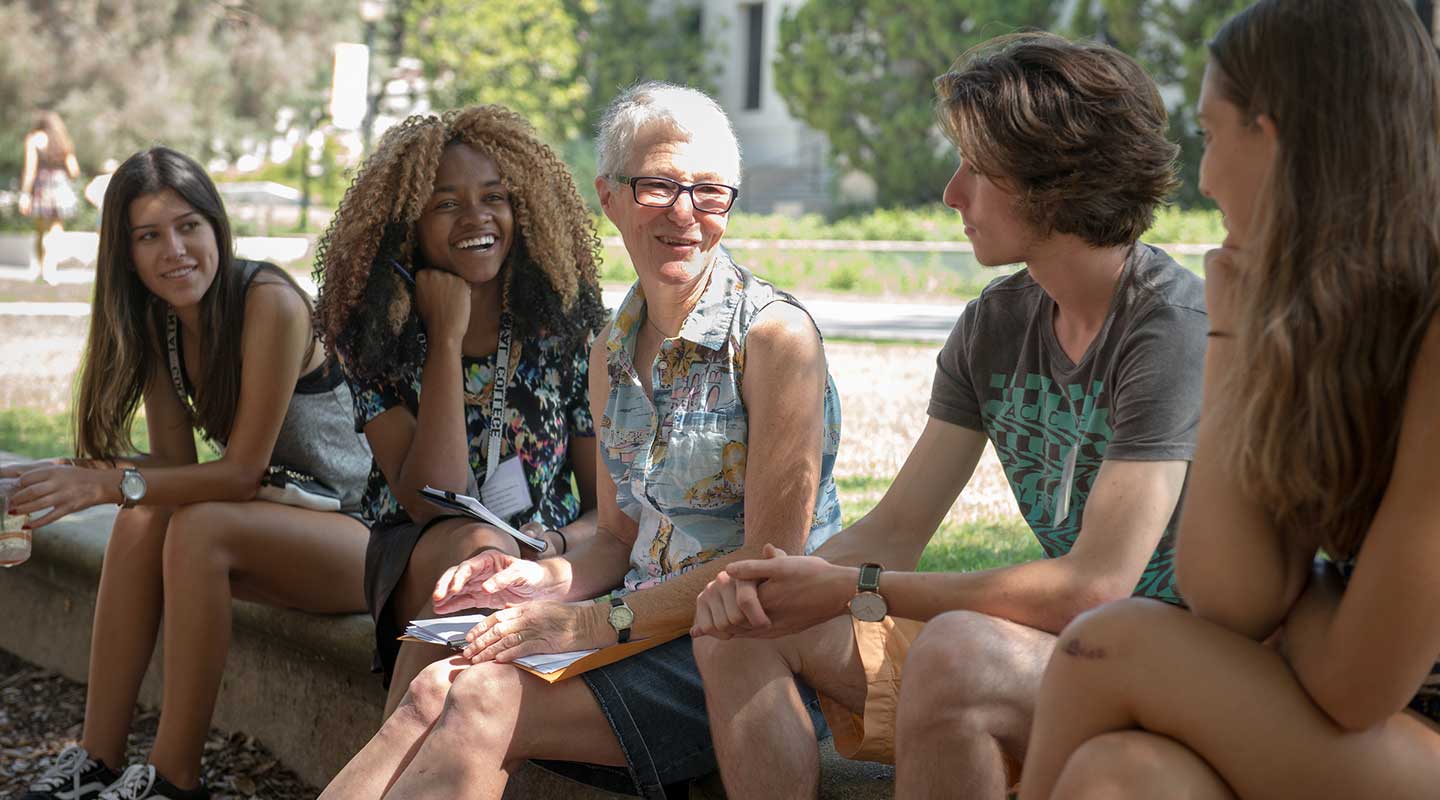 We are excited to partner with you in your journey as a new student to Occidental College.
College is a new beginning and transition for both students and their family members—one we are excited to help you navigate!
Orientation is designed to create a dynamic, celebratory, and welcoming environment—a space where new students explore how to make informed academic decisions and responsible social choices by tapping into resources and services offered by the College. By building a sense of community that connects students to faculty, staff, administrators, and each other, Orientation also fosters an appreciation of Oxy's commitment to equity, excellence, and service. For more information, email mrodriguez6@oxy.edu.
Goals and Intended Outcomes
Goals
Celebrate new students, build excitement and reaffirm their choice in Occidental College.
Demonstrate that Oxy is a welcoming, engaging, and inclusive campus.
Provide a framework for four years of success through the communication of expectations, norms, and standards.
Honor a distinctive interdisciplinary and multicultural academic program.
Introduce a culture of care, high-impact involvement opportunities, and outstanding leadership development programs.
Identify shared aspirations of social justice, cultural competence and engaged citizenship.
Educate students about sexual misconduct and discrimination, harassment, and retaliation policies.
Intended Learning Outcomes
Participants will be able to convey their own purpose of education.
Participants will be able to define Oxy's mission and describe where their personal goals and values align with the College's vision.
Participants will be able to identify campus resources and student services that support their educational and personal development.
Participants will be able to identify community engagement and leadership development opportunities.
Participants will be able to articulate the importance of building a personal connection to the campus community.
Participants will reflect on and assess the New Student Orientation, detailing their experiences and opportunities for program growth.  
---
2022 Schedule at a Glance
Kickstart Oxy
7/26 - Zoom sessions Day 1
7/27 - Zoom sessions Day 2
Early Arrivals and Move-In Dates
8/16 - International Program Students Move-In
8/17 - Water Polo Move-In (arrive after noon)
8/18 - Soccer and Cross Country Move-In (arrive after noon
8/19 - Women's Volleyball Move-In (arrive after noon)
8/20 - LA Engage Move-In
8/21 - Visiting Language Assistants Arrive
8/22 - New Student/Exchange/Transfer Move-in
8/27 - Returning Student Move-In
8/20 - LA Engage Move-In
8/21 - LA Engage
8/22 - LA Engage
New Student Orientation
8/22 - New Student Move-In Day
8/23 - New Student Orientation
8/24 - New Student Orientation
8/25 - New Student Orientation
8/26 - Advising and Exchange/Transfer Student Day
8/27 - Class Registration  
---
Kickstart Oxy | Online Summer Sessions (live recording)
Kickstart Oxy online sessions introduce aspects of the Oxy Community in advance of Orientation. Attendance or asynchronous viewing is highly encouraged. Recordings will be linked to this page after each session.
Day One | Kickstart Oxy | Tuesday, July 26
09:30AM—10:00AM (ZOOM) | Welcome from the Dean of the College & the Dean of Students
10:00AM—10:30AM (ZOOM) | Services & Support at the Emmons Wellness Center
10:30AM—11:00AM (ZOOM) | Disability Services & Academic Support (being rescheduled for mid-August)
11:00AM—11:45AM (ZOOM) | Transfer Student Information Meeting Part I
Day Two | Kickstart Oxy | Wednesday, July 27
09:30AM—10:00AM (ZOOM) | Welcome from the Assistant Dean of Students & Director of SLICE 
10:00AM—10:30AM (ZOOM) | First Year Seminars & Oxy's Core Program
10:30AM—11:00AM (ZOOM) | The Community Book Program
11:00AM—12:00PM (ZOOM) | Work-Study Awards, Student Employment & the First-Year Student Employment Program (Financial Aid, HR & the HCC)
Self-Directed Learning
Gabrielino-Tongva Tribe: We respectfully recognize the traditional territory of the California Indian Tribe historically known as San Gabriel Band of Mission Indians. Please take this time to prepare for additional fall programming by engaging with the following:
Tovaangar—the original people of L.A.
LAist article/collected resources
KCET Departures audio series
---
2022 New Student Orientation Full Schedule (all educational sessions are mandatory)
New Student (First-Year, Exchange, Transfer) Move-In Day - Monday, August 22
---
08:00AM-02:30PM - JSC QUAD - Welcome Center w/ REHS, Family Orientation, Card Services, and O-Team
02:30PM-05:30PM - RESIDENCE HALLS - Living on Campus: Expectations and Community Building
05:30PM-07:00PM - REMSEN BIRD HILLSIDE THEATER - Welcome to Oxy! A Community Celebration
07:00PM-08:00PM - MARKETPLACE | OFF-CAMPUS - Dinner
08:00PM-10:00PM - ACADEMIC QUAD - Bounce Houses, Slides, KOXY DJs
Move-In Guide available HERE.
Day One | New Student Orientation | Resources on Campus - Tuesday, Aug 23
---
10:30AM-11:30AM - VARIOUS LOCATIONS ON CAMPUS - OPCs and O-Team: Welcome to Oxy!
11:30AM-12:30PM - MARKETPLACE - Lunch
11:30AM-12:30PM - BRANCA PATIO, 2ND FLOOR, JSC - First Gen Luncheon (open to parents)
12:30PM-01:15PM - THORNE HALL - Support Offered by the Office of Religious and Spiritual Life
01:15PM-02:00PM - THORNE HALL - Services and Support Offered by Hameetman Career Center
02:00PM-02:30PM - THORNE HALL PATIO - Snack and Refreshment Break
02:30PM-03:15PM - THORNE HALL PATIO - Services and Support Offered by ICC
03:15PM-04:00PM - THORNE HALL - Navigating the Library: Exploring the Space and Resources
04:00PM-05:30PM - ACADEMIC QUAD - Academic Fair
05:30PM-06:30PM - JSC QUAD - Sweet Send-Offs
06:30PM-07:30PM - MARKETPLACE - Dinner
07:30PM-09:00PM - JSC QUAD - Movie on the Quad
Day Two | New Student Orientation | Support Systems - Wednesday, Aug 24
---
09:00AM-10:00AM - THORNE HALL - Understanding Title IX & The DHR Policy
10:00AM-11:00AM - THORNE HALL - Alcohol and Other Drugs: Abuse Prevention and Support
11:00AM-11:30AM - THORNE HALL PATIO - Snack and Refreshment Break
11:30AM-12:30PM - THORNE HALL - Shared Academic Integrity Commitment
12:30PM-01:30PM - THORNE HALL - How Do I Get Through This?! The Importance of Creating a Culture of Care
01:30PM-02:30PM - MARKETPLACE - Lunch
01:30PM-02:30PM - BRANCA PATIO, 2ND FLOOR, JSC - Exchange/Transfer Student Luncheon
02:30PM-04:15PM - THORNE HALL - Ending Sexual Violence and Building Healthy Relationships
04:15PM-04:45PM - THORNE HALL PATIO - Snacks and Refreshment Break
04:45PM-05:45PM - VARIOUS LOCATIONS ON CAMPUS - O-Team Small Group Debrief
06:00PM-07:30PM - MARKETPLACE | TIGER COOLER - Dinner
07:30PM-08:30PM - JSC QUAD - Dance Around the World w/ Oxy Dance Clubs
08:30PM-09:30PM - JSC QUAD - Hypnotist Show
Day Three | New Student Orientation | Equity & Justice Day - Thursday, Aug 25
---
09:30AM-10:00AM - THORNE HALL - Introducing Oxy's Office for Equity & Justice
10:00AM-12:00PM - THORNE HALL - Capacity Building: What It Means To Be Anti-Racist
12:00PM-01:00PM - MARKETPLACE | TIGER COOLER - Lunch
01:00PM-02:00PM - THORNE HALL - Religious Pluralism
02:00PM-03:00PM - THORNE HALL - Power & Intersectionality
03:00PM-03:30PM - THORNE HALL PATIO - Snack and Refreshment Break
03:30PM-04:30PM - THORNE HALL - Spilling the Tea on Equi-Tea
04:30PM-05:30PM - VARIOUS LOCATIONS ON CAMPUS - O-Team Small Group Debrief
05:30PM-06:30PM - MARKETPLACE | TIGER COOLER - Dinner
06:30PM-08:30PM - PATTERSON FIELD - Playfair
Day Four |  Student Service Fair | Advising and Transfer Student Support - Friday, Aug 26
---
09:00AM-11:00AM - FOWLER 108 - Placement Exams
10:00AM-11:00AM - CHOI AUDITORIUM - Transfer and Visiting Student Assistant Information Session
11:00AM-12:00PM - ACADEMIC QUAD - Academic Advising (Group Meetings)
12:00PM-05:00PM - VARIOUS LOCATIONS ON CAMPUS - Individual Advising Appointments
12:00PM-05:00PM - JSC GROUND FLOOR | BOOKSTORE PATIO - Student Services and Clubs Fair
12:00PM-05:00PM - FOWLER 109 - Center for Community-Based Learning Open House
02:00PM-03:00PM - FOWLER 110 - Faculty Panel: Community-Based Learning at Oxy
04:30PM-06:30PM - LIBRARY/ACADEMIC COMMONS - Transfer and Exchange Class Registration
06:30PM-07:30PM - MARKETPLACE | TIGER COOLER - Dinner
07:30PM-11:00PM - RESIDENCE HALLS | JSC QUAD - SLICE and REHS Sponsored Programming 
Day Five | Registration - Saturday, Aug 27
---
09:00AM-06:00PM - LIBRARY/ACADEMIC COMMONS - Class Registration (First-Year Students)
09:00AM-06:00PM - SANTA MONICA BEACH - Transfer and Visiting Language Assistant Student Beach Day
06:30PM-07:30PM - MARKETPLACE | TIGER COOLER - Dinner
08:30PM-12:30AM - RESIDENCE HALLS | JSC QUAD - ASOC and REHS Sponsored Programming
Day Six | Taking it Easy - Sunday, Aug 28
---
02:00PM-05:00PM - BOOTH HALL - Music Lesson Placement & Scholarship Auditions
06:00PM-08:00PM - OXY ARTS | BAGEL + SLICE - Pizza Party and (Sneak Peek) Art Opening
Day Seven | Convocation - Monday, Aug 29  
---
10:00AM - THORNE HALL