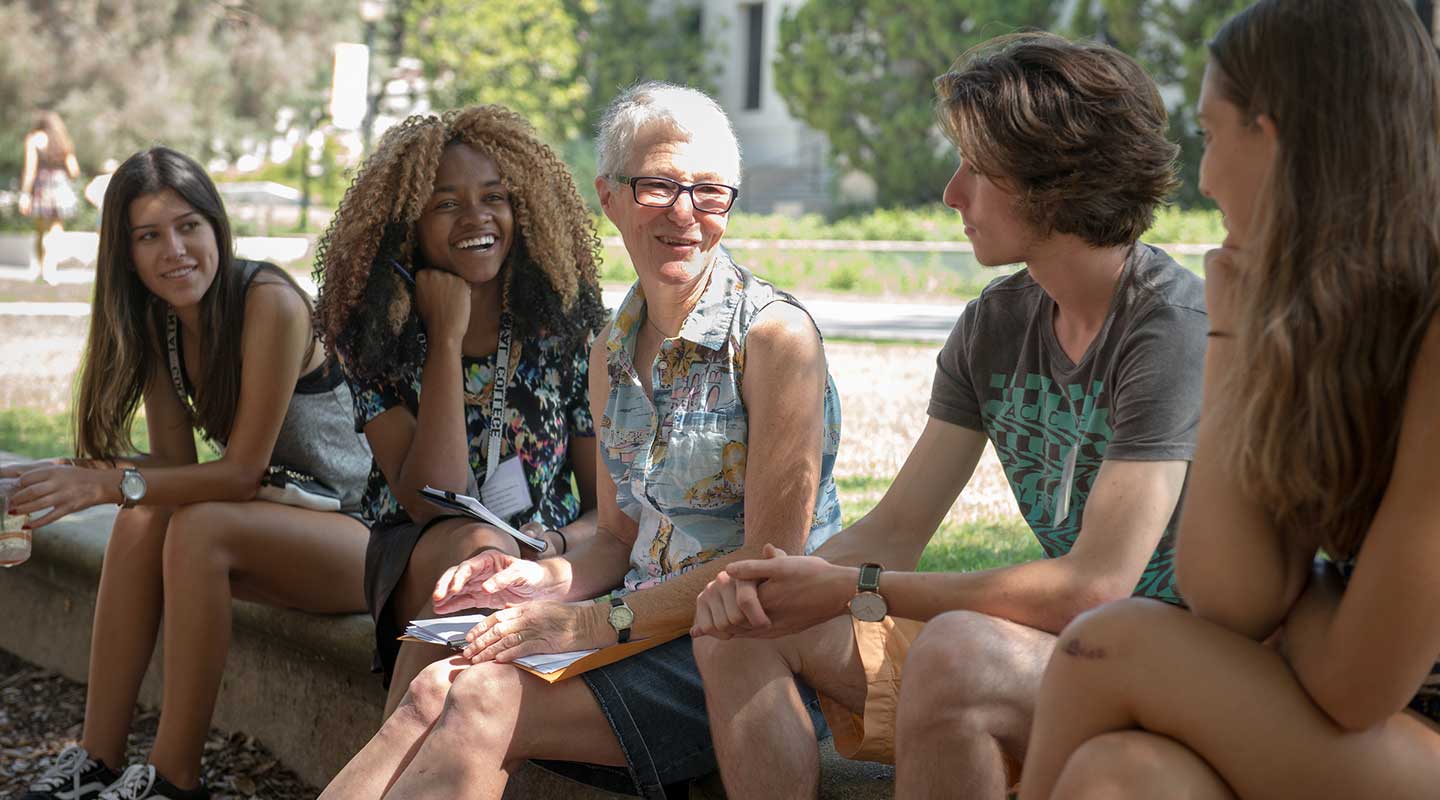 We are excited to partner with you in your journey as a new student and family member to Occidental College.
College is a new beginning and transition for both students and their family members—one we are excited to help you navigate!
New Student Orientation is meant to create a dynamic, celebratory, and welcoming environment—a space where you can explore how to make informed academic decisions and responsible social choices by tapping into resources and services offered by the College. By building a sense of community that connects you to faculty, staff, administrators and fellow Oxy students, New Student Orientation is representative of our commitment to equity, excellence, and service.
Starting this July, you are invited to join virtual peer-to-peer engagements hosted by our Orientation Team. These sessions will serve as your introduction to pre-recorded videos and live Zoom sessions offered by Oxy's student support and service areas. In August, all new students will be required to participate in a shared orientation experience that will take place virtually over three days. In preparation, we ask that you review the New Student Guide. The following information will be updated soon with additional directives provided via email.
All sessions and speakers for Kickstart Oxy and Orientation will be presented virtually via Zoom. Please be sure to activate and become familiar with how to use your Oxy Zoom account via our Zoom guide from ITS.
August 3 through 5 - Individual Advising Sessions
Students will explore the value of an Oxy education, review the services and policies of the institution, discuss educational and career plans, and make appropriate course selections.
Students should coordinate their advising appointments directly with their faculty advisors. For questions and additional support, please contact the Advising Center at: advisingcenter@oxy.edu
August 8 - Oxy Summer Community Celebration
The Offices of Admission and Alumni & Parent Engagement are virtually hosting regional summer celebrations for new Oxy students and their families on Saturday, August 8 and you are invited!
President Elam will do a kickoff with all students and parents at 1 pm (PDT). Smaller geographic-based virtual meetups, determined by time-zone feasibility and student volume, will occur either before or after this kickoff. Find your student grouping and see what time your virtual gathering will be held.
August 10 - Re-Orientation for Returning Students Living On-Campus
Engage with recorded and live sessions with the managers and directors of Campus Safety, Disability Services, Project S.A.F.E. Emmons Wellness Center, Counseling and Psychological Services, the Dean of Students Office, and the Student Leadership, Involvement, and Community Engagement (SLICE) office.
August 21 - Orientation Day 1
Students will discover how Oxy takes a student-centered approach to enhancing academic achievement. As they prepare for their first day of classes, additional support programs, services, and resources will be introduced.
Academic program sessions will include presentations curated by the Assoc Dean for Curricular Affairs R. Buckmire and an overview of the virtual Library space and resources with First Year Experience & Student Success Librarian D. Coaguila. The day will conclude with Orientation Team breakouts and a large-scale online community-building activity/celebration.
August 22 - Orientation Day 2
Students will consider what it means, as life-long learners and critical thinkers, to grow intellectually, emotionally, socially, and ethically at Occidental College.
Students will engage in peer-to-peer Oxy culture and experience conversations with returning students and hear an introduction to the Community Book Program. Sessions will also feature the Intercultural Community Center, First Gen Coalition, and POC student leaders presenting on equity, inclusion, and affinity/identity programming.
August 23 - Orientation Day 3
Students will explore an environment where thoughtful decision-making is paramount—a place where community members are grounded in the values of trust, honesty, and respect.
Students will participate in Title IX, Project S.A.F.E., and Code of Conduct training. After these sessions, students will have the opportunity to process the information in peer-to-peer virtual dialogue circles or with professional staff and counselors.
Welcome Week
The Welcome Week schedule is forthcoming. Anticipated events include Implicit Bias training, an introduction to Restorative Justice, and a CSP Lecture that explores the Summer Readings theme of The Struggle For/The Struggle Against. The Intercultural Community Center is also hosting First-Gen, Queer, Black, Latinx, Indigenous, and Asian Pacific Islander student mixers throughout the week.
NOTE: Only Orientation updates will be provided on this page. Find information related to COVID-19 and Occidental College's institutional planning for the coming academic year on our COVID-19 webpage.