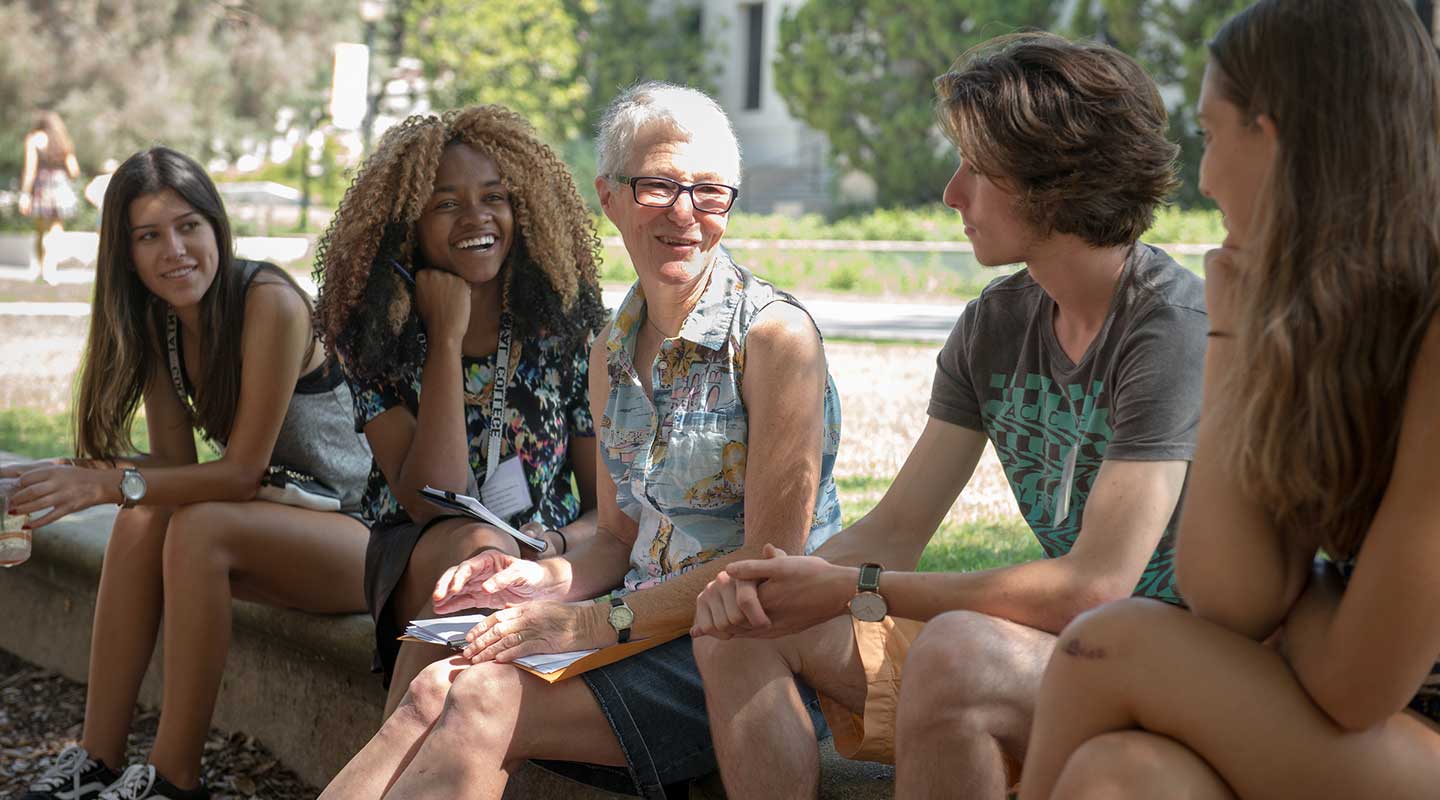 We are excited to partner with you in your journey as a new student to Occidental College.
College is a new beginning and transition for both students and their family members—one we are excited to help you navigate!
Orientation is designed to create a dynamic, celebratory, and welcoming environment—a space where new students explore how to make informed academic decisions and responsible social choices by tapping into resources and services offered by the College. By building a sense of community that connects students to faculty, staff, administrators, and each other, Orientation also fosters an appreciation of Oxy's commitment to equity, excellence, and service.
First-year and Fall transfer Orientation will take place in late August, with exact dates provided over the summer. Once finalized, the tentative schedules will be displayed here. Keep an eye on this page and your email inbox for more information about Orientation. If you have any questions, please contact Marcus A. Rodriguez, Asst. Dean of Students at mrodriguez6@oxy.edu
2022 Schedule at a Glance
Kickstart OXY (Pre-recorded videos/gathered resources: asynchronous viewing/engagement)
7/26 - Kickstart 
7/27 - Kickstart
7/28 - Kickstart
Early Arrivals and Move-In Dates
8/16 - International Program Students Move-In
8/17 - Men's Water Polo  Move-In
8/18 - Women's Soccer Move-In
8/18 - Men's Soccer  Move-In
8/18 - Men's & Women's Cross Country  Move-In
8/19 - Women's Volleyball Move-In
8/21 - Visiting Language Assistants Arrive
8/20 - LA Engage Move-In
8/22 - New Student/Exchange/Transfer Move-in
8/27 - Returning Student Move-In
8/20 - LA Engage Move-In
8/21 - LA Engage
8/22 - LA Engage
New Student Orientation
8/22 - New Student Move-In Day
8/23 - New Student Orientation
8/24 - New Student Orientation
8/25 - New Student Orientation
8/26 - Advising and Exchange/Transfer Student Day
8/27 - Class Registration  
---
2022 New Student Orientation Full Schedule
New Student (First-Year, Exchange, Transfer) Move-In Day - Monday, August 22
---
08:00AM-02:30PM - JSC QUAD - Welcome Center w/ REHS, Family Orientation, Card Services, and O-Team
02:30PM-03:30PM - RESIDENCE HALLS - Living on Campus: Expectations and Community Building
03:30PM-05:00PM - REMSEN BIRD HILLSIDE THEATER - Welcome to Oxy! A Community Celebration
05:00PM-05:30PM - VARIOUS LOCATIONS ON CAMPUS - O-Team Small Group Meet-Up: Quick Connect!
05:30PM-06:30PM - MARKETPLACE | OFF-CAMPUS - Dinner (on your own)
06:30PM-09:00PM - ACADEMIC QUAD - Bounce House/Slide, Climbing Wall, KOXY DJs
Day One | New Student Orientation | Resources on Campus - Tuesday, Aug 23
---
10:30AM-11:30AM - VARIOUS LOCATIONS ON CAMPUS - OPCs and O-Team: Welcome to Oxy!
11:30AM-12:30PM - MARKETPLACE - Lunch (on your own)
11:30AM-12:30PM - INTERCULTURAL COMMUNITY CENTER - First Gen Luncheon (open to parents)
12:30PM-01:15PM - THORNE HALL - Support offered at the Office of Religious and Spiritual Life
01:15PM-02:00PM - THORNE HALL - Services and Support offered at Hameetman Career Center
02:00PM-02:30PM - THORNE HALL PATIO - Snack and Refreshment Break
02:30PM-03:15PM - THORNE HALL PATIO - Services and Support offered at ICC
03:15PM-04:00PM - THORNE HALL - Navigating the Library: Exploring the Space and Resources
04:00PM-05:30PM - ACADEMIC QUAD - Academic Fair
05:30PM-06:30PM - JSC QUAD - Sweet Send-Offs
06:30PM-07:30PM - MARKETPLACE - Dinner (REHS RA clusters)
07:30PM-08:30PM - ACADEMIC QUAD - Dance around World w/ Oxy student dance clubs
08:30PM-09:30PM - ACADEMIC QUAD - Hypnotist Show and Silent Disco
Day Two | New Student Orientation | Support Systems - Wednesday, Aug 24
---
09:00AM-10:00AM - THORNE HALL - Title IX - Civil Rights & Title IX Coordinator Alexandra Fulcher
10:00AM-11:00AM - THORNE HALL - Alcohol and Other Drugs: Abuse Prevention and Support
11:00AM-11:30AM - THORNE HALL PATIO - Snack and Refreshment Break
11:30AM-12:30PM - THORNE HALL - Shared Academic Integrity Commitment
12:30PM-01:30PM - THORNE HALL - When The $h!t Hits the Fan: Support Systems on Campus
01:30PM-02:30PM - MARKETPLACE - Lunch (on your own)
01:30PM-02:30PM - INTERCULTURAL COMMUNITY CENTER - Exchange/Transfer Student Luncheon
02:30PM-04:15PM - THORNE HALL - Ending Sexual Violence and Building Healthy Relationships
04:15PM-04:45PM - THORNE HALL PATIO - Snacks and Refreshment Break
04:45PM-05:45PM - VARIOUS LOCATIONS ON CAMPUS - O-Team Small Group Debrief
06:00PM-07:30PM - MARKETPLACE | TIGER COOLER - Dinner (on your own)
07:30PM-09:00PM - JSC QUAD - Movie on the Quad
Day Three | New Student Orientation | Equity & Justice Day - Thursday, Aug 25
---
10:00AM-11:00AM - THORNE HALL - Equity and Justice Session: Race & Racism
11:00AM-12:00PM - THORNE HALL - Equity and Justice Session: Anti-Racist Discussion
12:00PM-01:00PM - MARKETPLACE | TIGER COOLER - Lunch Break
01:00PM-02:00PM - THORNE HALL - Equity and Justice Session: Religious Pluralism
02:00PM-03:00PM - THORNE HALL - Equity and Justice Session: Power & Intersectionality
03:00PM-03:30PM - THORNE HALL PATIO - Snack and Refreshment Break
03:30PM-04:30PM - THORNE HALL - Civil Rights & Title IX Office | Discrimination & Harrassment Discussion
04:30PM-05:30PM - VARIOUS LOCATIONS ON CAMPUS - O-Team Small Group Debrief
05:30PM-06:30PM - MARKETPLACE | TIGER COOLER - Dinner (on your own)
06:30PM-08:30PM - PATTERSON FIELD - Playfair
Day Four | Advising and Exchange/Transfer Student Day - Friday, Aug 26
---
10:00AM-11:00AM - CHOI AUDITORIUM - Transfer Student Support PART II
11:00AM-12:00PM - ACADEMIC QUAD - Academic Advising (Group Meetings)
12:00PM-05:00PM - VARIOUS LOCATIONS ON CAMPUS - Individual Advising Appointments
12:00PM-05:00PM - TBD - Placement Exams
12:00PM-05:00PM - VARIOUS LOCATIONS ON CAMPUS - Student Service Areas Open Houses
12:00PM-05:00PM - RUSH GYM LOAD-IN/OUT - Bengal Bus Target Runs
12:00PM-05:00PM - CENTER FOR COMMUNITY-BASED LEARNING - CCBL Open House
04:30PM-06:30PM - TBD - Transfer and Exchange Class Registration
Day Five | Registration - Saturday, Aug 27
---
09:00AM-06:00PM - TBD - Class Registration (First-Years Students)
09:00AM-06:00PM - SANTA MONICA BEACH - Transfer and Exchange Student Beach Day
Day Six | Taking it Easy - Sunday, Aug 28
---
06:00PM-08:00PM - OXY ARTS | BAGEL + SLICE - Pizza Party and (sneak peak) Art Opening
Day Seven | Convocation - Monday, Aug 29  
---