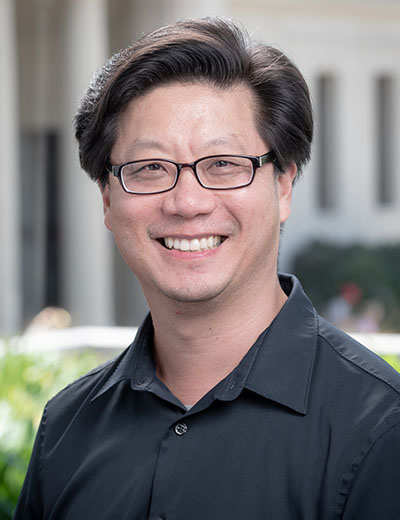 The newest member of Oxy's music department faculty, Director of Instrumental Activities Chris Kim brings a love of teaching and a wealth of experience in innovative programming, community engagement, and international collaborations.
When Chris Kim was a boy studying the oboe, he remembers watching his 85-year-old teacher, Ms. Lois Wann, demonstrate a piece for him during a lesson. It was Alessandro Marcello's Oboe Concerto in D Minor.
"Watching her describing the composer's intent was like watching her time travel," he remembers, smiling. "The music made her young again, and that made me want to time travel through music, too."
Kim was lucky to have several other memorable teachers throughout his music education, which took him from Juilliard to Northwestern University and the University of Michigan-Ann Arbor. His instructors' passion for the music unlocked his own desire to teach, and these mentors became a blueprint for the kind of instructor he wanted to become.
"The people that inspired me were the teachers who were great artists and loved music as a discipline, but they loved sharing it with their students just as much," he says. "That was more inspiring to me than simply listening to a great violinist or pianist."
Kim joined Occidental this summer as director of instrumental activities and conductor of the Occidental Symphony Orchestra, whose first concert this fall is October 10. He came westward on the heels of a long and impressive tenure at Cornell University, where he developed community engagement, innovative programming and international touring as pillars of what has become a nationally recognized music program.
Kim is excited to work with not only the orchestra students, but those across the college taking individual music lessons. And naturally, he has some exciting plans to create new opportunities for collaboration within the music department as well. For starters, Kim is directing Oxy's Chamber Music program, which features small groupings of instruments that perform together. This fall, Professor Adam Schoenberg's music composition students have been placed within these ensembles.
"The composition students attend rehearsals and learn what the chamber setting is like," Kim explains, "and over the course of the semester they compose a piece that is tailored to the musicians." The Chamber Music concert on November 25 will feature these original works, written and performed by students.
Kim hopes to do more with the Eagle Rock community, such as developing a Big Brother, Big Sister-type mentor program for younger students playing an instrument or collaborating with local youth orchestras and high schools.
"I myself was a beneficiary of these kinds of mentorship programs, so I would love to see that kind of engagement at Oxy."
Perhaps most exciting, Kim is planning to introduce international touring as a part of the strings program. With colleagues and friends in Argentina, Taipei, Ireland and Egypt, he is working on building partnerships to make this a reality for Oxy students.
I love that a liberal arts education is expansive, rather than about specialization."
When Kim is not teaching at Oxy, he is involved with other arts organizations around the Los Angeles area, which includes stepping in as cover conductor for the Pacific Symphony in Costa Mesa, Calif. He also enjoys attending the little league games of his ten-year-old son, Ian.
Despite his own conservatory training, or perhaps because of it, Kim is a big advocate of studying music in the liberal arts context.
"I love that a liberal arts education is expansive, rather than about specialization," he says.
"These days, it's not unusual for people to have dramatic career changes three, four, or five times," he adds. "To be able to navigate that kind of change, a liberal arts education is more important than ever. And it's better suited to creating a musician who is well-rounded and well-read—one who has something to say musically, philosophically and historically.