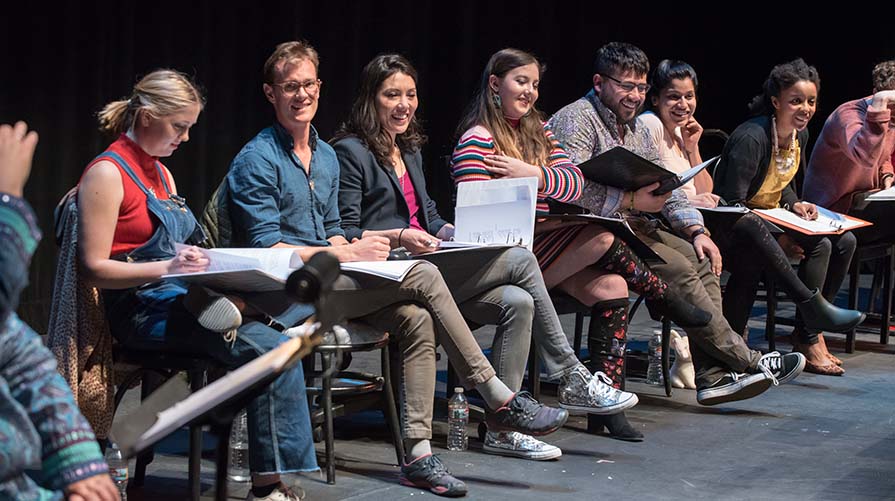 Join us for the annual New Play Festival!
 New Play Festival 2019
Produced by Megan Johnson '19 and Laural Meade '88
For over 20 years, the Occidental New Play Festival has paired student playwrights and actors with professional guest directors and performers. Focused on writer-centric rehearsal and performance, the festival provides a real-world experience of new play development as it is practiced on the national level. Through close collaboration with Los Angeles working artists, students experience a unique process unlike other college writing programs for the theater.
---
The Plays & Schedule
All performances in Keck Theater
Admission is FREE
Saturday, February 23, 2019 at 7:00pm
two comedies that pack a punch
Hang Tight by Rosie Stevenson '20
directed by Emily Chase
Is this a party or a funeral? As the friends and family of college student Andy gather to say goodbye they find themselves asking the same question – how do you properly memorialize someone you never really knew?
Just Die Already by Molly Kauffman '20
directed by Susan Dalian
Will, the will executor, arrives to execute – executite? – executive? - the will of Rick, father of three adult children who struggle with adulting. Even with dad on his deathbed, this family can't figure out how to say hello, let alone goodbye.
Sunday, February 24, 2019
relationship drama: pleasure or pain?
2:00pm: La Isla by Daphne Cancel '19
directed by Jonathan Muñoz-Proulx
Quinn and his mom Christine just want to spend a nice evening having dinner with their nice boyfriends in Quinn's nice new apartment. Then why is the pasta on the wall and the T on the floor before it's all over?
3:30pm: Heart Held at Knife Point by Eliana Sternin '19
directed by Rosie Glen-Lambert
In this world, the pain of a break-up isn't just emotional. She ghosts you? Hammer to the head! He says good-bye for good? Knife in the side! College student Micah's just trying to keep her heart in tact and the blood in her body as she navigates how love really hurts.
---
The Playwrights
 Daphne Cancel '19
Daphne Cancel is a senior Theater and English major with a creative writing emphasis double major and an Interdisciplinary Writing minor. Hailing from the far-away state of Maine, Cancel has written, directed, and starred in various plays on and off campus, taught theater to homeless youth, served as a student representative to the Dean of the college, and is the resident advisor for the Queer Scholars Community. Cancel is the editor-in-chief of HOUNDSTOOTH Mag, was the 2018 Writing Fellow for the Argonaut Creative Writing Fund, and has contributed to the Occidental, Feast, and The Fang. This is her third year being a part of New Play Festival, having previously been a dramaturg and a participant in workshop development.
 Molly Kauffman '20
Molly is so excited to have her comedic play, Just Die Already, produced in the 2019 New Play Festival. In the past year Molly performed her original stand up comedy at her first two national comedy festivals, in Madison and Palm Springs; founded and directs 2 Paws Up, the only sketch comedy club at Occidental; started hosting a weekly open mic every Saturday at Flappers Comedy Club; while being a part of April Fool's Improv Troupe. She wants to go into entertainment professionally and even got an internship in Fall 2018 at 21st Century Fox!... as a technology intern. Well, close enough, at least that Cognitive Science came in handy along with her Theater major. 
 Eliana Sternin '19
Eliana Sternin is a senior Theater major on the cusp of entering the professional theater world, armed with wide eyes and enthusiasm! This is her second time participating in the New Play Festival, and she could not be more excited to showcase her first full length play, which also doubles as her senior comps project. She's so thrilled to be sharing such a deeply vulnerable piece with the community that has given her so much over these last four years.
 Rosie Stevenson '20
Rosie Stevenson is a junior exchange student from all the way across the pond where she studies at the University of Bristol, UK and is an English major and a Theater minor. This is Stevenson's debut as a playwright but she has worked as an actor, dramaturg and director on a variety of different plays, as well as being involved in the research and development process of several new-writing pieces, including Evan Placey's Girls Like That and Pronoun. At the Theatre Royal Plymouth (TRP), where Stevenson was a Young Representative for 4 years, she collaborated with other Reps to develop widening access to theater initiatives, eventually earning herself the role as an Assistant Theatre Workshop Practitioner for TRP's Young Company where she led workshops for disadvantaged young people and differently-abled young adults. With a concern for the rising number of student suicides at her home university and a passion for British culture, Stevenson looks forward to bringing her contemplative play and British quirks to the stage.