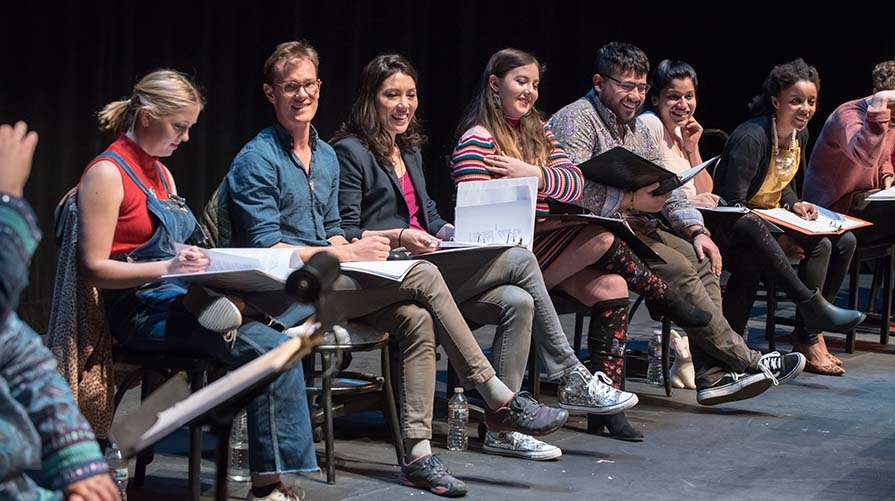 Join us for the annual New Play Festival!
New Play Festival 2019
Produced by Megan Johnson '19 and Laural Meade '88
For over 20 years, the Occidental New Play Festival has paired student playwrights and actors with professional guest directors and performers. Focused on writer-centric rehearsal and performance, the festival provides a real-world experience of new play development as it is practiced on the national level. Through close collaboration with Los Angeles working artists, students experience a unique process unlike other college writing programs for the theater.
---
The Plays & Schedule
All performances in Keck Theater
Admission is FREE
Saturday, February 23, 2019 at 7:00pm
two comedies that pack a punch
Hang Tight by Rosie Stevenson '20
directed by Emily Chase
Is this a party or a funeral? As the friends and family of college student Andy gather to say goodbye they find themselves asking the same question – how do you properly memorialize someone you never really knew?

Just Die Already by Molly Kauffman '20
directed by Susan Dalian
Will, the will executor, arrives to execute – executite? – executive? - the will of Rick, father of three adult children who struggle with adulting. Even with dad on his deathbed, this family can't figure out how to say hello, let alone goodbye.
Sunday, February 24, 2019
relationship drama: pleasure or pain?
2:00pm: La Isla by Daphne Cancel '19
directed by Jonathan Muñoz-Proulx
Quinn and his mom Christine just want to spend a nice evening having dinner with their nice boyfriends in Quinn's nice new apartment. Then why is the pasta on the wall and the T on the floor before it's all over?
3:30pm: Heart Held at Knife Point by Eliana Sternin '19
directed by Rosie Glen-Lambert
In this world, the pain of a break-up isn't just emotional. She ghosts you? Hammer to the head! He says good-bye for good? Knife in the side! College student Micah's just trying to keep her heart in tact and the blood in her body as she navigates how love really hurts.
---
The Playwrights