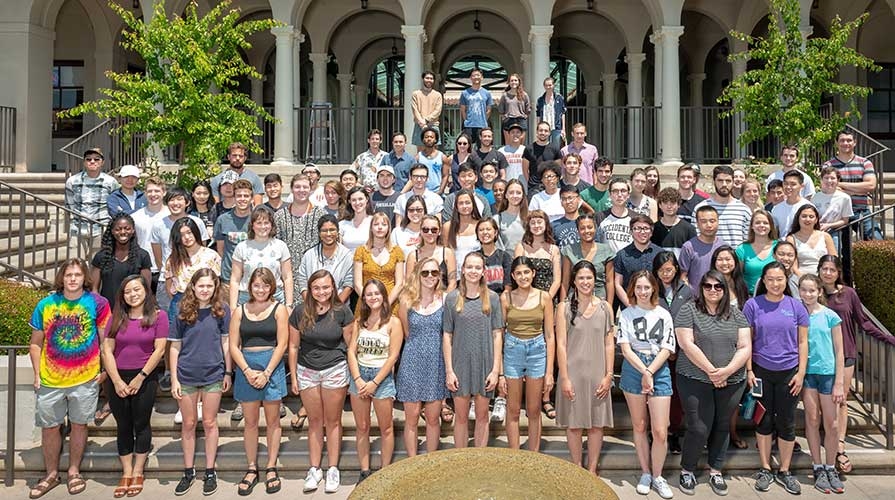 Whether your interests take you into the library or the laboratory, across town or across the ocean, the URC can help you follow them.
Students study insect herbivores in Costa Rica, the role of empathy in the prediction of others' actions on the Oxy campus and the circulation of Paquetes Semanal alternative media in Cuba. They work in laboratories on phospholipids, WIMPs and the simulation of lava flow cooling. They measure the impact of physical education on student outcomes, of preschool on children with autism and of storm drain runoff on fish. 
We've supported projects on "Weathering the Storm: The Effects of El Niño on Northern Anchovy (Engraulis mordax) and the Pacific Sardine (Sardinaps sagax)," "Hölderlin's Vocation:  The Union of the Tragic Dionysus with Victory Ode," "Native Bee Diversity of Occidental College" and "Emotional Wellbeing of Oxy Students" as well as student films and the annual Spring New Play Festival.
The Undergraduate Research Center seeks to support Oxy's mission by providing experiences that encourage the development of higher order thinking skills through faculty-mentored independent research. URC programs provide support for projects on- and off-campus in all disciplines. We encourage development of scholarship, teamwork, and communication skills and encourage the highest level of ethical behavior. The URC assesses and disseminates the outcomes of undergraduate research through our website, newsletter and, most importantly, support for student presentations at research conferences.
Academic year projects as course work, independent research, and outreach programs can receive support for supplies and travel; some programs provide study grants for researchers. Our nationally recognized Summer Research Program provides a full-time, on-campus, ten-week mentored research experience in a community of scholars and mentors.
Mission Statement:  The mission of the Undergraduate Research Center is to support student cognitive development and love of learning by allowing students, within a community of scholars, to refine their higher order thinking skills as they create new knowledge. Undergraduate research focuses on inquiry, design, analysis, interpretation, collaboration, ethical conduct and communication of original results.
Check out the URC Newsletter: