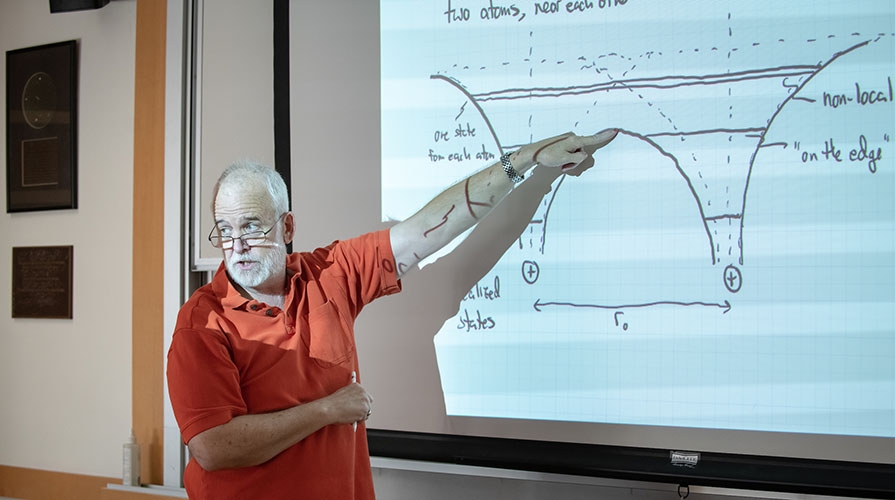 This fellowship supports students conducting research in physics to participate in the Undergraduate Research Center's Summer Research Program.
About George M. Schmiedeshoff
George Schmeideshoff joined the Occidental faculty in 1992 after earning his Ph.D. at the University of Massachusetts at Amherst and teaching at MIT, Tufts, and Bowdoin. He studied liquids and solids under extreme conditions, such as very low temperatures and high magnetic fields, to better understand new forms of magnetism and superconductivity. Of his more than 50 peer-reviewed publications, 15 had Occidental student co-authors, in part the result of his active participation in the Summer Research Program
About the G.M. Schmiedeshoff Fellowship
Each year, this fellowship supports one student to conduct 10 weeks of faculty-mentored research through the URC Summer Research Program. It is open to all students at the College doing research in physics. Funding priority will be given to Physics majors or minors.  
Fellows will receive: 
Study award of $6000
Subsidized on-campus housing and meal plans based on financial need. 
Up to $400 in consumable materials (itemized budget due with application). 
Application
Interested students should apply using the Summer Research Program Fellowship process. 
Applications are due on February 1, 2023, by 5:00 pm. 
Past Fellowship Recipients
2023
Zelie Goldberg Little ,  " Searching for Dwarf Galaxies using Radio Imaging" (mentor: Sabrina Stierwalt)
2022
Jacob Gitin , "Heat Transport and Large Scale Flow Structures in a Slender Rayleigh-Bénard Convection Cell'" (mentor: Janet Scheel)
2021
Jeffrey Yang , "The Dependence of Lyapunov Exponents on Rayleigh Number for Rayleigh-Bénard Convection'" (mentor: Janet Scheel)
2020
Tehreem Hai , "Analysis of an Algorithm Development for Super Star Clusters in Merging Dwarf Galaxies Using Images from the Hubble Space Telescope" (mentor: Sabrina Stierwalt)