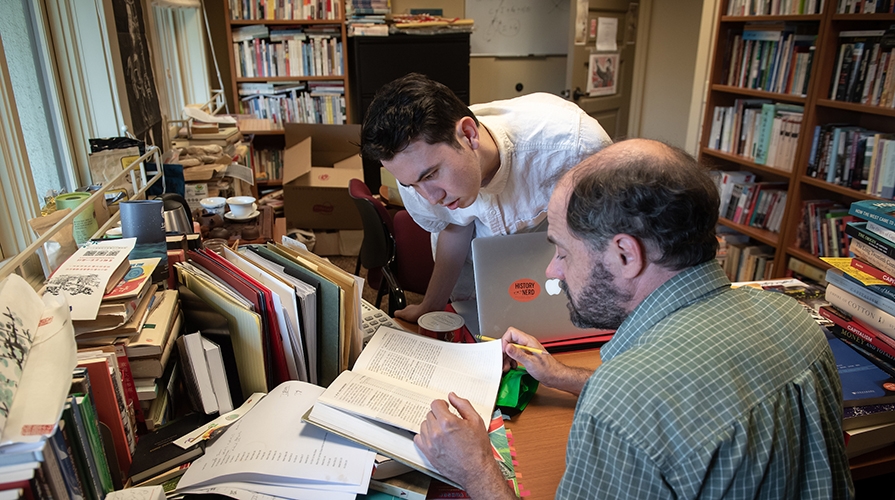 This fund supports students engaged in research, reflection, and essay writing about significant dimensions of the human condition, the state of human culture, and community, or of the challenges faced by altruistic efforts to cultivate and enhance justice, community, and human flourishing to participate in the Undergraduate Research Center's Summer Research Program.
About the Arnston Fellowship
This fellowship supports two students to conduct 10-weeks of faculty-mentored research through the URC Summer Research Program. It is open to all students at the College. Proposals should reflect state-of-the-art critical thinking as exemplified in the current practices and methods of the arts, humanities, social sciences, and sciences.
Fellows will receive: 
Study award of $6000
Subsidized on-campus housing and meal plan based on financial need. 
Up to $400 in consumable materials (itemized budget due with application). 
Application
Interested students should apply using the Summer Research Program Fellowship process. 
Applications are due on February 1, 202 4 .
Recent Recipients
2023
Cleo McKenzie (Music Production, '24), " Pixelated Glitter - Transfemininity in Hyperpop" [mentor: Shanna Lorenz]
Runyi Ye (Diplomacy & World Affairs '24), " A Third Realm in China" [mentor: Alexander Day]
2022
Sela Moretti-Hitchcock (Philosophy, '23), "Justifying Juvenile Justice: Good Faith Decision-Making to Protect Children's Futures" [mentor: Clair Morrissey]
Matthew Vickers (Undeclared, '25), "At the Rendezvous of Haiti: History and Revolution inthe Thought of C.L.R. James" [mentor: Warren Montag]
2021
River Lisius (English & Politics, '22), "From the Furies to Modern Advocate: Reading The Oresteia as a Tool to Condemn Violence Against Women and Call for Criminal Justice Reform" [mentor: Ross Lerner]
Ava Lubetkin (Philosophy & Cognitive Science, '22), "Learning from Fiction: Knowledge and Understanding" [mentor: Clair Morrissey]
Patrick Walsh (Philosophy, '22), "The Path From Delusion to Moral Maturity in the Philosophy of James Baldwin" [mentor: Ryan Preston-Roedder]
2020
Austin Bitterman (CSLC, '22), "Surveillance Capitalism and Ideology in the Modern World" [mentor: Stephen Klemm]
Michael Turner (CSLC, '21), "The Style of Time: A Comparative Reading of the Linguistic and Literary Stylistics of Herodotus' "Histories" and Homer's "lliad"" [mentor: Sydney Mitsunaga-Whitten]