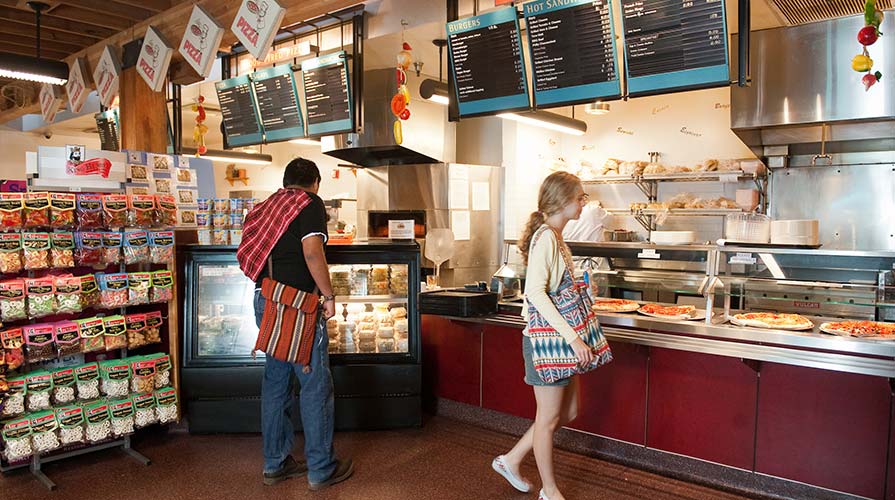 THE TIGER COOLER WILL BE OPEN FOR INTERIM SUMMER DINING FROM MAY 17 - MAY 27
The Cooler's menu includes wood-fired pizza, charbroiled burgers, grilled and cold sandwiches, salads, sushi, assorted pastries, locally made hand-dipped ice cream, organic smoothies, organic espresso coffee drinks and other beverages. A wide variety of packaged snacks is also available. Ever-changing weekend specials keep the menu interesting.
Nutrition Resources: Tiger Cooler Vegan/Vegetarian/Gluten-Free/Healthy Options
The Tiger Cooler is located in Samuelson Pavilion, across the JSC Quad from the Johnson Student Center
Our direct line is (323) 259-2639
Academic Year Hours (GRILL STATION CLOSES 3O MINUTES BEFORE END OF SERVICE)
Sunday and Holidays 5pm - 11:30pm
Monday-Thursday 8am - 11:30pm
Friday 8am - 2:00am 
Saturday 1:30pm - 2:00am 
Advertising/Art Exhibits in Samuelson Pavilion
Advertising for campus events and services may be posted only on the sides of the entrance to the Samuelson Pavilion. No posting is permitted on doors, glass, patios or inside the building. Art exhibit space (no advertising) is available on the walls inside Samuelson Pavilion by advance reservation through the Master Calendar. Table tents may be placed on the tables in Samuelson Pavilion. Submit a draft copy of your tent to Campus Dining (dining@oxy.edu) for approval, no fewer than 10 days in advance of your first desired day of posting. Table tents should be made of heavy stock paper and must stand up on their own. The maximum advertising time is seven calendar days. Table tents advertising external events or services or endorsing candidates will not be accepted. Campus Dining does not take responsibility for the loss or damage of table tents.