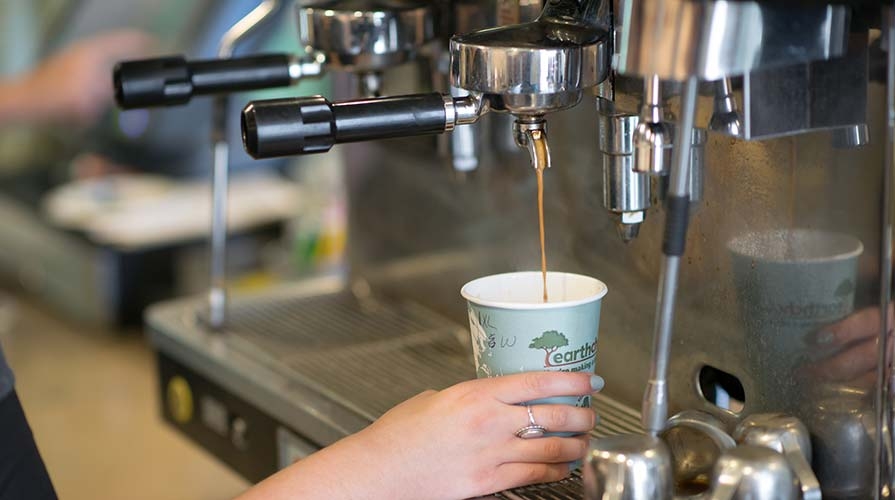 The Green Bean is Occidental's completely student-run campus coffee shop. Stop by to get your caffeine fix, located on Branca Patio in the Johnson Student Center!
Spring Semester 2023 Hours through May 3rd
Mon-Thurs: 7:30 am - 10 pm
Fri: 7:30 am - 5 pm
Sat: 9 am - 4 pm
Sun: 9 am - 8 pm

Reading Days / Finals Schedule:
May 3 - May 5 - 8:30 am - 8 pm
Closed Saturday May 6
May 7 - May 9 - 9 am - 6 pm
May 10 - 11 am - 6 pm - Last day open for this semester!
 
Contact the student management team at greenbean@oxy.edu.
Drink of the Week/Month
The Green Bean is no longer fundraising with specialty drinks, but we still do promotions! If you are interested in having a specialty promotion drink for your club, team, or other campus organization, contact the Programming & Customer Experience Manager! (via greenbean@oxy.edu)
Sustainability at the Green Bean
We are passionate about environmental sustainability and dedicated to being "green." We strive to raise awareness about social and environmental practices.
The Green Bean has made great strides to using fully sustainable resources in all of its products and packaging. Not all of these changes have been obvious, but they are making an impact by helping to keep our environment clean. If you have any suggestions or questions, feel free to contact the current Health, Safety, and Sustainability Manager!
Order drinks "for-here" to receive it in a reusable cup or mug, and earn a 20 cent discount! There is no token program, just return the cup to our lovely baristas when you're done (please do not take our cups or mugs out of the Green Bean premises)! Customers can also receive the discount for bringing in their own cup or mug from home!
We have transitioned to using all compostable paper cups for both hot and iced drinks served at the Green Bean, to reduce plastic waste (even PLA7 bio-plastic, which cannot be processed by our contractor). Plastic cups, lids, utensils, and straws must go in the landfill to avoid over-contamination of compost loads. 
Nearly all of our packaging from suppliers, including milks, teas, and coffee beans, comes in recyclable packaging! We are hoping to eventually cut down on all non-recycled or composted packaging.
How You Can Go "Green" at the Green Bean
Order "for-here" or bring in your own mug and receive a 20 cent discount!
Fill your reusable water bottles from our filtered tap at the condiment bar
Properly sort your waste! Follow the guides printed above our waste cans, and compost all of your food waste.
Your 2022-23 Green Bean Managers
Health, Safety, & Sustainability: Erin Croom ecroom@oxy.edu
Programming & Customer Experience: Hannah Perlman hpearlman@oxy.edu
Sales Analysis: Ansel Jeffries ajeffries@oxy.edu
Product Purchasing: Kevin Yan kyan@oxy.edu
Employment & Scheduling: Alaitasune Love-Geiger alovegeiger@oxy.edu