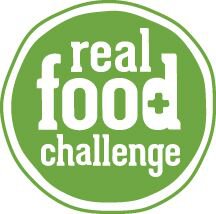 In the 2018-19 academic year, Campus Dining increased purchase and use of Real Food to 29% of all food served. That's an increase of 3 points from last year, or around 11.5% more Real Food, including more humane animal products and more organic local produce!
Across Occidental, there are students, staff, and faculty committed to Oxy's food systems and the impact that they have on communities and the environment. Part of that commitment has been an effort to improve Oxy's sustainable food procurement. A team of student interns, the Food Systems Working Group, UEPI, and more, all work together to shift Campus Dining's purchasing towards sources whose practices support the natural environment, good labor conditions, and food justice.
Since 2014, Occidental has been a signatory to the Real Food Challenge, an organization dedicated to helping students divert money towards sustainable food sources via the institutional power of their campus dining services. In the years since, Oxy's Own Dining Service has been making progress towards our goal of 30% Real Food by 2020. This year, we are happy to announce that we have reached 29% Real Food, just shy of our goal for next year. Individual category highlights include:
83% Real eggs
41% Real produce
77% Real tea and coffee
14% Real poultry
12% Real dairy
10% Real meat
Some of these numbers may sound low, but they represent huge progress in our food purchasing. To understand what goes into these numbers, and why some categories are so hard to improve, some background and information about the Real Food Challenge is helpful. Real Food is defined as any product that is Local and Community Based, Fair, Ecologically Sound, or Humane. RFC defines these categories by using a set of approved third party certifications. Some examples are USDA Organic, Fair Trade Certified, and Animal Welfare Approved. The local category does not rely on certification, but rather proximity to the foodservice operation (250 miles maximum) and the size of the production operation. If a product meets any of these criteria, it can be counted as Real Food. That is, if it is not disqualified by another feature of its production. Any highly processed food cannot be Real Food, nor can anything produced by an operation with recent labor violations or in Concentrated Animal Feeding Operations (CAFOs).
In truth, finding non-CAFO sources for animal products remains our biggest challenge. Even meat and dairy that advertises as humane or has an organic certification might still count as a CAFO just based on the number of animals that are contained in a certain area. The good news is, however, that as a result of our work and expanding network of sources, we have been able to procure and serve more Real meat and dairy in the past couple of years. The chicken breasts served in the cooler are Global Animal Partnership Step 3 certified, meaning they are humane and non-CAFO. And we are continuing our research and outreach to identify and support local suppliers who can help us improve in these categories. As of the spring 2019 semester, an organic and humane burger is served at the burger bar in the Marketplace every Sunday. After months of working with vendors, distributors, and Oxy's Own Campus Dining staff, since-graduated Sammy Herdman was able to make an organic and humane burger fit into our operation. Going forward, we hope to bring the same product to the Cooler!
While animal products remain the biggest challenge for us, the student body can vote with their dining dollars, and support Oxy's investment in Real food. This might mean purchasing fewer processed and packaged snacks (saving plastic as well!), selecting organic produce or eating at the Thursday Organic Bar, or consuming fewer animal products. This is possible at our weekly Meatless Monday dinner, and at the other stations just about any day of the week!
In order to put all of this in perspective, think about how much food Campus Dining buys. Annually, the college spends around $4.5 million on food. 29% of that budget is more than a million dollars that Campus Dining is diverting away from conventional sources, and towards sources that are creating a healthier world. An increase of 3% in our percentage of sustainable purchasing represents more than $120,000 additional dollars that went to these Real sources and suppliers, which, in turn, is helping Real Food Challenge meet its goal of diverting millions of institutional dollars to sustainable food sources and suppliers.
We have big goals going forward, and won't stop here! If you have feedback or suggestions about Dining's sustainability, we want to hear them. Reach out to Kaye Jenkins, our Lead Sustainability Intern at jenkinsk@oxy.edu. Thank you, Tigers, for supporting our dining service, and for eating consciously.