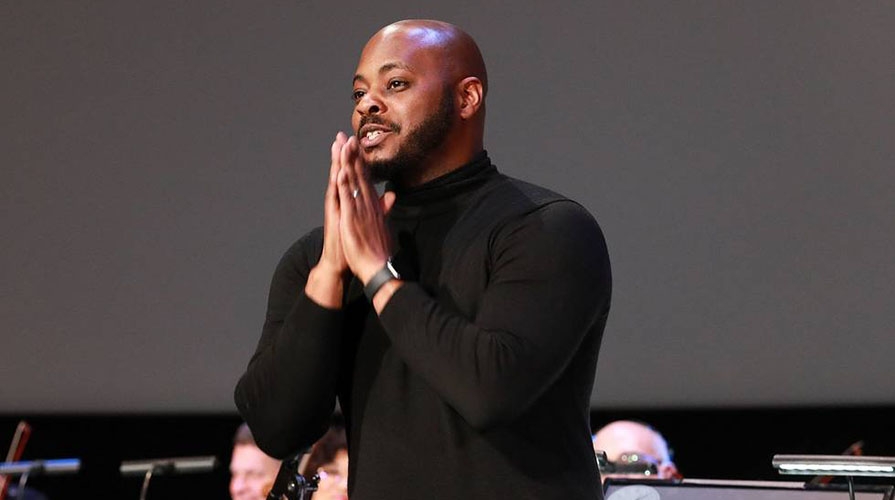 Learn more about the music production program at Oxy from instructor Jongnic Bontemps, better known as JB.
Adapted from a 2019 interview.
Studying music production alongside the liberal arts
At Occidental, the liberal arts aspect is here to give you something to say. It shapes your worldview, and it informs who you are as an artist in general. The music production aspect shows you how to say it. We've structured the program to give you a full grammar, so to speak, of how to say things musically, and what that means. It includes music history—understanding the full breadth of what it means to have a musical lineage and understanding how we analyze music from a cultural perspective. Then the whole gamut of music theory helps you really understand how to analyze and approach music. From all of this, you start to understand that music technology is just an instrument, one tool that you have.
Oxy's program is really focused on training your mind, because if you can't imagine it, you can't produce it through the technology. We want to make sure that you can imagine it, then we offer you the tools to actually say it. We designed our program to create what I would call a complete individual, the complete musician.
At Occidental, the liberal arts aspect is really here to give you something to say. It's here to shape your worldview, and it informs who you are as an artist in general."
It's impossible, at 22 years old, to plot out your entire life. In my life I've had six or seven jobs. Even now, I teach at Occidental, I have a very active music production and film scoring career, and I do consulting for technology. So I have three vocations, and the foundation for that was a liberal arts education. You can't predict where you're going to be or what skills you're going to have, so it's important that you focus on getting the best foundation as a person as possible because that will then prepare you. That's another important part of an Oxy education, we train you as a complete individual.
Studying music in Los Angeles
What does the fact that Oxy is in L.A. mean for our students? Well, you have the proximity. You're where music is being made, and that's a huge benefit because not only do you have access to people like myself who are working in the entertainment industry, we also have the ability to bring in alumni and other industry folks to interact with our students. We've had film composers like Theodore Shapiro and Ludwig Göransson, who just recently won the Oscar for Black Panther, come in and lecture to our students.
On top of that, with so many studios, music production companies and record labels, there are ample opportunities for internships for our students. We are in the process right now of formalizing internship opportunities with three studios, and we're looking to grow that as we expand our relationships even further. You also have a huge Oxy alumni network in the arts to reach out to for advice and making contacts.
Oxy's amazing new facilities
We are in the process of building out a wonderful recording and music production space. It's going to be a dedicated 16-seat lab that will give our students hands-on access to not only things like Pro Tools or Logic or Ableton, but also sample libraries for film scoring. We are also building a new 32-input recording facility, where we will have the ability to network several rooms together in our music production area and record up to 32 channels simultaneously. We are outfitting the space with top-of-the-line microphones.This will be an amazing facility for our students to learn in and create their own music.
What you'll walk away with
Through [your senior comps project], you can leave Oxy with a fully-produced set of work to launch your career or use as the next stepping stone for what you want to do. Once you've successfully completed the appropriate classes, you'll have access to the facilities where you can record and produce your own album. We will help you with getting it out into the world, whether it's through Spotify or iTunes, and the business side of things.
Again, we're here to create the complete individual, and if that's of interest to you then this is a great place to be. I'm going to warn you now, if you just want to come and study music and not think about history or science, don't come. You'll be miserable. But if you want to go on this journey of being a complete individual and cultivating your mind to give you something to say, and then go through our music education to teach you how to say it, then welcome, come on board, and we're going to have a great time.
What JB loves about being at Oxy
Being able to share my personal journey with students has also been very rewarding. I recently had the opportunity to conduct a small orchestra during an event at the TV Academy for a documentary that I scored. I was able to invite my students to come to the dress rehearsal and they were able to see what goes into preparing for an event like that. I also had a concert series where a couple of pieces I had written were premiered at a private residence in the Pacific Palisades at a concert for 100 people. I was able to get my students in on that as well, and they got to see not only me, but much bigger people in the film scoring industry who they could interact with in an intimate setting.
Having the ability to create those opportunities for my students has been pretty amazing. And it's really unique to a small school like Occidental. This is not a USC. This is not a UCLA. Here, you get to know your professors. Our classes are intimate. You have the ability to interact with faculty, and then it's not too onerous to say, "You know what? My class of 15 students—let's go do something together."