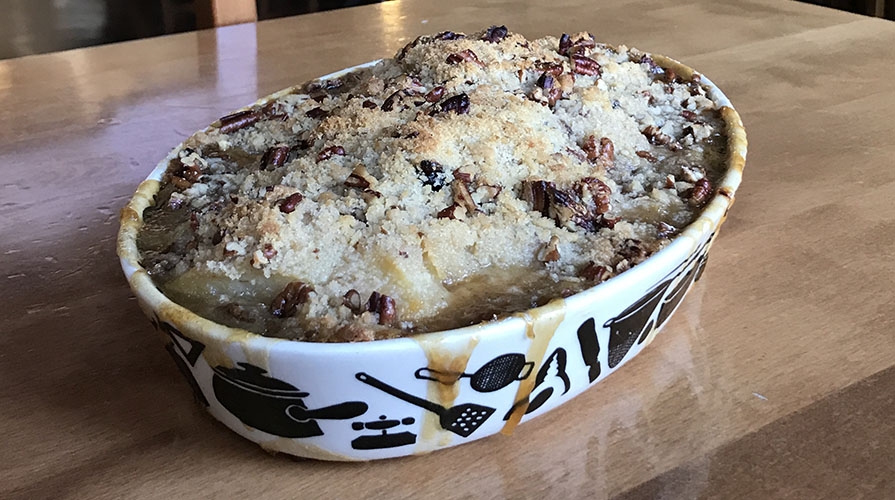 Enjoy a delicious autumn fruit crisp this Thanksgiving with a recipe straight from the Marketplace.
As we gather with our pods for what is likely a new kind of Thanksgiving meal, Occidental's Campus Dining staff offers a taste of home on campus. This pear and cranberry crisp is often included in the annual Marketplace Thanksgiving feast menu and now you too can make it at home. Thank you to Marketplace Sous Chef Lisa Loya and Executive Chef Martin Fernandez for sharing the recipe which has been modified for a party of far less than 1,500+ students.
---
Pear and Cranberry Crisp with Pecan Streusel
Filling
6 lbs. firm, ripe pears, peeled, cored and cut into chunks
¾ cup dried cranberries
Orange juice, as needed for cranberries
1 cup packed brown sugar
2 inch piece of ginger, peeled and grated on a microplane grater
Juice of 1 lemon
¼ tsp salt
2 Tbsp cornstarch
Cover dried cranberries with orange juice, bring to a boil, cover and remove from heat. Let sit for 20 minutes, then drain.
In a large mixing bowl, gently combine all ingredients, place in a well buttered baking dish and top with pecan streusel.
Bake in a preheated 350 degree oven until browned and bubbling. Cool slightly and serve with ice cream or lightly sweetened whipped cream.
Pecan Streusel
1 cup packed brown sugar
1 cup old fashioned oats
¾ cup all-purpose flour
¼ tsp salt
½ cup cold unsalted butter, cut into small cubes
⅓-½ cup chopped pecans
In a medium size bowl, combine all the dry ingredients except pecans, then add the butter and rub it into the dry ingredients until it forms moist clumps. Add the pecans and chill until ready to use.