Something exciting is always happening in the Religious Studies department! Read on to find out what's new this year.
2020-2021
This year, we were excited to welcome Professors Candace Mixon and Matthew Hayes, both of whom joined the Religious Studies Department as visiting faculty this Fall. Prof. Mixon's research examines how state entities, museums, and other institutions shape and mediate Shi'i devotions in Iran. At Oxy this year, Prof. Mixon offered a variety of courses on Islam, including Introduction to Islam, Muslim Bodies: Islam, Gender, and Health, and Islamophobia, as well as a new CSP, Ethnography and the Study of the Contemporary Middle East. Prof. Hayes' research focuses on ritual knowledge in early modern Shingon Buddhism. His current work demonstrates how ceremonial lecture (kōshiki) allowed for the reception of religious doctrine in distinct social, linguistic, and performative registers among varied audiences. Prof. Hayes's courses include Zen and Buddhisms of the Silk Road. Welcome to Oxy, Professors Mixon and Hayes!
While Oxy was fully remote due to the pandemic, the Religious Studies Department was able to offer exciting learning opportunities for students. In the Fall, Prof. Amoruso (American Religion) taught a course cross-listed with the Politics department on the Religious Right that studied the way religion informed politics, using real-time current events from the elections. This Spring, Prof. Upson-Saia taught two sections of a course, History of the End of the World, that explored how folks in the ancient Mediterranean made sense of natural disasters, epidemics, social and political unrest as a portent of the end of the world.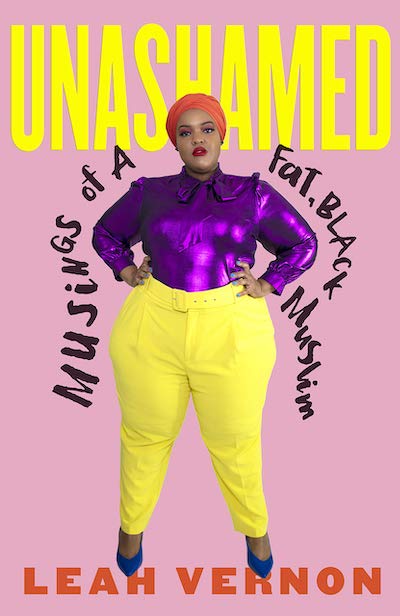 Faculty have taken advantage of remote learning by inviting guest speakers to visit their classes via Zoom. In Prof. Mixon's Muslim Bodies: Islam, Gender, Health course, author and model Leah Vernon visited the class after students read Vernon's new memoir, Unashamed: Musings of a Fat, Black Muslim, over the first half of the course. Students had a lively discussion with the author to ask her questions based on course readings, especially regarding sexuality, divorce, and mental health, her personal experiences as a Muslim, and her experience as a Black plus-sized model.  And in Prof. Amoruso's The Religious Right, political theorist Dr. Corey Robin visited for a Q&A about conservatism and his book, The Reactionary Mind. Considering his theory of conservatism alongside the rise of fundamentalist Christianity, students engaged Dr. Robin in a productive discussion about faith, power, and political change in the United States. Both visits were generously supported by the Remsen Bird Fund.
And students have been doing extraordinary work! In many of our courses this year we have designed in-depth research projects as opportunities for students to leverage what they learned from the course materials we curated into research on a related topic of their choice. And they have presented their research findings in a number of creative ways. For example, check out these assignments from the History of the End of the World course: Joanne Yi's comets infographic; Toni Thompson's infographic on the Animal Apocalypse, Lily Carson's museum exhibit on the Fruitlands community, Jennifer Baidon's museum exhibit on the 2012 end-of-the-world scare, Aya Sugiura's museum exhibit on the Ghost Dance, Joaquín Madrid Larrañaga's podcast on Y2K, Layla Devlin's podcast on the Branch Davidians, Laura Bookstaver's podcast on the apocalypse and climate politics, Margot Hoffman's podcast on People's Temple, and Amelia Threatt's podcast on Afrofuturism.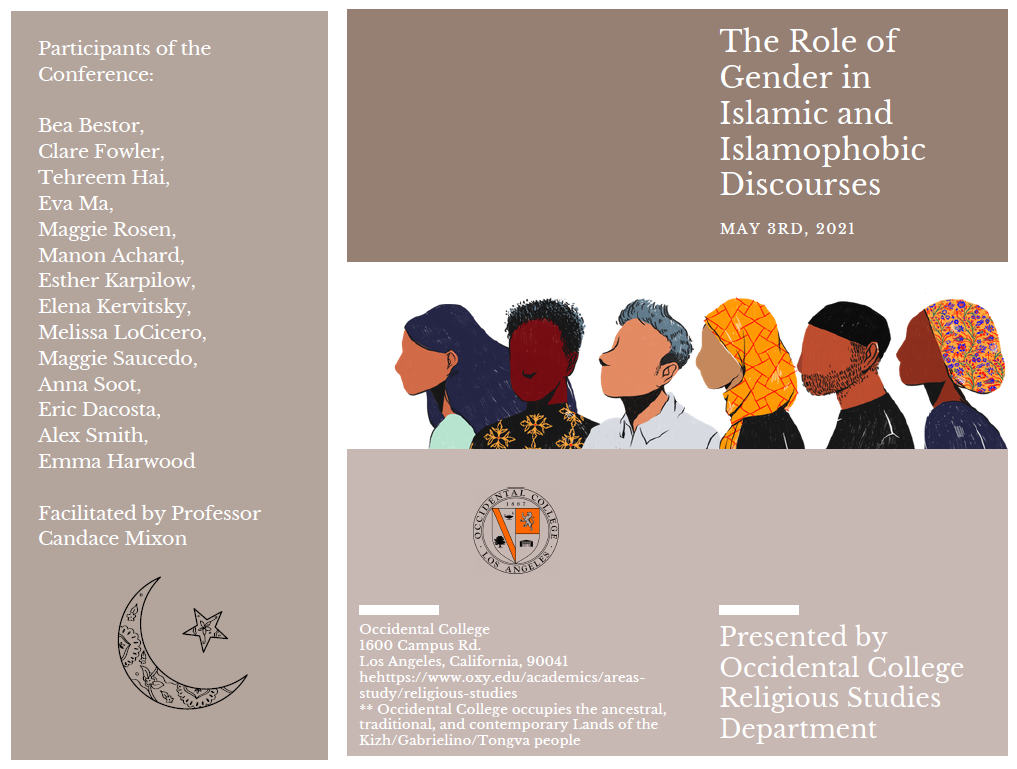 Prof. Mixon had her Islamophobia students to organize their own academic conference related to class themes that would serve as the final project and presentation platform for the course. Students joined committees, including a "Call for Papers Committee" to draft the parameters for student presentations and its theme, the "Organizing Committee," where students organize the abstract submissions into cohesive, themed panels, and the "Logistics and Swag Committee," in which students designed materials, including a poster/agenda for the day and gifts for student presenters. The students selected the focus and title for the conference: "The Role of Gender in Islamic and Islamophobic Discourses." And the conference also included a keynote lecture by Nicole Correri, "Islamophobia as Anti-Muslim Racism: Understanding Systems and Structures of Inequality." Through this interactive learning experience, students learned not only about the topic of their chosen inquiry, but that the process of creating that knowledge is an active and deliberative one. We have been deeply impressed with students' commitment to their studies and even more impressed by their ability to stay engaged and to produce such sharp, sophisticated work!  
As the year comes to a close, we're thrilled to congratulate our colleagues, visiting Professors Ben Ratskoff, Kathryn Renton, and Matthew Hayes on accepting new positions at prestigious academic institutions across the country!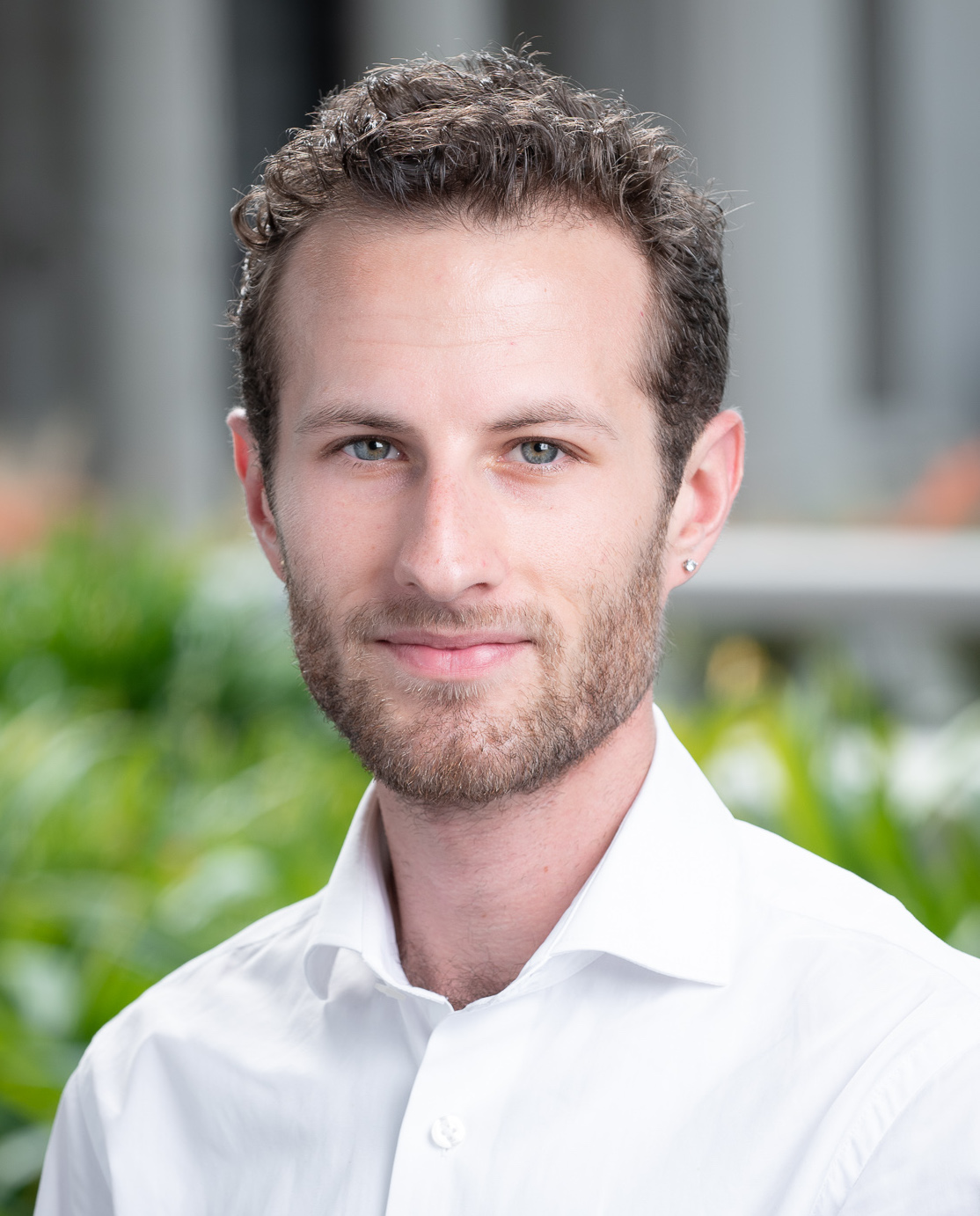 Starting Fall 2021, Prof. Ben Ratskoff will begin as Visiting Assistant Professor in Modern Jewish History and Culture at the Skirball Campus of Hebrew Union College, teaching in both the rabbinical school and USC's Jerome H. Louchheim School for Judaic Studies. During his time at Oxy, Prof. Ratskoff offered courses on the History of Anti-Semitism and the Holocaust in Comparative Perspective, building on his research on the relationship between antisemitism, white supremacy, and colonialism. At Hebrew Union College and USC, he will teach courses on the history of antisemitism and the Holocaust, cultures of memory and justice, and comparative approaches to Jewish history and culture.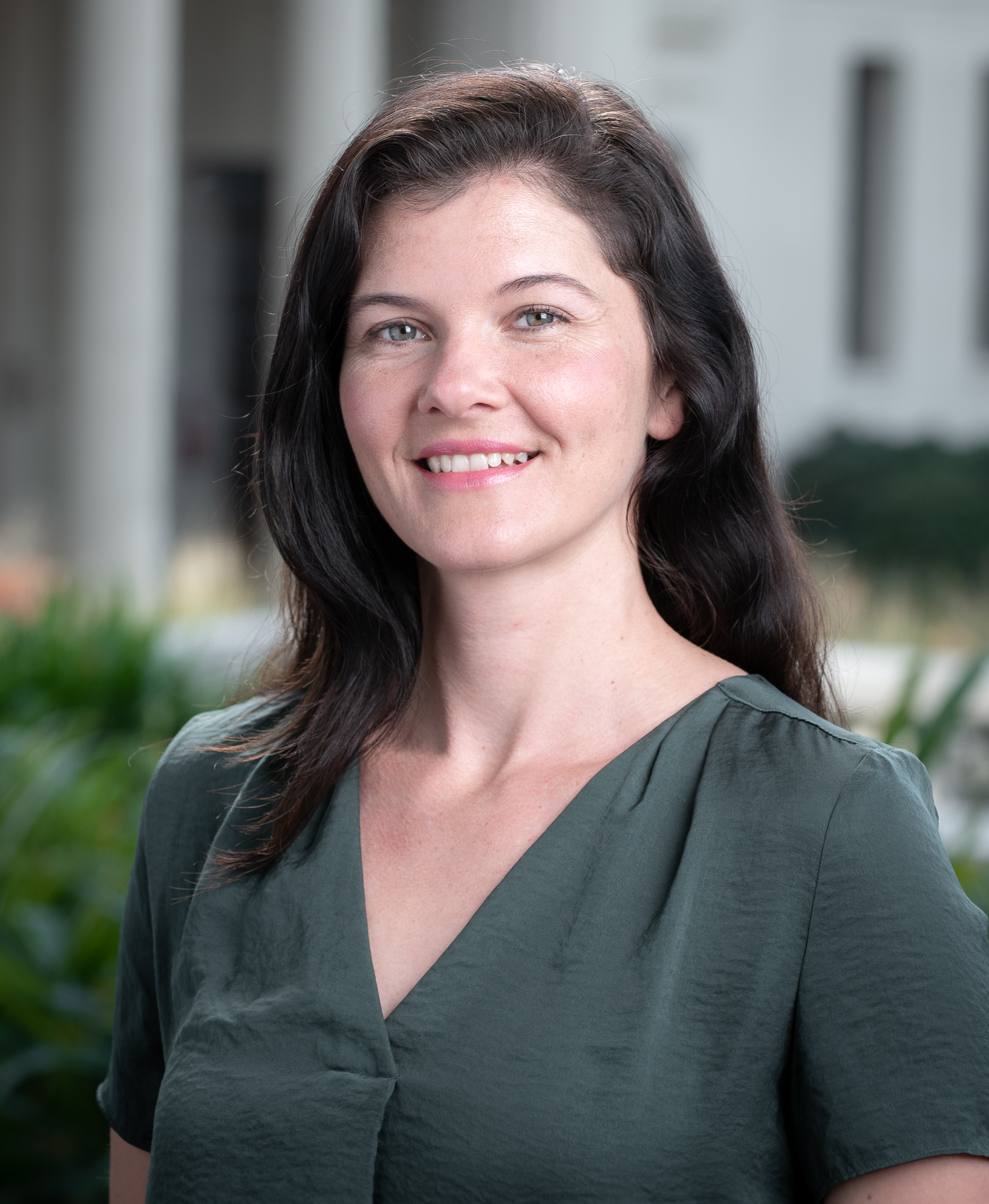 Prof. Kathryn Renton has accepted a new position in communications with the Getty Research Institute. She first began working as a Research Assistant with the Getty in 2017 while completing her doctoral dissertation on the intersection of animal and environmental issues in the context of the early modern Spanish empire at UCLA. Over the past two years, Prof. Renton has taught courses ranging from Religion, Science, and the Natural World in Early Modern Europe to CSP seminars like Putting Animals on Trial: Exploring Medieval Environmental Ethics. At the Getty she looks forward to following its upcoming research projects and programs based on amazing collections of manuscripts, rare books, and artworks—and she invites everyone to come visit the Getty Center!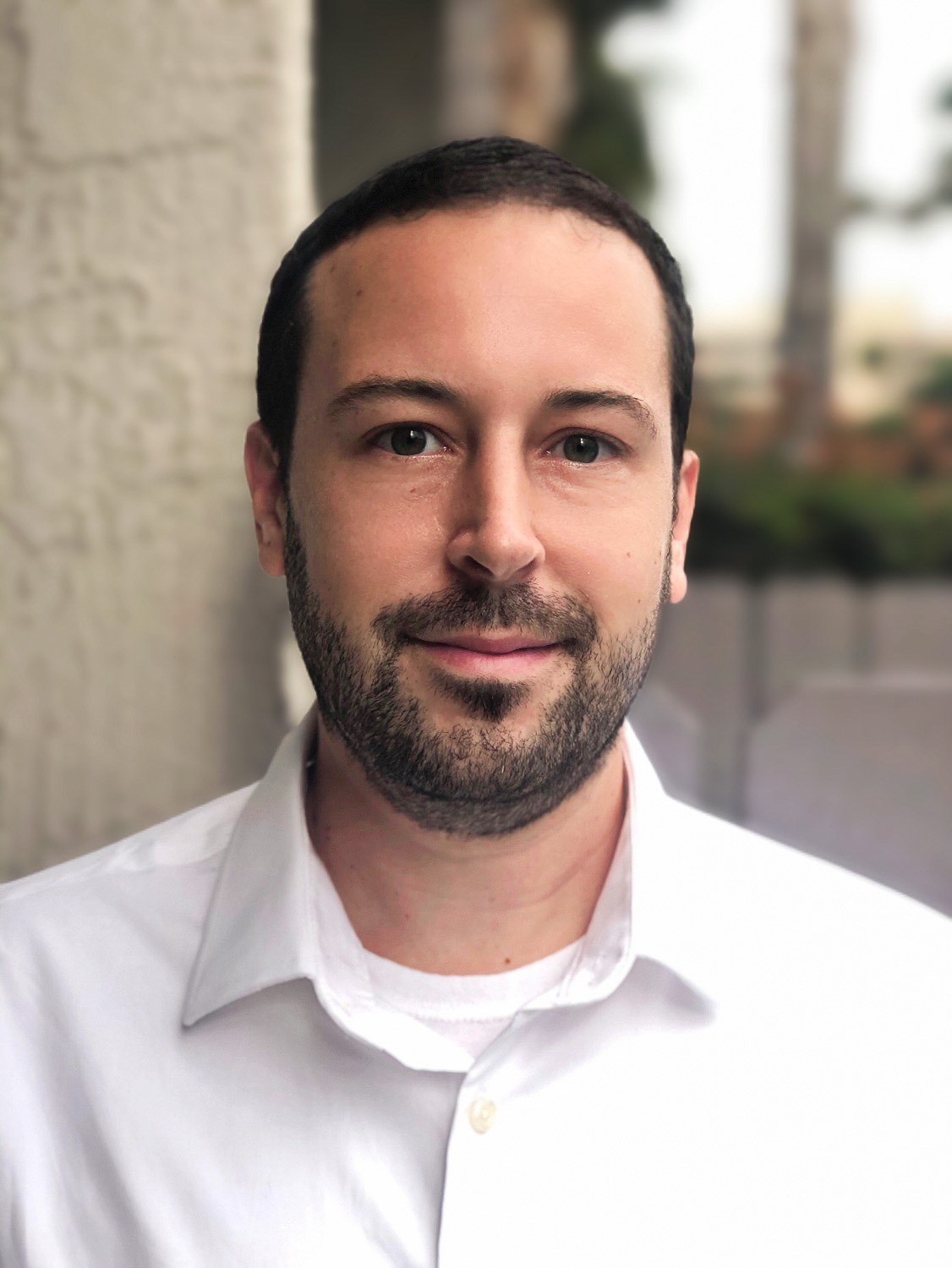 Next academic year, Prof. Matthew Hayes will begin a new position as Assistant Librarian of Japanese Studies at Duke University. This year at Oxy, Prof. Hayes taught courses on Zen and Buddhisms of the Silk Road, offering critical subject area expertise while Prof. Holmes-Tagchundarpa was on sabbatical. At Duke, he is looking forward to teaching courses on research methods, as well as the opportunity to continue his own research, which focuses on ritual practice in early modern Japan and its intersection with knowledge production, learning, patronage, and social formations.
The Religious Studies Department would like to thank Professors Ratskoff, Renton, and Hayes for their contribution to our students' intellectual growth and for being tremendous colleagues. We'll miss you, but we're excited for this next phase of your careers. Congratulations!
2019-2020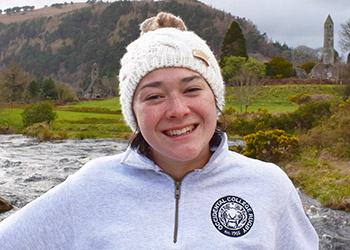 Building from her senior comps project, Carol Beckett '20 presented "Marking Time and Making Identity: Rites of Passage Events and Festivals in the Creation of Japanese American Buddhist Community Life in the Incarceration Camps" at the American Academy of Religion Western Region Conference in March. Meeting virtually due to the COVID-19 crisis, Carol presented her work on a panel that included scholars from University of California, Santa Barbara and Hanyang University, South Korea. It is rare for undergraduates to speak at professional conferences.  We congratulate Carol for producing such high-quality work to be accepted!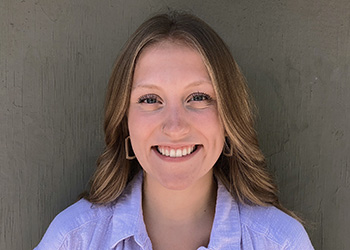 Stella Ramos '21 won the 2020 Marianne Ruuth Award, which acknowledges the best senior comps paper, college-wide. By foregrounding Native American agency in the Seattle Salmon Homecoming Festival, her project, "Why Salmon Matter: Subverting Settler Colonialism in Environmental Justice Scholarship Through a Study of the Seattle Salmon Homecoming Celebration," represents an original intervention in Environmental Justice scholarship. The faculty award committee praised the scope of the project, which united a concern for contemporary ecology with Native American traditions. The committee also commented on the paper's detailed and precise discussion of current practices around the salmon ceremony, its original focus on urban Native American communities, and its success in undermining popular stereotypes of American Indians' relation to the environment. Congratulations, Stella!
On International Holocaust Rememberance Day (January 27), Prof. Ben Ratskoff participated in a Q&A panel following a viewing of The Good Nazi, a film by Dr. Michael Good '79, based on his book, The Search for Major Plagge: The Nazi Who Saved Jews. In 1943, Nazi officer Karl Plagge decided to risk his own life by attempting to save the lives of Vilnius's Jews. After Dr. Good took a trip to see the HKP labor camp where his mother was saved, Good began to explore how his family survived the Holocaust, and resolved ot tell the story of Major Plagge and his remarkable courage. In his opening remarks, Dr. Good reflected on how Oxy gave him not only the foundational education for medical school, but also the critical thinking and research skills necessary for writing his book.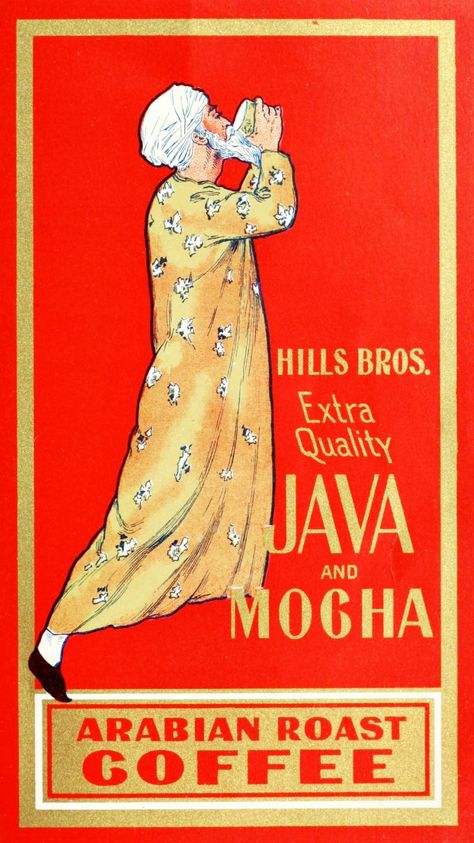 In February, as part of Prof. Holmes-Tagchungdarpa's Holy Sh*t!: Engaging in the Materiality of Religion class, Prof. Jamel Velji (Claremont McKenna College) visited to give a talk entitled, "Making Sacred Grounds: What Coffee Can Tell us About Islam." Speaking outdoors in our beautiful olive grove, Prof. Velji discussed coffee's early use and popularization in the Islamic world, how its Islamic heritage was transformed as the drink entered Europe, and how the mass marketing of coffee has continued to make use of certain kinds of images and ideas related to Muslims.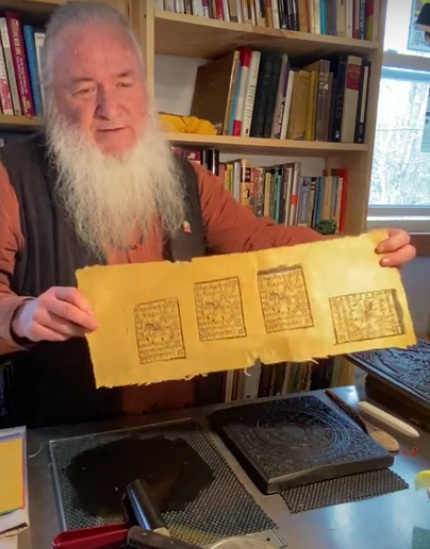 When Oxy moved online in response to the COVID-19 class, students and faculty in the Religious Studies Department rose to the challenge. In Holy Sh*t!: Engaging in the Materiality of Religion, Prof. Holmes-Tagchungdarpa organized remote workshops in which students engaged with different types of material religion. These workshops included making Himalayan prayer flags with conservator and paper and print maker Jim Canary (Indiana, seen in the picture on the right) and palm leaf stars inspired by Filipino palm leaf artwork with artist Diyan "BukoBomba" Valencia (Los Angeles, seen in the pictures below). These talented, compassionate artists and artisans had been scheduled to visit Oxy for workshops, and quickly maneuvered their plans to be executed remotely. Students received packets of materials in the mail that they assembled with videos prepared by the workshop leaders. They shared that they enjoyed the workshops due to the opportunity for them to think about course themes, and particularly the processes and materials by which material religion is created, using a hands-on approach. These workshops were generously sponsored by the Mellon Grant for Urban Arts Initiative, and coordinated by Prof. Holmes-Tagchungdarpa along with Education in Action coordinator Samantha Moua '20 and Oxy Mellon Grants Administrator Rithika Mukerjee-Mora.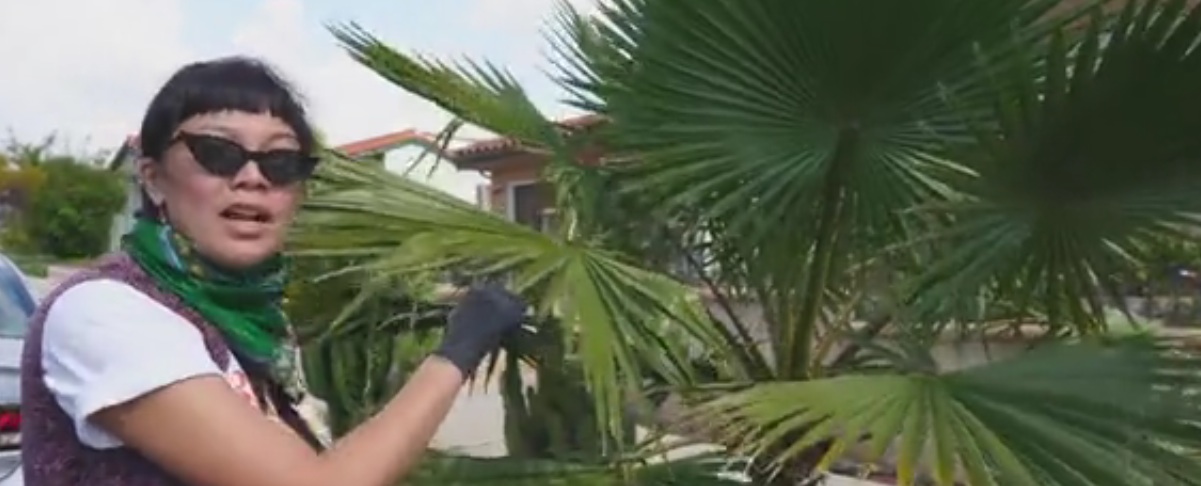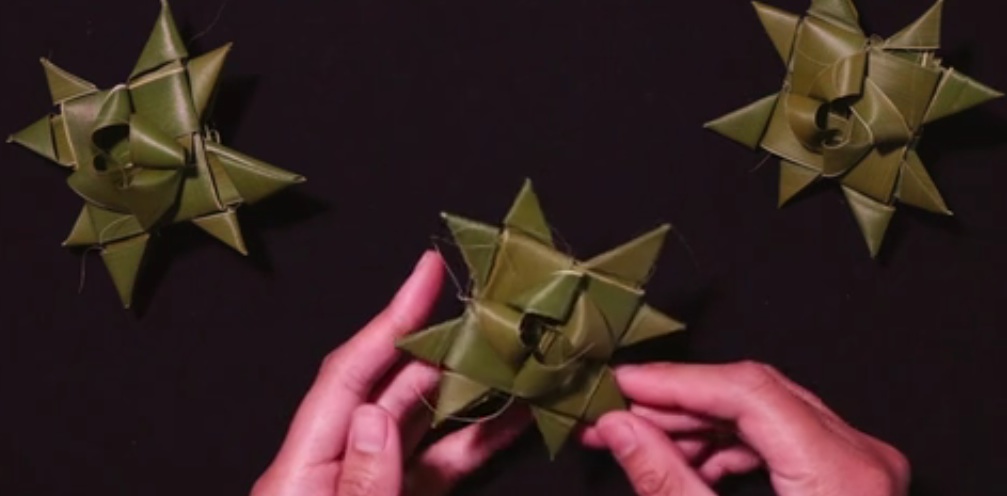 In Empire and Religion in Asia and the Pacific with Prof. Holmes-Tagchungdarpa, students completed original, insightful, historically-informed research in digital archives and libraries related to connections between religion and imperialism in locales as diverse as India, China, Taiwan, and Hawai'i, and even the appropriation of Asian American religions in Los Angeles-based New Religious Movements.
In Introduction to American Religion with Prof. Amoruso, students worked on independent research projects that explored traditions or movements in US religious history, as they relate to the central course themes of "experience and authority." In choosing topics that draw out these themes, students have proposed studies ranging from the Self Realization Fellowship, a new religious movement founded in California in 1920, to evangelical Christians' political engagement in the late twentieth century. During twice-weekly video chat sessions, students in Religion and Revolution paired up to guide class discussion through a series of questions based on the day's readings. As students learned about the role of Haitian Vodou, obeah in the Anglophone Caribbean, and Rastafari, discussion leaders pressed the class to think about how these marginalized religions shaped, and were shaped in the context of, the colonial and postcolonial Americas.
In Prof. Upson-Saia's team-taught CSP course, Health & Humanity, the faculty scrapped content they had planned to teach and created a few new units on COVID-19, the history of epidemics, and the tensions between government regulation and individual liberties during public health crises. The new units called upon Prof. Upson-Saia's expertise in the history of illness, health, and medicine in the ancient Mediterranean. (You can learn more in the video linked here.) The faculty also guided students through independent research project, many of which engaged issues of public health, such as mandatory vaccinations (and allowable exemptions), emergency preparedness, health care for vulnerable populations, especially in times of crisis (e.g., refugees, imprisoned people), regulations related to physician and health supply shortages, and culturally-competent healthcare.
2018-2019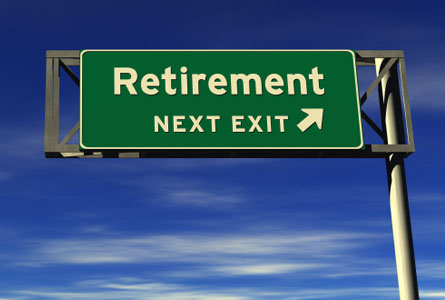 After 31 years teaching at Oxy, Prof. Keith Naylor retired at the end of the Spring semester. Prof. Naylor taught numerous courses related to American religious traditions for the Departments of Religious Studies, American Studies, and for the Black Studies major. He also made enormous contributions to MSI, supervised many URC and Richter projects, and served on a number of important committees across the campus. Prof. Naylor became well-known by his students and colleagues for his breadth of knowledge, enthusiasm for course material, and the warmth, care, and support he imbued.
Across his career, Prof. Naylor was an intellectual leader in areas including religion and education, American religious history, religion and the environment (including several articles on American forester and politician Gifford Pinchot), and the pedagogy of religious studies. Prof. Naylor's influence stretched beyond our campus, as he served as a member of the Advisory council of California's 3Rs Project, an educational program of the California County Superintendents Educational Services Association, as a member of the American Academy of Religion's Religion in Schools Task Force, and on the Steering Committee of the American Academy of Religion's Consultation on Religion and Education in Public Schools. He was also involved in a number of initiatives related to the study of religion in L.A.
Prof. Naylor capped off his career by being awarded the Linda and Tod White Teaching Prize! The prize is awarded each year to the faculty members who facilitate student learning, who stimulate students intellectual liveliness, and who cultivate students' intellectual identity. It is one of the most coveted prizes at the College and we can't think of a more deserving recipient. 
We will greatly miss Prof. Naylor's presence in the department and wish him a happy and peaceful retirement!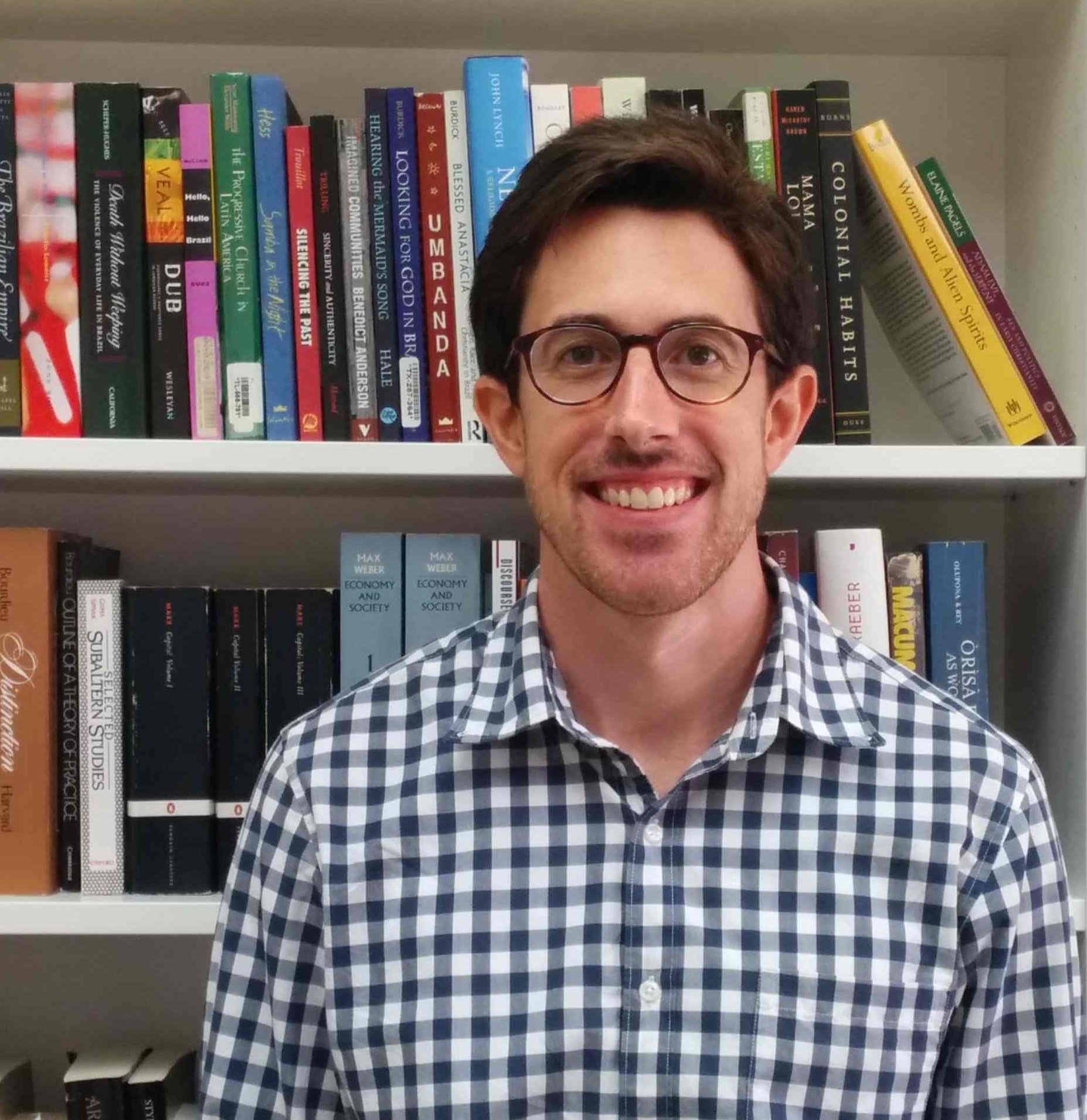 The Religious Studies Department is delighted to announce that Dr. Michael Amoruso will be joining us in the Fall. Prof. Amoruso comes to Oxy after teaching at Amherst College, Oberlin College, and the University of Texas at Austin. Prof. Amoruso's work investigates how people navigate religious and racial difference in the Americas, with a focus on the United States and Brazil. His current book project, tentatively titled Moved by the Dead, explores these themes through an ethnography of a popular devotion to the afflicted souls in São Paulo. Prof. Amoruso's other interests include urban religion, transnational occultism, and spirit possession practices.
At Oxy, Prof. Amoruso will teach an introductory course on Religion in America, and specialized topics courses including, Religion and Race, Religion and Revolution, Spirit Possession, and "Cults" and "Sects": New Religious Movements in the Americas, as well as a new CSP, Religion and Violence.  Prof. Amoruso's courses will be of interest to students in Black Studies and Latino/a and Latin American Studies, as well as to Religious Studies majors and minors.  Welcome to the community, Prof. Amoruso!
In Prof. Lanfer's course on the Mythology of Otherworldly Journeys, Prof. Lanfer asked his students to think "outside the box" to get to the heart of the messages, themes, and cultural functions of journeys to heavens, hells, and other dimensions explored in the course. These stories in various cultures and religious traditions are fundamentally about the communication of generational wisdom and morality. For that reason, Prof. Lanfer asked students in the course to write and illustrate children's stories to communicate a moral lesson or etiological wisdom. Leading up to this project, students were asked to write numerous short reflections in their journals to hone in on different aspects of their books (e.g. the characteristics and crises of their "heroes", the central lesson(s) of their story, the mechanic of their journeying, the architecture of other worlds, and the permeability of the barriers between other worlds and ours).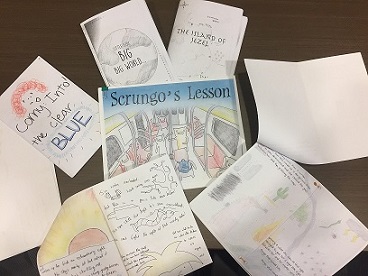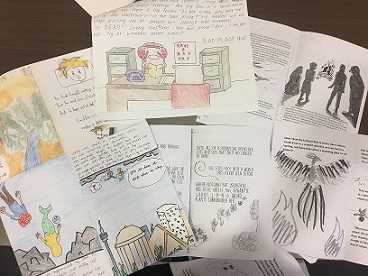 These photos give a small sampling of the final products of this assignment. Prof. Lanfer was amazed by the creativity of the students' stories, the lyricism of some of their poetry (yes, several students composed their stories entirely in rhyming verse!), and was delighted by the paintings, sketches, and digital designs that supported lessons about generosity, friendship, the value of diversity, environmental ethics, etc. Prof. Lanfer hopes to continue to integrate this type of creative project into his future courses.
Also in the Fall semester, Prof. Holmes-Tagchungdarpa offered Holy Sh*t!: Engaging the Materiality of Religion. This course allowed students to explore how and why objects become important to religious communities. As well as classroom discussion on theories related to the study of material religion and guest lectures by Prof. Yurika Wakamatsu (Art History), Prof. Kalzang Dorjee Bhutia (Cultural Studies Program) and Prof. Stacy Kamehiro (History of Art and Visual Culture, University of California Santa Cruz), students also made use of materials in Special Collections and the Critical Making Studio in the Academic Commons to consider diverse conceptions of efficacious material objects on campus. With the generous support of the Institute for the Study of Los Angeles and advice from the Center for Community Based Learning, students also considered the role of material religion and construction of sacred space in Los Angeles, venturing out into museums, marketplaces and festivals.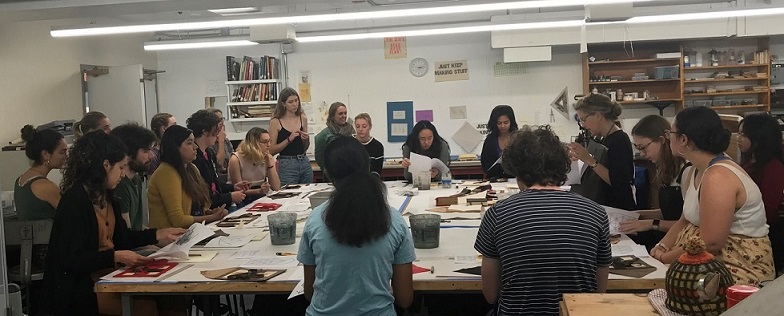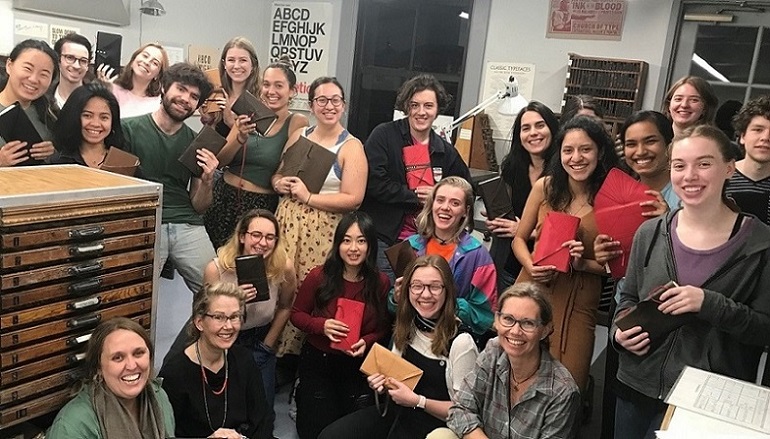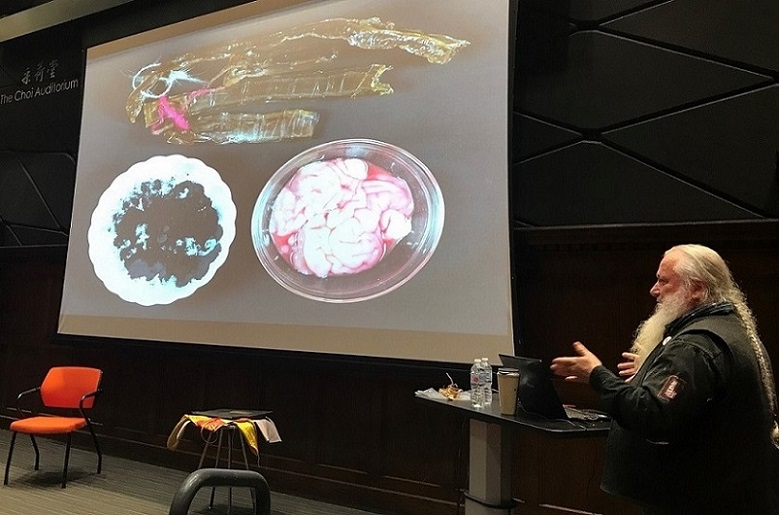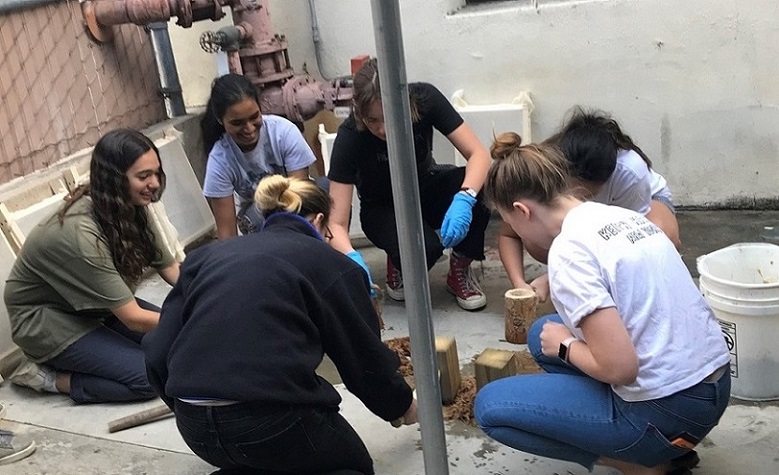 In workshops with Prof. Jocelyn Pederson (Art and Art History), Prof. Melissa Moreton (Hill Museum and Manuscript Library, MN) and Prof. Jim Canary (Indiana University), students made Nag Hammadi gnostic texts and Tibetan paper from scratch, which encouraged them to think through the importance of process and intention in the creation of material religion. The course involved collaborations across campus and the workshops were generously supported by the Powell Endowment for the Book Arts and Oxy Special Collections, the Remsen Bird Fund, the Mellon Initiative for Arts and Urban Experience, and the Department of Religious Studies. For their final project, students created their own significant object as a final reflection for thinking through course themes of efficacy, representation, appropriation and intention. This course will be offered again in the Spring of 2020.
Finally, in the Summers of 2018 and 2019, computer science major William Chen ('19) worked with Prof. Holmes-Tagchungdarpa and Prof. Kalzang Dorjee Bhutia (Cultural Studies Program) to develop an online dictionary and app for Bhutia, a minority language spoken by the Bhutia ethnic group in Sikkim, India. Due to the demographics of the target Sikkimese audiences, the dictionary was created with the intent of being mobile friendly and with multiple translation options. On the more technical side, the website was made primarily with the Django framework using standard HTML/CSS and Javascript. The website is currently under development with new phrases being added all the time and an app in progress. (Ask Prof. Holmes-Tagchungdarpa for more information if you're interested in learning more!) William's research in Summer 2018 was graciously funded by the Religious Studies Department Kneeland Prize, the Computer Science Department, and the Undergraduate Reasearch Center. His work in Summer 2019 was sponsored by a Davis Project for Peace grant.
2017-2018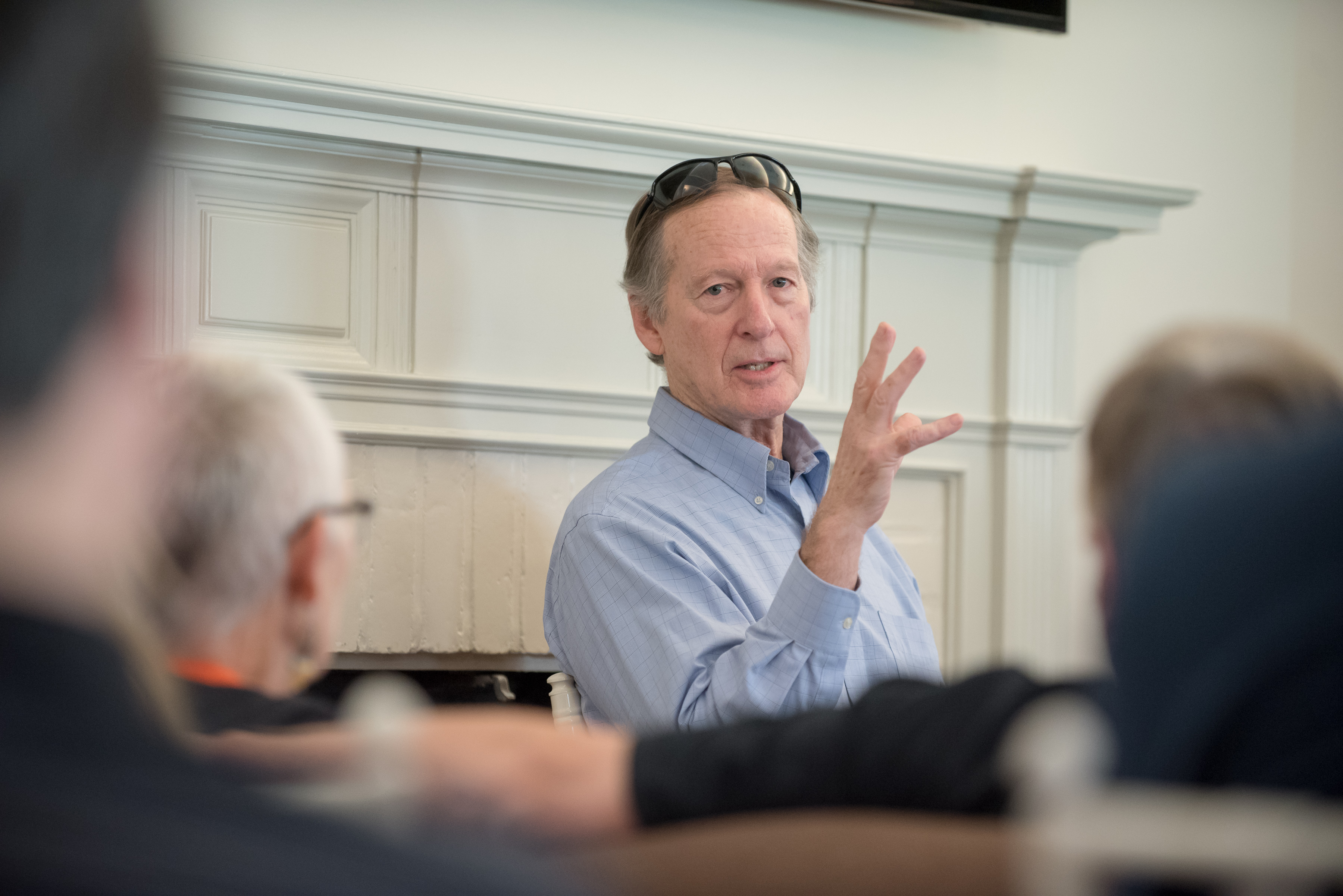 This Spring was the final semester of teaching for Prof. Dale Wright, David B. and Mary H. Gamble Professor of Religious Studies. Having taught at Oxy for decades, he has touched the lives of thousands of students who have taken his courses on Buddhism, whose summer research and comps projects were mentored by him, and who enjoyed his intellectual camaraderie.
He has also built a reputation as a premier scholar, publishing numerous articles and several books, including Philosophical Meditations on Zen Buddhism (2000), The Koan: Texts and Contexts in Zen Buddhism (2000), The Zen Canon: Understanding the Classic Texts (2004), Zen Classics: Formative Texts in the History of Zen Buddhism (2005), Zen Ritual: Studies of Zen Buddhist Theory in Practice (2007), The Six Perfections: Buddhism and the Cultivation of Character (2009), Zen Masters (2010), and most recently, What is Enlightenment?(2016). (You can read a conversation about the book between Sam Mowe, Oxy alum, '07, and Prof. Wright in this Tricycle article.)
We're not sure what we will do without him, but wish Prof. Wright every happiness in his richly-deserved retirement!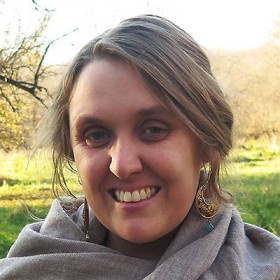 We are delighted to welcome Prof. Amy Holmes-Tagchungdarpa as our new colleague. She arrives at Oxy after having taught for several years at Grinnell College in Iowa, the University of Alabama, Australian National University, and after having held a Robert H.N. Ho Visiting Professorship in Buddhist Studies at the University of Toronto. She is the author of The Social Life of Tibetan Biography: Textuality, Community and Authority in the Lineage of Tokden Shakya Shri (Lexington Books, 2014), a study of a Tibetan Buddhist teacher who was based in the Sino-Tibetan borderlands and developed a trans-Himalayan lineage. Her book was a finalist for the American Academy of Religion Textual Studies Book Award. Her research topics also include community creation and cultural production, gender and material culture between China and Tibetan cultural areas of the Himalayas in India, Bhutan, and Nepal and her current project explores religion, language, and materiality throughout Buddhist communities in the Himalayas.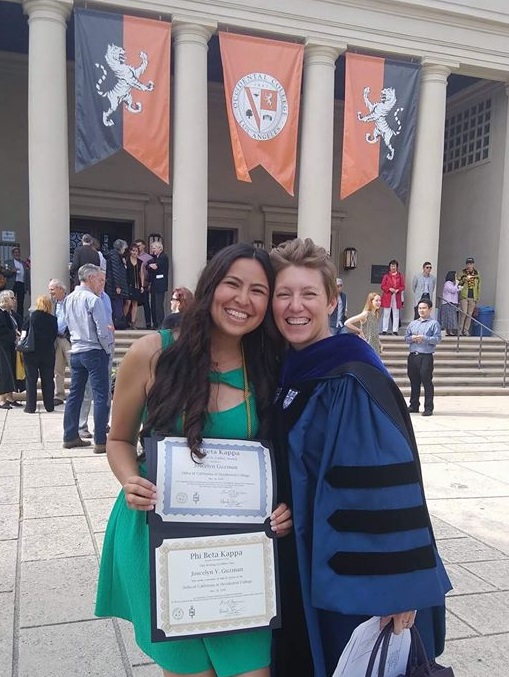 During her first year at Oxy, Prof. Holmes-Tagchungdarpa taught four courses: RELS 160: How to Live and Die Well in Buddhist Traditions; RELS 266: Sexuality and Gender in Buddhism; and RELS 276: Empire and Religion in Asia and the Pacific, as well as a CSP course, UFOs and Spirits of the Land: Exploring Multiple Ways of Knowing Reality. She has already made a splash at Oxy and we're delighted to welcome her into our department!
We are immensely proud of Joscelyn Guzman '18 for winning the Phi Beta Kappa Benjamin Culley Prize, which is awarded to one graduating senior whose initiative and creativity beyond the classroom has notably enhanced the quality of intellectual life at Occidental. Joscelyn also won the Dean of Students Excellence award; and was a Community in Action award recipient.
In the spring, Prof. Kristi Upson-Saia had the privilege of meeting with Oxy Alum, parents, and friends at the University Club of Chicago. After drinks and dinner, she talked about the Health & Humanity course she team-teaches with Prof. Lehr (Economics) and Prof. Morrissey (Philosophy), which sparked a lively and thoughtful conversation among attendees. Many thanks to Andrew '84 and Susan Baker for hosting this intellectually stimulating evening!
2016-2017
This spring, Prof. Cassia Roth joined the department to teach a course entitled, Nuns, Witches, and She-Devils: Gender and Religion in Latin America (a course that also counted toward Oxy's Gender, Women & Sexuality Studies minor). Students in the course conducted research on a series of primary sources and secondary scholarship, presenting their work in a poster that mimicked the scholarly communication at professional conferences (a poster session usually consists of a brief narrative paper, intermixed with tables, graphics, photos, and other visual aids), as well as an oral presentation of the poster. Posters were also on display at an event open to the public (see pictures below).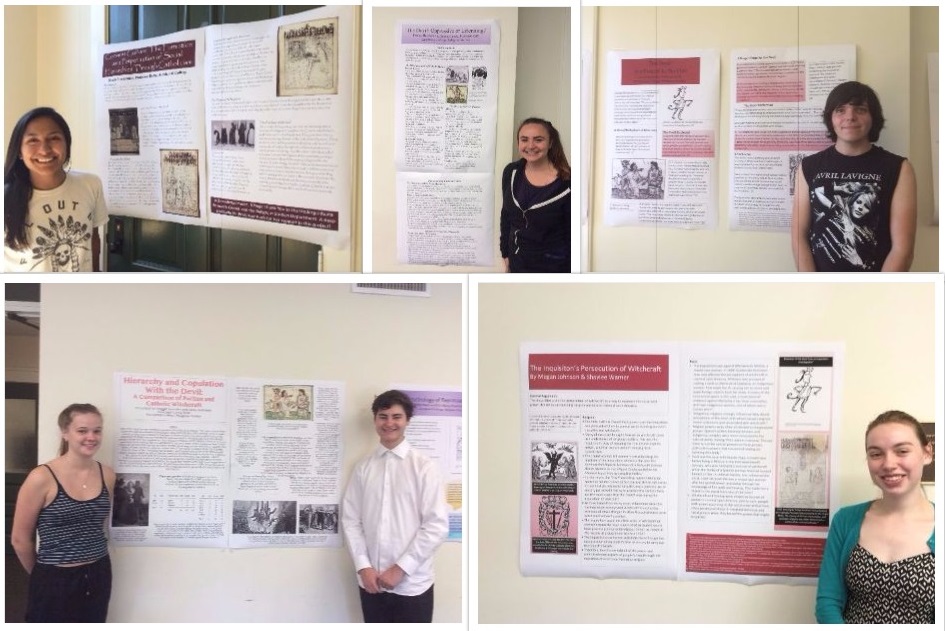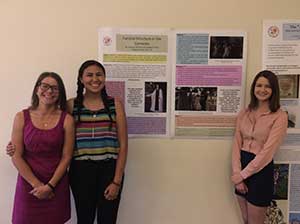 Prof. Roth (pictured on the far left) was with us for far too short a time!  Next year, she will be joining the School of History, Classics, and Archaeology at the University of Edinburgh as a Marie Curie Sklodowska Research Fellow in Fall of 2017. After that fellowship, she will begin a tenure track job in the History Department at the University of Georgia.
In the Spring, Prof. Clearwater invited Dr. Rahuldeep Singh Gill (California Lutheran University) to his course, Shamanism and Spirit Possession. Dr. Gill lectured on the importance of Durkheim for Religious Studies scholarship and on the power of religion in struggles for social justice. The lecture served as a prelude to the campus visit by NAACP leader and activist, Rev. Dr. William J. Barber.  The visit was generously supported by the Remsen Bird Fund.
2015-2016
Prof. Clearwater's new course American Indians and the Urban Diaspora, a first-year seminar in the CSP program, led students on a survey of American Indian Studies with particular attention the contemporary situation where more than 70% of Native Americans live in urban areas. For these urban Indians, music (such as native hip-hop), art, theatre cultural events, political protests, and religious ceremonies serve to strengthen and unify the native community to persist in their cultural expression and resist assimilation.
To highlight these expressions in the city of Los Angeles, students in the class took field trips to a pow wow and to the murals at Indian Alley in downtown LA. On campus, the class hosted a public presentation by Pamela Peters on reclaiming representations of Indians in film and media in her documentary film following a group of urban Indians in Los Angeles. Peters also guided the field trip to Indian Alley where she has worked with local artists to document the murals being created there. Students then integrated what they learned into their final research projects on contemporary resistance movements in Native America. (Special thanks to the CCBL, LA Encounters, and Remsen-Bird for funding these enhancements to the course.)
In the Fall, Prof. Upson-Saia again teamed up with Prof. Lehr (Economics) and Prof. Morrissey (Philosophy) to teach their 8-unit CSP course, Health and Humanity. This interdisciplinary course brought together the tools of History, Economics, and Philosophy to analyze concepts of health and various practices of medicine. Specifically, students learned how notions of health and well-being and institutions of medicine are culturally and historically bound, how they participate in a broad network of economic priorities and transactions, and how they are philosophically grounded in conceptions of morality, science, and humanity.
The students who enrolled in this course in Spring 2013--graduating this Spring!--represent some of the very best at Occidental, using the skills they cultivated in Health & Humanity to pursue a wide variety of pursuits on and off campus: Some have interned or volunteered at the City of Hope cancer research hospital, the Jet Propulsion Laboratory, and hospice facilities. Others have been awarded prestigious honors, such as a Fletcher Science Scholar to study neural stem cells, a Stauffer Research Fellowship, and a Luce China Environment Grant. Finally, many of our students have participated in Oxy's competitive summer research program.
2014-2015
The Religious Studies department was honored to have Dr. Peter Anthony Mena in the department from Spring 2014-Spring 2015 as our Mellon Fellow. Dr. Mena taught a range of courses, including Women, Gender, and Christianity in Late Antiquity and the Middle Ages; Chican@ Religious Identities; Religious Violence from Antiquity to the First Crusades; Mapping Religious Identity: Place, Race, and Empire; and History of Christianity, and quickly earned a reputation for being an inspiring instructor. Dr. Mena has accepted a tenure-track position at Phillips Theological Seminary (in Tulsa, OK) as the first Latin@ member of the faculty. We are grateful to have had this time with a bright and promising scholar and wish him the very best in the next stage of his academic career.
Prof. Upson-Saia was a Mellon Faculty Fellow (in association with the Center for Digital Liberal Arts), which enabled her to re-tool her RELS 290: New Testament Apocrypha course. Students in the course used Zotero, a bibliographic reference tool, to complete in-depth research and to build a collaborative library of resources on non-canonical texts of early Christianity. Course discussions on archival research and historical methods were tethered to students' use of various features of Zotero. Students reported that the course has set them up for success in Senior Comps research.
2013-2014
We are immensely proud of our major, Hannah Hall '14, who was awarded the Hasting Center's prestigious Emily Murray Student Fellowship Award, which allowed her to conduct independent research in residence at the Center in January. Hannah spent the time working on her comprehensive project on access and barriers to health care within the Latino/a community.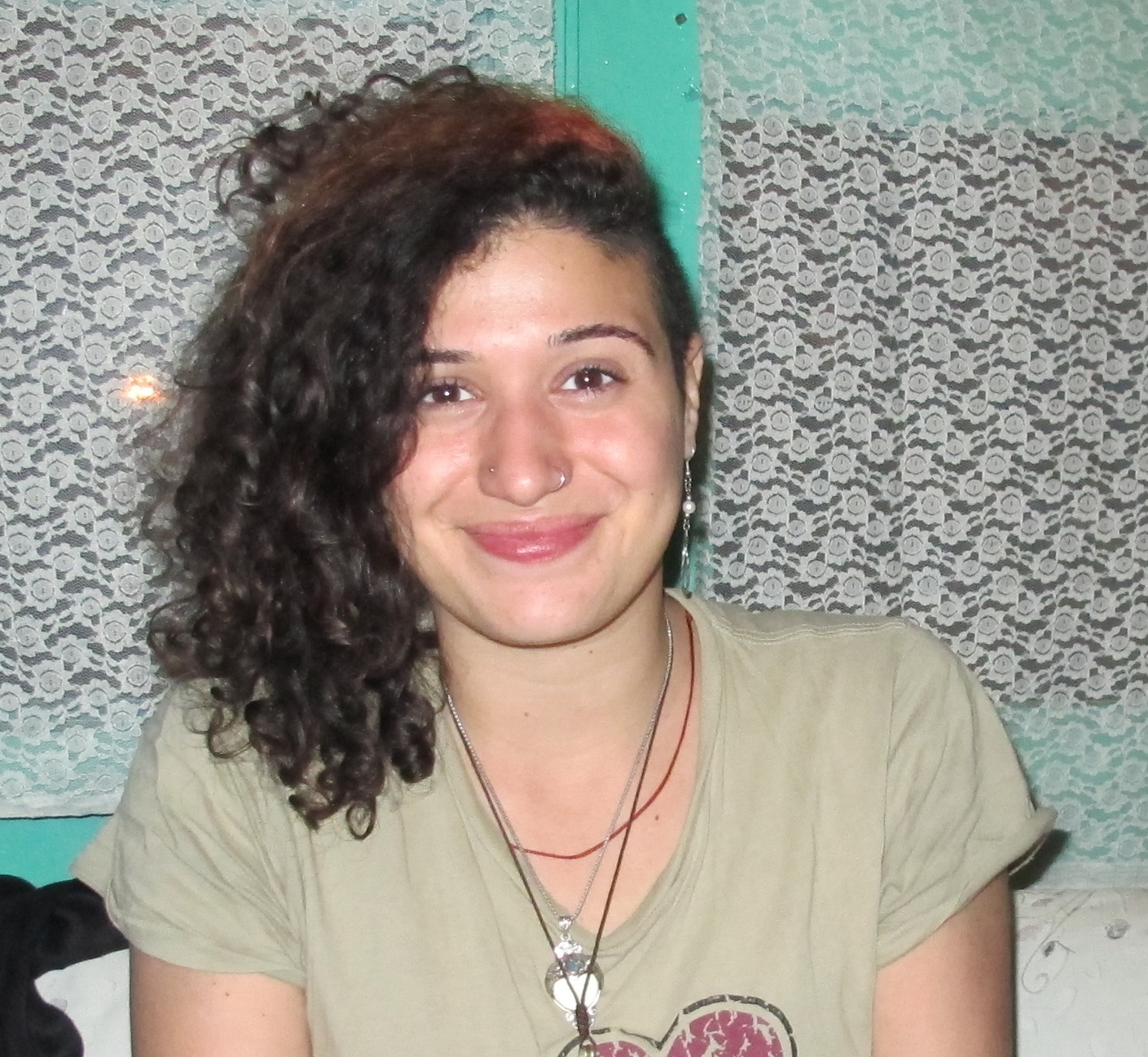 We are also delighted to report that our rising senior, Shira Barlas '15, has has been accepted to attend the semi-annual program, "Buddhism in China—Connecting with the Source Program," sponsored by the Chinese Buddhist Woodenfish Project during the month of August. The program offers opportunities for direct exploration and engagement with important historical centers of Chinese Buddhism and culture. It is both a prestigious and intensive program offered to faculty, graduate students, and advanced undergraduates, and takes place at Huadingjiang Temple on Mt. Tiantai in Zhejiang province in coastal China.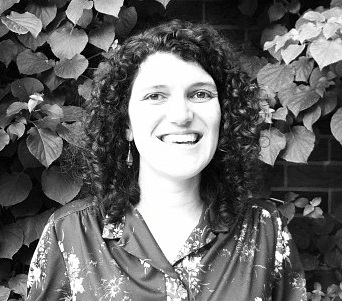 In spring 2014, the Department was pleased to host Dr. Jacqueline Hidalgo, Assistant Professor of Latina/o Studies and Religion at Williams College. Her talk, entitled "We are Aztlán": Writing Scriptures, Writing Utopia in El Plan Espiritual de Aztlán", analyzed how El Plan Espiritual de Aztlán, written in Denver in 1969, became the first key text of the Chican@ civil rights movement to deploy the mythical Aztec homeland of Aztlán, namely locating Chican@s as a people by renaming the southwestern U.S. as Aztlán. The writing and reading of El Plan works to disrupt the contemporary time and space of California by imagining a place that has existed, does exist, and will exist, a place that is located and bounded within a newly written "scripture". Using Chicana feminist and LGBTQ activists and thinkers, such as Gloria Anzaldúa and Cherríe Moraga, Professor Hidalgo argues that El Plan serves as an ambivalent, and simultaneously powerful, homing device.
As part of the Jewish Chautauqua Society lecture series (funded by the George and Bessie Meyer Endowment), the Department hosted Dr. Lucas L. Schulte, Adjunct Professor of Religion at University of LaVerne, for two lectures:
What the Dead Sea Scrolls Can Teach Us About Our Bible(s)
Archaeology of the Lands of the Bible: Illuminating Nehemiah
2012-2013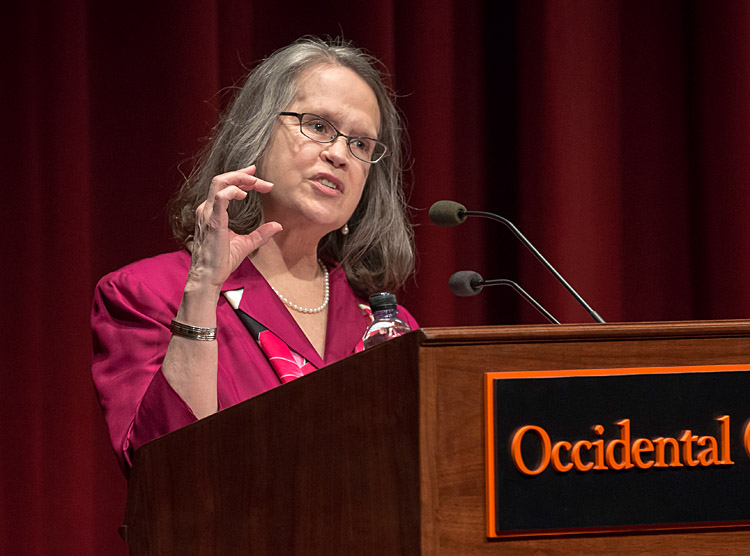 As part of the 125th, academic departments were asked to invite a distinguished alum to return to campus to give a lecture. The Religious Studies Department was honored to host a lecture by former Oxy Professor, Dr. Karen King (now at Harvard Divinity School), who has made a splash recently for her work on an ancient papyrus in which Jesus mentions his "wife." View an image of the papyrus, as well as an english translation.
At her talk, Prof. King situated the find within early Christian debates on marriage and sexuality. She argued that, though the most reliable sources for reconstructing the life of the historical Jesus are entirely silent on the question of whether he was married, the earliest literature indicates that his followers were vociferously debating whether life in Christ meant it was better—or even required—to give up marriage and sexual relations altogether, or whether marriage was ordained by God and even necessary for salvation. Finally, she discussed why this little fragment has caused such a stir and what is at stake even in contemporary Christian and scholarly views.
In fall semester, Prof. Laury Silvers (University of Toronto) visited the department to participate in Professor Moazzam-Doulat's seminar on Islamic mysticism and to lecture about her research on the social history of the life of the early pietist Hafsa bint Sirin. Her research is grounded analysis of the efforts of biographers–Sufi biographers and authors in particular–to construct silence and seclusion as the ideal of female piety. This lecture emerges out of her broader social historical analysis of depictions of early pious and Sufi women's sexuality and bodies in the biographical literature.
In the spring semester, Sara El-Amine '07, who was the National Director for Training for the Obama for America in 2012 and is now the Organizing Director for President Obama's Organizing for America, returned to her alma mater to conduct a lecture and workshop at the invitation of Religious Studies, DWA and Politics departments. In her lecture, Ms. El-Amine described her path from recent graduate, to joining President Obama's 2008 campaign as a volunteer, to her role as one the key figures in two campaigns that revolutionized grass-roots political organizing.
As part of the Jewish Chautauqua Society lecture series (funded by the George and Bessie Meyer Endowment), the Department also hosted the following two speakers:
Candice Levy (UCLA), "Jewish Concepts of Unjust Suffering in Late Antiquity"
Lynn R. Kaye (Hebrew Union College), "Jewish Concepts of Time in Late Antiquity"
We are immensely proud of Natalie Malter '13 for winning the Phi Beta Kappa Benjamin Culley Prize, which is awarded to one graduating senior whose initiative and creativity beyond the classroom has notably enhanced the quality of intellectual life at Occidental.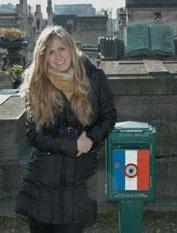 We are also delighted to report that Aralyn Beaumont '14 has had a year of successes. In the Fall, she presented a paper entitled, "You are what you eat: food and identity in Ancient Rome" at the the Second International Conference on Food Studies. The paper was then accepted for publication in the Food Studies journal. In the Spring, she studied in Paris and there interned at L'Atelier Guy Martin. Finally, this summer she got a coveted internship at the hot new journal Lucky Peach.
In 2012-2013, the Religious Studies Department was honored to have Prof. Marko Geslani as our Mellon Fellow. Prof. Geslani--who studies the role of the Vedic priesthood in the development of mainstream Hindu image worship and temple planning; the formation of the royal ritual calendar; and how astrology affected the style and organization of Hindu rituals in teh medieval period--taught the following courses: Introduction to Hinduism, Pilgrimage and Sacred Space in South Asian Religions, and Hindu Ritual Practice. We were privileged to have him in the department and we are proud to send him off to Emory University, where he will be start a tenure-track position as Asst. Professor in the Department of Religion.
This year, Prof. Upson-Saia again taught her study abroad program, Turkey: Then & Now. The program includes a Fall semester course and a study tour in Turkey over winter break. In the Fall semester course, students acquired a background in the history, culture, and issues of Turkey from antiquity to the present: from the Hittites to the Greco-Romans to the Ottomans to Atatürk's reform and the modern Republic. Throughout this historical survey, the class concentrated on three themes:
1. Landscape—we explored how the physical geolography (e.g., seaports, mountains, easily traversable routes for trade, etc.), as well as how unique geological formations (e.g., faults, hot springs, etc.), influenced the peoples living in and travelling through Turkey.
2. Layers and exchange—we dissected the manner and nature of interactions between peoples and cultures living in and travelling through Turkey, as well as the way successive generations incorporated and built upon the remnants of their predecessors.
3. Memorialization and Representation—we analyzed the memorials of historical peoples (to understand how they wanted later generations to see and to judge them--such as monuments, grand buildings, official histories--as well as the lasting artifacts that they may or may not have intended to be representations of their society and identity, but have nevertheless remained extant and have become indicative of Anatolian/Turkish identity (such as underground cisterns, cave dwellings of obscure ascetics, arts and crafts). We also considered the difference between the way contemporary Turkish, European, and American scholarship (and media) differently represents the history and issues of Turkey and the stakes underwriting each perspective.
Near the end of the semester, students conducted research projects on an aspect of Turkish history/culture related to their intellectual interests and major curriculum. In Turkey, participants presented their research at a site related to their topic.