Something exciting is always happening in the Religious Studies department! Read on to find out what's new this year.
2022-2023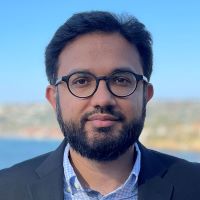 We are excited to share the excellent news that Professor Sohaib Khan will be joining us in the Fall semester of 2023 as a Mellon Postdoctoral Fellow in Islamic Studies, which will become a continuing Assistant Professor position in his second year. Professor Sohaib Khan is a scholar of comparative Islamic studies interested in connections between religion, secularism and economic life in Muslim societies. His research, teaching and public scholarship lie at the intersection of Islamic studies, anthropology, postcolonial studies, and area studies of South Asia and the Middle East. Trained as an interdisciplinary historian and ethnographer, Professor Khan received his Ph.D. (2020) from Columbia University's Department of Middle Eastern, South Asian and African Studies (MESAAS) and the Institute of Comparative Literature and Society (ICLS), and is joining us from Pomona College. Welcome Professor Khan!
This has been an exhilarating year in the Department of Religious Studies, as we have worked to present courses and opportunities to students that reflect the rich complexity and vital challenges faced by global communities: health, economic, and social inequalities; climate change; and an ever-changing dynamic world.
Our department's own Prof. Upson-Saia has co-led an initiative on campus, Humanities for Just Communities (or HJC), to demonstrate the power of the Humanities to advance social justice. The HJC curriculum includes a virtual summer course for incoming frosh, a set of courses during the academic year, and teams of research students over the summer. You can read more about the work of the first cohort in 2022-2023--which was focused on the theme of health justice--in the Oxy news article linked here. Next year's theme will be on displaced and migrating peoples.
As part of the HJC initiative, in Fall 2022 Prof. Upson-Saia team-taught a course with Philosopher Prof. Morrisey called "Envisioning and Enacting Health Justice." In the course, students considered various conceptualizations of what "health justice" looks like, and then applied these concepts to three case studies on the patient-provider relationships, reproductive health, and end-of-life care. At the end of the semester, students put what they learned to work in one of five community-based projects with Oxy's Office for Disability Services, Oxy's Office of Pre-Health, and Planned Parenthood of Pasadena/San Gabriel Valley.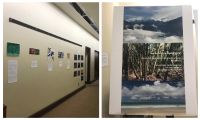 Another RELS course connected to the HJC was Prof. Holmes-Tagchungdarpa's course, "Flourishing in a World on Fire: Cosmologies of Multispecies Health in the Anthropocene". This course focused on how Indigenous and local communities in the Pacific-Asia region conceptualize and respond to the challenges brought by climate change. The course centered cosmological visions of relatedness across human and more-than-human scales. At the end, students created multimedia projects that allowed them to reflect on and share what they had learned from the course.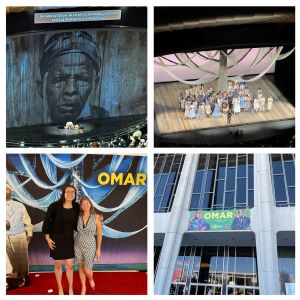 Beyond our HJC classes, other classes and events in the RELS department center the themes of justice, wellbeing, and centering voices that have been historically marginalized. In Fall 2022, Prof. Mixon developed an exciting series of events in her Islamic Studies courses around the critically-lauded opera Omar. This opera made its West Coast debut in L.A. over several weeks in late 2022, and portrayed the remarkable story of Omar Ibn Said, a Muslim scholar stolen from Senegal and brought to America in 1807. He wrote his autobiography in Arabic in 1831, and the opera presents his experience in an entirely new medium. Prof. Mixon also hosted a series of lectures featuring leading scholars on related themes and new research regarding Omar ibn Said to allow students to gain important context and depth regarding the figure and the performance.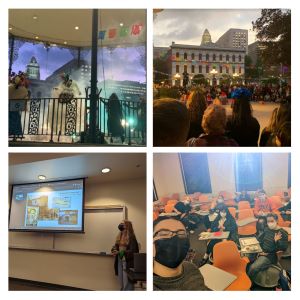 We were also excited to offer classes on other vitally relevant topics and conceptions of justice and wellbeing. These included courses taught by visiting faculty. Prof. Kim Diaz, who is working on a PhD at the University of California Riverside, offered "Religion, Liberation, and Latin American Social Movements" in the Fall. During the semester, students developed research projects and had the opportunity to learn more by engaging with LA. During October, students visited Olvera Street during the week of Dia de los Muertos and respectfully observed real-life examples of religion and liberation centered around death (photos provided by students). On the last day of class, RELS/LLAS 228 students presented their original research projects with visual aids. We also celebrated the end of the semester with burritos from a local favorite, Delia's. 
Prof. Kirsten Boles, a PhD candidate at Claremont Graduate University, offered the exciting new course on gender and sexuality across religions and time, "Queering Religion." This course was connected to her own research on Islam and gender in the U.S., and also engaged with a variety of case studies including Judeo-Christian reinterpretations of Genesis to make room for same-sex marriage; gender role mixing in Tantric Hindu ritual; and, Native American postcolonial approaches to HIV within the "two-spirit" community. 
We were also delighted to welcome Prof. Ilan Benattar to offer courses on modern Judaism. His courses, "Judaism: From the Middle Ages to Modernity" and "The History of Antisemitism," provided modern, global perspectives about Jewish histories and cultures. Professor Benattar is about to complete his PhD at NYU on Ottoman Jewish intellectual history.

We also hosted a number of amazing scholars to the department for talks related to their latest research, including Professor Elizabeth Perez (UCSB) who discussed "guts" in Afro-Diasporic and Latin American religions; Prof. Ka-ming Wu (Chinese University of Hong Kong), who presented research from her fieldwork on spirit possession in modern socialist China as a continuing site of community; and Sue D. Porter, Founding Executive Director of End of Life Choices Oregon who spoke to our students about her work with terminally ill people availing themselves of Oregon's Death With Dignity Act.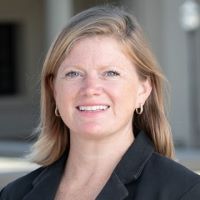 Finally, this year we bid farewell and offer our huge thanks to our brilliant colleague, Prof. Candace Mixon, who has taught amazing courses on Islam, material culture, art, and gender for the past three years. Prof. Mixon is moving to Portland to take up a position at Reed College. Congratulations Prof. Mixon! Prof. Mixon has worked tirelessly to provide students with amazing learning opportunities – from her initiative to develop her Introduction to Islam course around Omar and to take students to see the opera, as discussed above;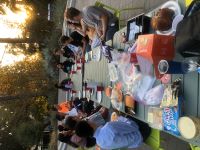 through to amazing field trips to the Getty, LACMA, and many other important sites in LA which allowed students unparalleled opportunities for engagement with religious material culture and art; through to her innovative class activities, pictured here, inspired by her dynamic research on Islamic material culture and gender. Prof. Mixon, and her wonderful dog Jelly, have been deeply valued members of the department during a period of unprecedented challenges brought by the pandemic, and we wish them all the best! 
2021-2022

This year, our department were thrilled to return to in-person classes on campus. Being back in-person allowed for faculty and students to engage in a number of dynamic learning opportunities made possible by our location in Los AngelesIn the Spring semester,

2020-2021

2019-2020

2018-2019

2017-2018

2016-2017

2015-2016

2014-2015

2013-2014

2012-2013