We are looking forward to welcoming some student researchers back to campus and to working virtually with others as you pursue your scholarly endeavors! Below, find important information, faculty flash talks, and profiles of some of our student researchers.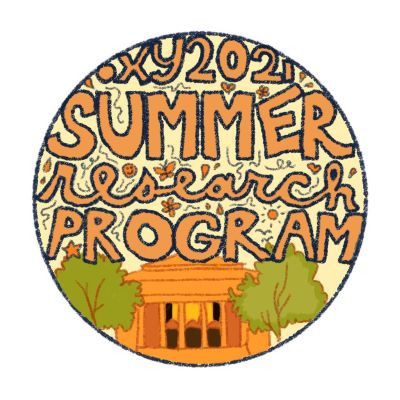 This year the SRP program will run from June 1 – August 6, with an all-day virtual conference scheduled for Wednesday, August 4.
The conference is being hosted virtually, on the Gatherly platform. You can join the event using this link. Make sure that you're on your computer (not a mobile device!) and are using Google Chrome or Firefox.
The schedule for the day is as follows (Pacific Time): 
9:00-9:20 am  - Welcome in the Virtual Quad 
9:30-10:30 am - Talk Session 1 (Rooms)
10:45-11:45 am - Poster Session 1 (Halls)
11:45-12:30 - Lunch Break 
12:30-1:15 pm - Talk Session 2 (Rooms)
1:30-2:30 pm - Poster Session 2 (Halls)
2:45-3:45 pm - Talk Session 3 (Rooms)
4:00-5:00 pm - Talk Session 4 (Rooms)
Here is the conference program listing the day's activities and details on student presentations. We suggest people review the program to find locations and times of different presentations. Gatherly has multiple virtual spaces, so it's important to note the locations listed in the program. Talks will be hosted in rooms over a broadcast system, and posters will be presented in halls, in "huddles" of up to 15 people. Questions? Visit the Helpdesk in the Welcome Lobby.
Events, deadlines, and other important information for each week:
Week 1: May 31-June 6

Week 2: June 7- June 13

Week 3: June 14-June 20

Week 4: June 21-June 27

Week 5: June 28-July 4

Week 6: July 6-11

Week 7: July 12-18

Week 9: July 26- August 1
Faculty Flash Talks: 
Sabrina Stierwalt: Tiny Titans: What happens when galaxies collide

Carolyn Brighouse: Hoping it will be me that gets the gummy bear -- philosophy meets physics on whether and when the future is set.

Sarah Kozinn: "Directing Everybody"

Professor Ron Buckmire: Math (What Is It Good For?)

Professor Mary Beth Heffernan: PPE Portrait Project

Professor Jorgen Harris: Interactions with Powerful Female Colleagues Promote Diversity in Hiring

Professor Aleksandra Sherman: Art and Neuroscience

Professor Maryanne Horowitz: Rival Interpretations of Continent Personifications

Professor Linda Lyke: Monotype Printing

Professor Philip Ayoub: When States 'Come Out': The Politics of Visibility and the Diffusion of Sexual Minority Rights in Europe

Phillip M. Ayoub is Associate Professor of Diplomacy and World Affairs at Occidental College. His research bridges insights from international relations and comparative politics, engaging with literature on transnational politics, gender and politics, norm diffusion, and the study of social movements.

Professor Raul Navarro: How to Build Bioactive Molecules Using Organic Chemistry

Dr. Raul Navarro is a Los Angeles native who has been a Professor of Chemistry at Oxy for the past 4 years. He teaches introductory and advanced organic chemistry courses, and maintains a research program that aims to develop new and efficient chemical reactions to efficiently construct biologically active natural products.
 Featured Student Projects:
Aria Devlin: LA Stories: Intertwining the Built and the Natural Environments in Short Fiction

 

About me:

Aria is a Fall-graduate majoring in Urban and Environmental Policy and minoring in Interdisciplinary Writing. She was born and raised in Brooklyn, NY and is passionate about environmental justice, water conservation and maximum waste diversion.

What I'm working on:

My research explores the intersection between Los Angeles' built and natural environments and how these aspects of Los Angeles have influenced prose and poetry about the city. Informed through an in-depth reading of literature centered in Los Angeles, I am creating a series of six short stories that epitomize the experience of Los Angeles, and which consider the individual relationship to Los Angeles' built and natural environments. Each character and story is linked together by a thin thread of inconsequential details which reflect the city's simultaneous connectedness and isolation.

Why I'm interested in this project:

Leading up to this research project, I noticed a sharp juxtaposition in LA between the built and natural environments, present even on Oxy's campus. Oxy's buildings, classrooms, and residence halls sit directly next to the largely untouched land of Mount Fiji and the many coyotes who call it home. This observation encouraged me to learn more about the relationships people foster with LA as an environment, and to excavate subtle advocacies about the environment so that I can determine how differing relationships with the environment can reflect in social change and policy.

Benjamin Ventresca: Sea Level Rise and its Impact on Airport Infrastructure in California

 

About me:

I am a rising senior majoring in Economics and minoring in Politics. I was born in San Diego California and raised in Los Angeles. Around campus I am a member of RESF, a finance assistant for SLICE, and a captain of the Men's Ultimate team, Detox. I enjoy board games, the beach, reading in the quad, and raspberry chocolate chip muffins from the MP.

About my project:

Aviation is one of the largest contributing factors to climate change, with a robust body of research establishing the impact of emissions from aviation on the rapidly increasing pace of global warming. However, it is also one of the industries most vulnerable to climate change, although much less work has been done to establish a connection in this direction. Airports in most coastal cities tend to be built up against, or even raised out of, the ocean, placing them directly in the path of both sea level rise and the increased flooding that is a result of climate change.

The goal of this project is to quantify this danger by making inundation maps of California's coastal airports at different RCP's over the next 100 years to create a timeline of when they will succumb to sea level rise, as well as conducting cost benefit analysis on defensive measures to prevent damage from said sea level rise or 100 year floods, which are increasing in severity and likelihood due to climate change. Many California airports, specifically SFO, SBA and SAN, are at immediate risk of being submerged within the next 20-60 years if action is not taken, and only SFO has begun planning to implement these safety measures, making it a priority to demonstrate the risk caused by inaction.

My interest:

The main issue facing environmental action is it is difficult to understand exactly what the problem we are facing is. Sea level rise happens gradually, the Great Pacific Garbage Patch is out in the ocean where we can't see it, and saving the environment feels like too large of a goal for our own actions to make a difference. One way to break down these barriers is to use economic tools to describe these changes. Attaching a dollar amount to damage done to our food supply from plastic in the ocean or to flight delays from increased storm severity helps people understand that climate change is not an abstract issue for our grandchildren, but something that is harming us here and now. I'm invested in this project because it seeks to quantify the damage we are doing to our planet, and hopefully inspire action not only to take preventative measures, but also to proactively attempt to slow and stop climate change.

Nina Moore: Gender as an Expanse; Ballroom at its Horizon

 

About me:

Nina is a rising Senior, majoring in Critical Theory and Social Justice. She was born in Berkeley, California. In her free time, she enjoys camping, thrifting, traveling, and dancing.

About my project:

This Summer I am conducting oral histories with individuals with experience in the ballroom scene. Ballroom is an underground queer subculture that originated in New York City and was started by Black and Brown trans women. Balls are events during which competitors from different Houses compete against each other in various categories (i.e. Voguing, Realness, Face). Houses are groups of chosen family members led typically by a House mother or father with years of experience in the scene. Houses provide community and support for their members, in and outside of the ballroom scene. Historically, ballroom members have played a large role in uplifting queer Black/Brown folks and participating in social justice work in their communities, particularly during the AIDS epidemic which ended the lives of many Ballroom legends. Most people recognize ballroom from the documentary Paris is Burning or the TV show Pose on FX, or from the dance style of Vogue which has become more mainstream over the years. However, there is a rich and complex history to Ballroom that is still under appreciated by the world and a lack of scholarship on the large impact Ballroom has had and continues to have on queer history and culture. My research on Ballroom was inspired by Guest Professor Claire Crawford's course on Ballroom at Oxy last semester. For my research method, I am collecting oral histories over Zoom from people with a variety of time and experience in the ballroom scene, from DJs to Commentators to Voguers that competed on the TV show Legendary on HBO Max. I hope to shed light on an array of influences that Ballroom has had on people's lives, particularly members of marginalized identity groups.

My interest:

I have always admired the artistry of Ballroom and more recently have had the privilege of learning more about its origins in community organizing and social activism for Queer and Black/Brown folks. I have spectated several ball events since returning to LA and have had illuminating conversations with people in the scene that I am excited to share for this project.

Miaja Lemieux: Psychology Rat Lab

 

About Me: 

Miaja is a rising senior, majoring in Psychology and minoring in Education. She was born in Bogotá, Colombia, and raised in St. Paul, Minnesota. In her free time, she enjoys beekeeping, swimming, and drawing. Her favorite place on campus is near the Gilman Fountain.

About My Project:

This summer I'm working with Dr. Dess and Dr. Chapman in the Psychology rat lab. The premise of their research is founded around the concept of individual differences. In the Psychology lab, the rats are bred based on a specific phenotypic difference, voluntary saccharin intake; saccharin is a complex bitter/sweet compound. Through this selective breeding, two different lines occur, low saccharin consuming (LoS) and high-saccharin consuming rats (HiS). In the Fall of 2019, we started over with new replicate lines in order to test for the validity of the line differences. Not only do the LoS and HiS rats differ in saccharin consumption, but evidently also have significant behavioral differences. Specific to my project this summer, I will be remotely analyzing data related to three different tastants: bitter, sweet, and salty. To test the significance of the bitter component in saccharin, we have controlled the amount of sweetness (or sucrose) in a solution, in addition to controlling the amount of bitterness (or quinine). By using an adulteration method, we can test for the rat's detection threshold. Rats are averse to quinine therefore they will not consume as much when bitterness is detected. Similarly, to saccharin, the two lines differ in consumption of other substances. The second set of data that I will be analyzing is related to saltiness and the line difference that occurs. To study this, the rats are given a saltwater mixture that increases in saltiness, to see when it is preferred and when it is aversive.

My Interest in the Project:

I have been working in the Psychology rat lab since my sophomore year and have enjoyed learning from Dr. Dess while gaining experience in animal research. My initial draw to working in the Psychology lab was the supportive community and felt like it was the best place for me to grow educationally. My conversations with Dr. Dess, in addition to the two courses, Psychology of Eating and Perception, that I took with her last semester ignited my interest in taste perception. My original interest for this summer was based on testing for individual differences of spicy intake, but due to my need for back surgery, I had to put that plan on pause. As a result, I decided to broaden my experience with other taste-related data. Not only will it be beneficial to my future research plans, but I hope to eventually study taste perception and emotionality. Though bitter, sweet, and salty studies were not my original interest, I have enjoyed reading about how species differ in taste perception.

Areli Fernandez: Biology of the Conus Catus

 

About Me: 

Arelí Fernandez Orozco is a sophomore planning on double majoring in Biology and Music. She enjoys singing and has been a part of different choral ensembles for over ten years. Arelí is grateful to be able to continue choral singing through the Glee Club at Occidental.

About My Project:

This summer I'm a part of Dr. Schulz's lab in the Biology department. His lab focuses on the marine gastropod called the Conus Catus and its venom and prey capture. It is a very unique creature in the sense that it moves quite slowly but is a fish hunter. The Conus Catus will carefully approach its prey and it does this by sensing movement through a siphon. Once it senses that movement, it extends a proboscis which contains a radular tooth with a concoction of venom peptides. The speed at which this harpoon tooth is launched has been reported to be similar to a bullet ejected from a gun. The tooth will impale the fish and the venom will paralyze the prey. After the fish is paralyzed the snail swallows the fish.

My Interest in the Project:

While applying for the research program I was drawn to Dr. Schulz's study of the Conus catus and the mechanism behind this species' prey capture. This was my initial draw to the program and now I've expanded those interests in my research. I have been gaining experience in zebrafish husbandry and have been exploring cell culture work specifically isolation of spinal neurons from adult zebrafish. One potential application is to use the neurons to study the effects of conotoxins, toxins from snails in the genus Conus. Another technique is patch clamping which allows for the manipulation of voltage and measurement of the changes in current in a neuronal cell. Utilizing this technique allows one to study the excitation of cells and how they react to different electrical environments. I was interested in the electrophysiology side of the lab because I was really awed by how one could observe changes on a single neuron. My interest increased after participating in a zebrafish dissection and observing the technicality and precision throughout the process. I am excited to further develop my research project and to keep learning throughout the process.

Alex Smith: The Smell of Sulphur: Understanding Revelation through Early Christianity's Interpretation of Fire and Brimstone

 

About Me:

Alex is a rising Senior from Cypress, Texas. At Oxy, Alex is double majoring in Religious Studies and Psychology, and a member of the Cross Country and Track & Field teams. In his free time, he enjoys writing and performing spoken word and being a part of Oxy's InterVarsity Christian Fellowship.

About the Project:

Through investigation of the geological formations in the Ancient Mediterranean, and the interpretations of this geological framework by early Christians, I am researching how the understanding of sulfur in Early Christianity can illustrate a better understanding of the Christian Apocalypse. Depictions of sulphur are associated in representations of damnation, judgement, and Satan. Further, fire and brimstone, or sulphur, are not only expressed in the bible to represent these associations, but are natural occurring phenomena found in the Mediterranean. By looking into the geological sensations such as the Phlegraean Fields in Italy, Pamukkale in Turkey, and the volcanoes that spread across the Aegean Sea near Greece, I am studying how these formations arose, what it meant to ancient civilizations, and how their interpretations shaped the Christian apocalypse. From here, my research turns to how the geological understanding of sulphur in these areas contributes new insights to the Christian Apocalypse.

My Interest in the Project:

It was in a course titled, "History of the End of the World," that I first came across the concept of the smell of sulphur in relation to apocalyptic culture. From there, my interest as a Christian and as a Religious Scholar took over and I dove into the use of "fire and brimstone" in the bible, and specifically the book of Revelation. Professor Upson-Saia, who was teaching that course and is now my Research Advisor, has provided a great amount of support as I took my first steps towards this project and research in the Religious Studies field.

Britney Aboagye: Do It For The Culture: Black Cultural Agency In Social Media

 

About Me:

Britney is a rising senior majoring in Sociology and minoring in Black Studies. At Oxy, she has been involved with Student Leadership, Involvement, & Community Engagement (SLICE) and the Black Student Alliance (BSA). In her free time she enjoys working on her talk show Facx Uncut which can be found on YouTube.

My Research:

This summer, I am conducting semi-structured interviews with Black media professionals and Black creators/creatives to understand how they advance Black culture's liberatory potential in contexts that too often exploit it. Throughout U.S. history, Black culture has been commodified by largely white elites. For instance, genres of music, like Rock n' Roll, are associated with the likes of Elvis Presley. However, Chuck Berry, an African-American musician, is the father of Rock n'Roll and his music influenced a lot of the household names associated. Because of the forces of capitalism that reject the Black body by commodifying all that it can produce without proper compensation, white faces are largely used to represent originally Black artforms. Yet at the same time, Black creatives still use culture to point out the ills of society against Blackness and nourish themselves as individuals through artistic expression. Early Hip-hop groups like N.W.A. used their platform to bring awareness to the police brutality people were facing in their community and their music continues to inspire social justice movements. My URC project examines how professionals and creatives responsible for producing and disseminating Black culture think about the tension between exploitation and liberation. This research will advance the sociology of Black culture by showing how advanced Black culture is in the way that it successfully thrives in spaces the work to undermine it. More broadly, I intend to identify strategies Black creatives can use to effectively navigate potentially exploitative spaces while staying true to their craft and their identities as Black creators.

Olivia Yang: Intermediate-Mass and Supermassive Black Hole Formation in Dwarf Galaxy Merger Groups

 

Olivia is a rising junior majoring in physics with a concentration in computer science. She has played classical, orchestral, and jazz music for 10 years, and has loved making music with the wonderful musicians at the Caltech-Occidental Wind Orchestra during my time in college.

 

About the Project:

I work with Professor Stierwalt in the physics department to understand intermediate-mass and supermassive black hole formation in dwarf galaxy merger groups. Black holes are unique and interesting interstellar objects, in the sense that they bend both time and space in ways that we would never expect! We know how low-mass black holes are formed, but there is little known about how supermassive and intermediate-mass black holes are formed. Black holes can be detected in a few ways: (a) when black holes accrete a lot of matter, collisions sometimes occur, and in these collisions, high-energy radiation is emitted, which we can detect in telescope images (b) we can look at how stars might orbit around an "invisible" mass," aka a black hole. My research uses the former technique to identify possible black holes. One thing we know is that when massive galaxies like our own merge, they grow their supermassive black holes, and they make them easier to detect. In Professor Stierwalt's lab, we aim to find intermediate-mass black holes in a similar way by looking at emitted radiation of special dwarf galaxy mergers.

My Interest in the Project:

Learning about how time can move slower and how space can shrink and stretch at high speeds, has, and continues to, both fight my natural intuition about the world, as well as fuel my curiosity in understanding it. Professor Stierwalt's research in black hole formation was a great fit for this very reason because black holes seem to be mysterious interstellar objects. I hope by the end of our research program we can walk away with a better understanding of this very elusive process.

Cassie Clark Dutton: Drama and Its Players: Being-With

 

Cassie is a rising Junior Comparative Studies in Literature and Culture major from Nixa, Missouri. She has been an actor since she was 9 years old, both on stage and in film, and recently made her debut as a producer.

This Project:

Through a comparative study of various approaches to acting technique and the theory of philosophers Jean Luc Nancy, Martin Heidegger, and Hans Georg Gadamer this project will hope to explore the meaning of drama and the role of the actors who serve its practice in terms of our Being as… Beings. Using this outline for a preparatory literary study, the project will venture to explore these ideas and questions with contemporary Los-Angeles-based professionals in drama and performance, to reckon with how the space of drama operates locally. The overall standing hypothesis being that there is something about drama that creates the space of exposure between people that we so often seek to suppress in our everyday lives. Moreover, that actors must ultimately submit themselves, in an extreme degree, to this state of exposure so as to create the potentiality of drama. The practice of acting, I believe, exemplifies the idea that within each person there is perhaps an infinite potentiality to-be. We are contextual rather than essential – we could be just about anything. In drama we are faced with people whose complexity and potentiality are put on display before us in an abundant refusal to be subsumed under our ideas of them: the barriers we construct to escape vulnerability to their difference. Theatre, it seems, may serve as a remaining realm of collective openness and humility before what remains unknown in our increasingly streamlined modern world, which is to say the bottomless depths of the other, and our collective potentiality to-be. Perhaps drama, for both its spectators and players, may serve as a re-opening onto the ecstasy of being-exposed-with.

My interest in the project:

Having been so deeply entrenched in the acting and drama world for so long, I see the practice of drama as essential to at least my personal Being. As someone with an inclination toward philosophical thinking, at some point I began to wonder why. What is it about the seemingly bizarre practice of quite literally pretending to be other people living a life that is entirely fictitious, doing things that are often rather unflattering, as entertainment for hundreds of people per night, that appeals to me so fundamentally? (Am I insane or just very strange?) It was only upon arriving at OXY and discovering the CSLC department that I found a space for formally exploring these (extremely academic) questions. As a performer, this project seems simply to serve my curiosity about the craft and its variety of forms. Further, as an actor working practically I find there is a lack of interest in the industry for thinking about why different ways of training and practice are structured as they are. It seems to me there is an overabundance of interest in trying to utilize acting technique so as only to serve in creating a usable and capitalizable performance product, rather than considering technique as an artistic process, or acting as art. Technique it seems is most often approached simply as a means to an end. By approaching the study of acting technique in terms of what it may mean ontologically, for our being, and for the meaning of drama overall, I hope perhaps to at least shed some light on the value of acting technique as artistic practice for myself.