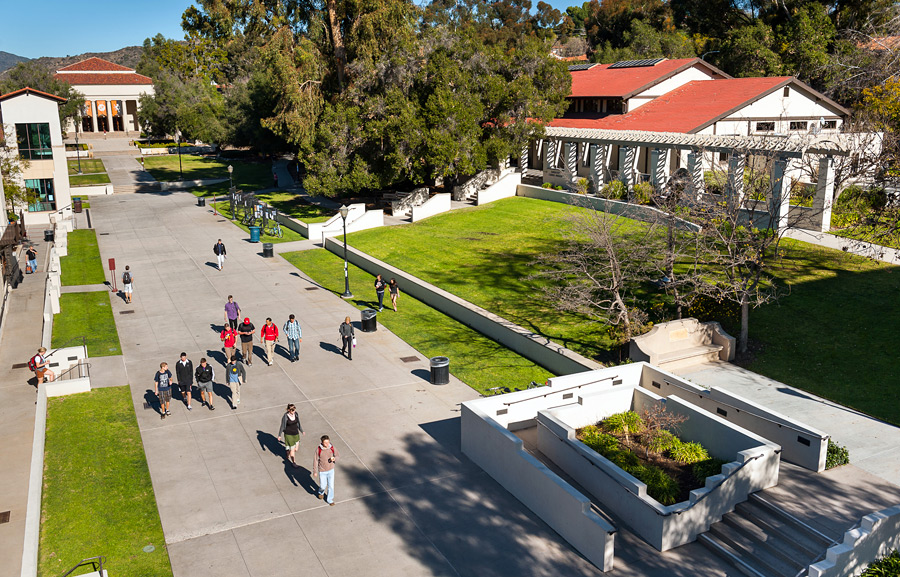 As an Occidental student, I am proud to say I love the food on campus.
We have four places to devour meals here at Oxy: the Marketplace, the Cooler, the Green Bean, and the Coffee Cart. The Marketplace is our main dining hall, with some fan favorites including omelet and pasta bar, taco Tuesday, specialty salad, and of course sandwiches made by Cathy. The Green Bean is the student run coffee shop on campus and features the best cold brew coffee and lattes in Eagle Rock (shhh, don't tell Cafe de Leche). And then there is the coffee cart, which is open late on the weekdays for students who procrastinated their papers and are pulling all nighters and need that coffee and ramen boost.
While our main dining hall, the Marketplace, is ranked 8th in the national and 2nd for vegan and vegetarian options, I must say that our smaller eatery is just as good. The Cooler is more laid back, with pizza, hamburgers, philly cheese steaks and sushi. You can often find students in there chowing down on chicken teriyaki and rice and watching a football game. It is a quick and easy place for snacks, desserts, and whole meals. From the onion rings, to Poke bowls, to Fosselman's Ice Cream, the Cooler has quality options for everyone
.
A perk of the Cooler is that it open late: 11:30 PM Sunday-Thursday, and 2AM Friday-Saturday. This is especially great for for all the late night eaters, athletes who get out of practice late, or even the people who just like to snack at odd hours. For people who are constantly eating at the Cooler, it might seem like the menu can get a little old. However, after my first semester at Oxy, I discovered the many ways to spice up your meals. Below are some of my favorite combinations. Enjoy!
Chicken philly cheese steak with avocado on sourdough

Hot dog (no bun) with rice, grilled onion, and teriyaki sauce

Milk in a cup, get 2 packets of oreos and eat it like cereal

Grilled chicken sandwich with onion rings, bacon, and chipotle mayo sauce

Chicken sandwich on toasted white bread with pesto mayo and fries inside.

Chocolate Milkshake  with cinnamon toast crunch

Cheese burger with onion rings inside and chipotle mayo sauce

Salmon with rice and teriyaki sauce with a salad mixed in