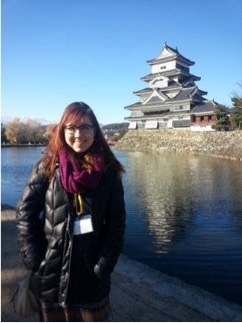 Happy New Year, everyone! I'm looking forward to all the adventures this year has in store, but it's going to be hard to beat the way 2015 ended for me. That's because this December, after classes ended, I was lucky enough to get to take a week-long trip to Japan as a member of Oxy's delegation for the Kakehashi Project. The Kakehashi Project (which translates to "bridge") is a program designed to give foreign students a chance to learn about and experience Japanese culture in order to build connections (or bridges) between Japan and other nations. This year Oxy was one of the schools selected to participate so 23 Oxy students got to be a part of this wonderful program.
Now that you've got some background, I want to talk about the trip itself, which was awesome! We spent our first two nights in Tokyo where we did some sightseeing and had a couple lectures to teach us a little more about Japanese government and policies. One of our lecturers was Meji University Professor Emeritus Akira Nakamura. His talk was not only informative, teaching us about political parties and the connections between the government and big business in Japan, but funny too (there might have been a Trump joke or two included).
After Tokyo we boarded the bullet train, or Shinkansen (which can travel at speeds of up to 200mph!) and headed to Nagano Prefecture. Nagano is famous for being the site of the 1998 winter Olympics and we saw the ski jump area from the Olympic Games while we were there. In Nagano we also toured a miso plant and saw how fermented rice and soybeans are brought together with some spices to make the traditional Japanese seasoning. We also got to see a wasabi farm and try wasabi ice cream! We visited the city of Matsumoto, where we saw the famous Matsumoto Castle (picture below) and toured Matsumoto University. After our campus tour we got to talk to Matsumoto students over lunch, giving me a chance to practice my not-very-good Japanese. Although, I was pleasantly suprised to find that I could (sort of) have a conversation!
One of the highlights of our Nagano stay was definitely the trip to the Snow Monkey Park where we got to see Japanese macaques bathing in the natural hot spring, which they do during the winter months to keep warm. They were so cute!
But for me the most memorable part of the trip was my homestay in Hakuba, a small town in Nagano known for its great skiing. The host families there graciously welcomed us into their homes and took care of us for a couple nights. The families owned small hotels or B&B's so they each housed several students. My group's host family was an older couple with a chocolate lab named Wakaba (which translates to "young leaf"). They were so kind and accommodating, not to mention amazing cooks! It's amazing the connection you can make with people over such a short amount of time. We had only just met them but I think it's safe to say we were all sad to say goodbye when we had to head back to Tokyo.
The whole week was amazing, from the awesome sites we visited to everything we learned and the people we met. And I can't forget all the delicious food we ate! I've learned that being able to visit a country and experience it first hand is a whole different way to study a place, and a much better way, than reading about it in a book because no book can capture how multi-faceted and complex any nation or culture is. Trips like this can really help to tear down the narrow pictures we have of places we've never been and don't know much about and make you realize or remember that life and culture in other places is extremely nuanced. I understand Japan a little better now but I have a lot more to learn, and I can't wait to learn more and (hopefully) go back some day.