Congratulations to the 2019 Iron Chef winners: Bean Babes!
Oxy's Own Annual Iron Chef competition is one of the premier Earth Month events! The contest is led by FEAST and supported by Renewable Energy and Sustainability Fund, Campus Dining, Facilities Management, and the Office of the President.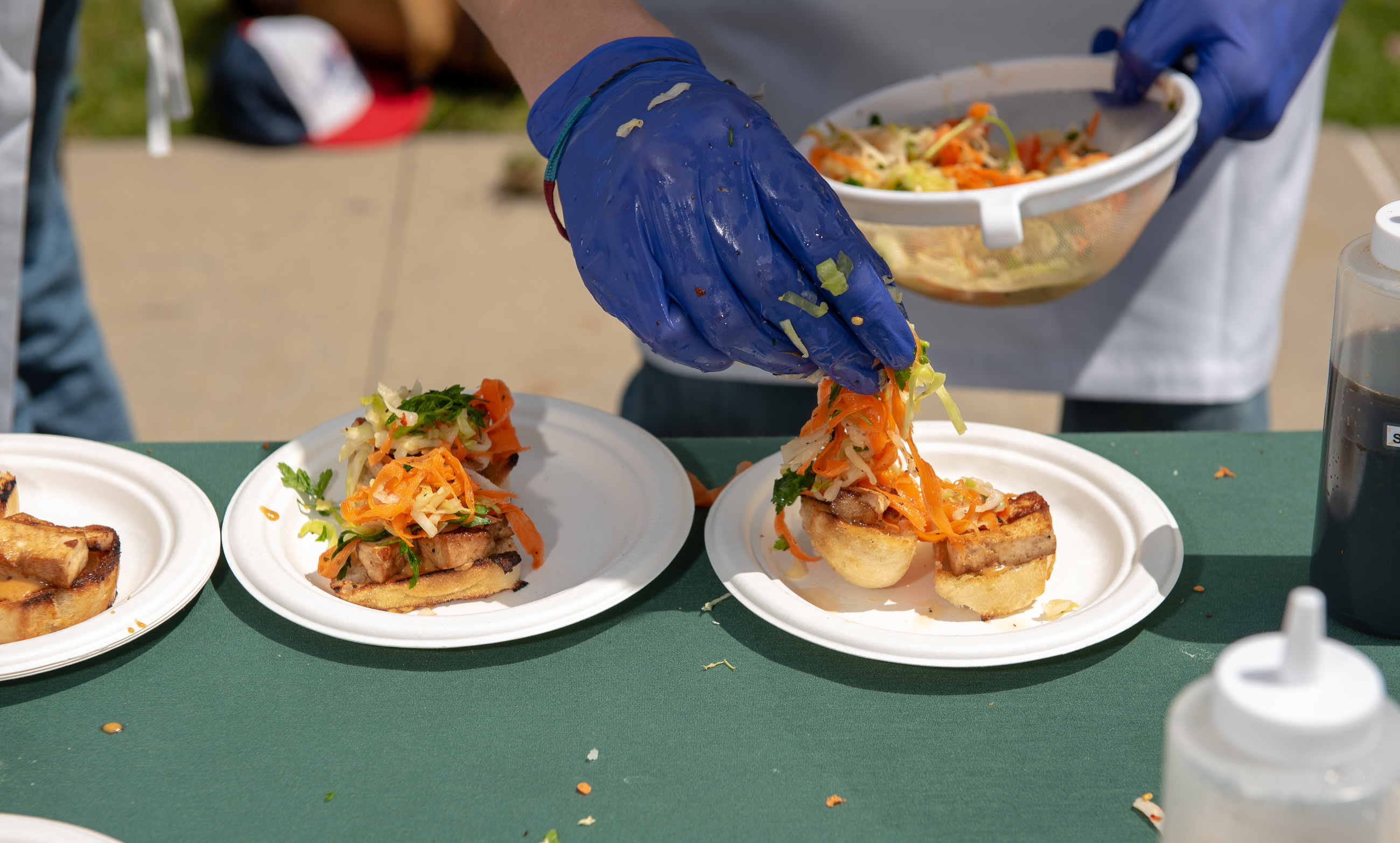 On April 11, 2019 on the JSC Quad, six teams faced off for culinary glory. They were tasked with creating the best vegetarian or vegan starter and sauté dishes. At their disposal was a wide variety of fresh organic produce (some freshly picked at the FEAST garden), legumes, FEAST eggs, spices, oils, AND this year's secret ingredient - daikon radish. The top three teams were rewarded with prizes, such as a $50 gift certificate to a local restaurant. Spectators were present to cheer on the participating students, staff and faculty, and check out the campus food clubs and orgs that tabled at the event. For more information or questions, please contact feast@oxy.edu or dining@oxy.edu.
Judging Criteria
Dishes are evaluated on these criteria:
Taste

Best use of ingredients

Presentation
The total combined score of the starter and sauté dishes determine the winners.
Contest Rules
A team may have a maximum of three members.

Each team member must pay $5 to register for the competition.

All team registration applications must be submitted by March 21, 2019 by 11:59 PM to be considered for the competition.

Each participating team can start preparing and cooking their starter and sauté dishes by 11:45 AM.

Each participating team must complete their starter and sauté dishes by 12:45 PM.

There will be a "health inspector" monitoring teams to ensure the safety of the food prepared. You will receive a yellow (warning; fix the problem; return to preparation, points deducted) or red (major violation, may result in disqualification) card depending on the severity or repetition of any offense. The decision of the health inspector is final. See below for a list of things to avoid doing while cooking.
  Red Card - individual or team disqualification
Cross-contamination

Any other action that makes food unsafe to eat
  Yellow Card - 5 point deduction
Tasting the food with anything other than the spoons provided

Not using gloves on ready-to-eat foods

Incorrect hand-washing, or not washing hands immediately after touching unclean surface

Not cleaning up spills or not cleaning the team workspace after completion

Inappropriate kitchen apparel: open-toed shoes, anything other than long pants/skirt, bare shoulders, flowy clothing that could catch on fire, etc. For your safety!

Not wearing a hat or hairnet (we will provide hairnets for those without hats)

Any other action that can jeopardize the safety of the food