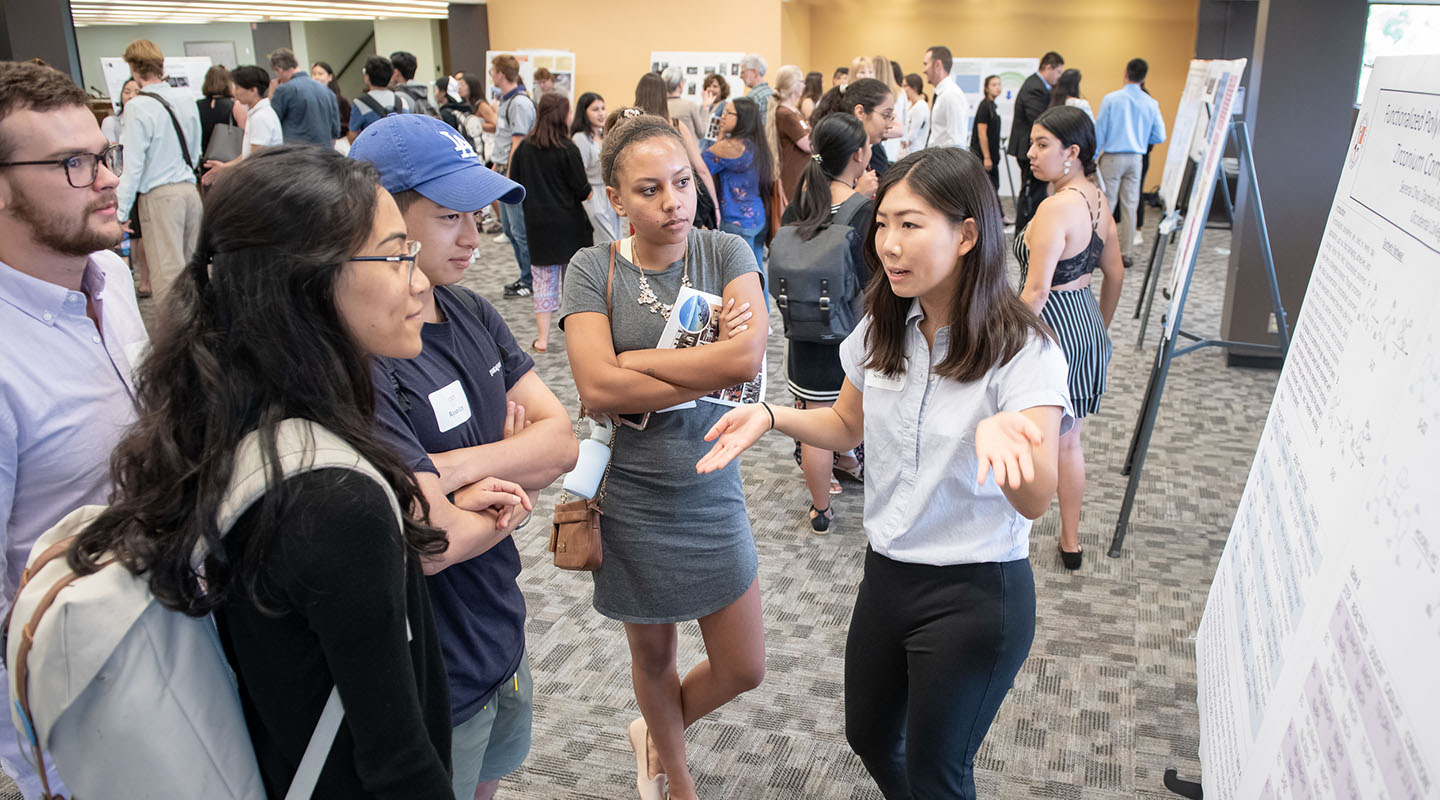 Please note that some of the content listed below is general information for the SRP and may be different than what is planned for the 2021 SRP. Due to continued uncertainties about the pandemic there will be modifications to the program based on the current regulations. The SRP 2021 has been confirmed for 10 weeks, June 1 - August 6, 2021.
Due to the pandemic and campus shutdown the SRP 2020 transitioned to a remote 8-week research program from the usual in-person, on-campus program commencing with a virtual conference in early August. If you would like to view the summer fellows' presentations visit the 2020 SRP Conference page. Click here for an analysis of our most recent SRP which was featured in our department newsletter.  
The SRP 2019 marked the "20th anniversary" for the program. Visit the website to read about the 2019 "20th anniversary" SRP conference.
---
The objectives of the summer research program at Occidental are to:
Sponsor faculty/student collaborative research
Provide an academic alternative to nonacademic summer jobs
Increase students' preparation for leadership roles in professions and/or public service
Create an intellectual community, with opportunities for interdisciplinary exchange
Enrich the academic experience of our most capable and promising students
Encourage good students, especially students from under-represented groups, to consider careers in the scholarly professions
We are pleased to announce fellowship opportunities for students working in any area of study. Support is provided by the College and by endowments, grants, and gifts from many sources. The program is highly selective, and some preference is given to students who are completing their junior year, and have had no prior summer fellowship support. Factors considered during the selection process are:
The quality of the proposal
The strength of faculty support
An effective personal statement
An academic history consistent with the ability to do the proposed research
Summer research fellows will receive a study grant for ten weeks of research. Study grants will be paid out in 4 installments over the course of 10 weeks. Exact payment dates will be listed on your contract if you are selected to participate in this program. Depending on financial need, fellows who choose to live on campus (and if available for SRP 2021) will be charged a fee per week to cover the costs of the housing and meal plan copay. Generally, the amount awarded for summer research is taxable, but the College is not obligated to withhold taxes or send a 1099, so students should retain a copy of their study grant contract as part of their tax records. Since individual tax liability depends on each individual's circumstances, Fellows should contact their personal tax advisor with any questions or concerns.
Expectations
Opportunities for Fellows working on different projects to meet together and close collaboration between Fellow and faculty mentor are essential features of the program. To promote discussion among student researchers, regular meetings of fellows in affiliated disciplines will be organized by the faculty area coordinators. Cross-disciplinary exchange will be facilitated by the scheduling of group gatherings, featuring guest speakers, lab tours and round table discussion. Community-based projects are encouraged, but students must be doing actual research (not fulfilling the terms of an internship) and must arrange their schedules in order to participate in URC scheduled events, area group meetings and mentor-arranged meetings.
Requirements of the program are as follows:
a full-time exclusive commitment by Fellows for the entire stated ten-week program period (except in very unusual circumstances, late starts and early departures will not be allowed)
participation in research ethics training -- in-person at our ethics seminar and through completion of an online certification program
participation in all scheduled meetings
regular meetings with the mentor  
participation in the assessment effort 
submission of an abstract of the work
submission of a five to ten page final report to the URC and to the faculty mentor before receipt of the final study grant payment. (Note: Faculty members may require a longer report. In such cases, the URC will accept a copy of that report. You will not need to write two reports).
presentation of the results at the Oxy Summer Research Conference
if appropriate, presentation at the fall SCCUR conference. Fellows may also consider presenting their work at the spring NCRC (Harvard) or NCUR (institution varies by year) conferences or other national/professional conferences. The URC may be able to award funding for conference travel presentations.
In addition, there is an expectation that all Fellows will have and maintain high academic and social standing.  Applicants should note that their grade report and personal conduct record will be reviewed as part of the application process.
---
Summer Research funding is available from a variety of programs, each of which has specific requirements and conditions. Proposals will be considered for all programs for which they qualify and students will be notified of the source of their funding.
---
TO APPLY:
If you would like to apply for one of these grants, you should develop an outline of your project and approach a faculty member with whom you would like to work to discuss the feasibility of collaborating with her or him over the summer.  Only tenure-track and continuing non tenure-track faculty who will be on-campus during the summer are eligible to serve as mentors. In addition, NTT faculty must be planning to return in the fall in order to serve as a summer mentor.  Many faculty prefer that student research be closely aligned with their own work.
After you and your potential faculty mentor have agreed to apply for fellowship support, begin your application packet. Applications from students who have failed to submit final reports or other required materials from previous URC grants (ASP, SRP, etc.) will not be accepted.
Summer Research Program 2021 Application form (Please note: Due to the campus closure applications for SRP 2021 must be completed via the application form and the following listed components will need to be uploaded on the form.)
Proposals should describe the work you propose to do, explain the methods you propose to use, tell why it is important, and review the results of prior investigations by you or other investigators. Proposals should begin with a 1-paragraph abstract less than 250 words long. Literature citations should be included where appropriate (for tables and figures as well as quotes) along with a list of references. The proposal should be written to be understandable to a non-specialist. (3-4 pages)

For Summer 2021: Please note that in your discussions and planning with your mentor you should develop a contingency plan on how your research may need to be altered in order to be conducted in a remote environment where COVID-19 precludes most in-person activity. The application will have a place where you can demonstrate that this contingency plan has been prepared. 
The personal statement should indicate your preparation [for example, course work] to undertake the project, and how this fellowship fits with your educational and career plans. (1-2 pages)
Budget cover sheet. It is a fillable PDF form. Make sure to fill it in completely before printing. Even if you are not requesting any budget, this form should be attached to your proposal - there is a check box that you will use to affirm that no funds are being requested.  Research expense support is limited; please bear this in mind as you discuss the feasibility of your project with your mentor. The department may have to make a contribution or you may have to seek additional funds outside of the URC/SRP process. Funds will be awarded up-front and it is unlikely that late requests for supply funding can be accomodated.
Check out our Get Support page for more detailed info on the application requirements.
The Summer Research Program 2021 Application form, project proposal (including 1 paragraph abstract), personal statement, and budget cover sheet are due by 5:00 pm PT on February 8, 2021. All materials submitted as part of the application must use 8.5" x 11" paper, single sided, with 1" margins using Times New Roman or Arial type font no smaller than 11 point and at least 1.5 line spacing. List your last name on the upper right hand corner of each page in your application. Must be saved as a single file
*All contents will need to be merged into a single file. Use Adobe Acrobat or DOCUPUB to merge multiple files into a single PDF. Save your applications packet as: Last name, First name_SRP 2021.pdf before submitting. The application packet will be submitted by uploading in the application form.
Your faculty mentor's recommendation form must include a description of her/his role in mentoring you in your project. They must ackowledge that you have a contingency plan on how your research may need to be altered in order to be conducted in a remote environment where COVID-19 precludes most in-person activity. Mentors are expected to be available to the Fellow on a continuing basis, to meet regularly with them, and to provide support and guidance in carrying out the research project and preparing a final report, poster, or other culminating project. The recommendation must be submitted to urc@oxy.edu by February 8, 2021 by the end of the day. The URC will not share faculty recommendation forms or letters with the students.
For faculty mentors: If you think you might be interested in participating as a mentor in the SRP, please have look at our SRP Faculty Info.  It describes how the program works, the role of the faculty mentor, and suggests some ways to encourage students to participate.
Pursuant to College policy and applicable federal and state laws and regulations, all research involving human subjects, vertebrate animal subjects, or recombinant DNA/select agents must be reviewed and approved by the College's Human Subjects Research Review Committee, the Institutional Animal Care and Use Committee, or the Institutional Biosafety Committee before research begins.
Students who are selected will be notified before Spring break if possible so that all applicants can make their summer plans accordingly. Questions about the summer research program should be directed to the URC at urc@oxy.edu.
Other Opportunities
A list of faculty initiated summer research opportunities that also provide College subsidized room and board on campus can be found on the URC web site under Faculty Sponsored Research. This list will be updated as information is received from faculty, through February 1, 2021.
Guidelines for College-Subsidized Housing and Meal Plan Support
*Due to current COVID-related restrictions, housing availability for SRP 2021 is still pending and we hope to have more information closer to the deadline.
The increasing number of undergraduates participating in research projects during the summer has required a formal procedure for coordinating the research activity and managing the demands on College resources associated with summer housing and meal plans. All Summer Research Program projects, including those listed under Faculty Sponsored Research, are eligible for subsidized on-campus housing and meal plans. Budgeting of the resources for the summer research program requires that only those programs listed on the URC web site are eligible for College-subsidized housing and meal plans. Housing and Meal Plan support for those students choosing to live off-campus is not available, nor is support available for graduating seniors. Dorm selection, placement and roommate assignments will be made by Residence Life.
The Undergraduate Research Center (URC) advisory committee has recommended that summer research students living on-campus contribute a portion (depending upon financial need) toward the cost of their summer housing and meal plan package. Susidized Housing and Meal Plan is available from Monday, May 30th through Saturday, August 7, 2021 only.  On-campus housing may be available in weeks prior to and shortly after the program, however there will be no subsidies offered for those weeks and arrangements must be made directly through Residence Life.
Final Requirements
SRP participants must present their findings at the end of summer conference, submit a final report consisting of five-to-ten pages reporting on the outcomes of their research project to the URC along with a 250-word abstract. Summer Research Scholars must also complete the various URC surveys, write a thank you note to the funding source or agency and consider presenting their research findings at SCCUR or another professional conference during the upcoming academic year. For details on final report and abstract, click here.