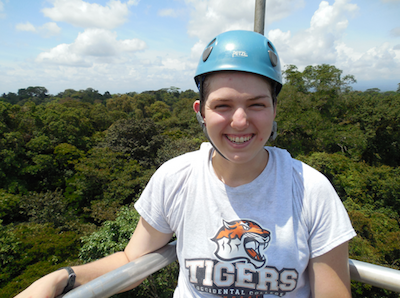 Unlike most of my fellow senior classmates, my last assignment was not turned in inside one of the hallowed halls of our now alma mater (whoa, that's weird to say!). I submitted my final group paper for BIO 370: Tropical Ecology just a few nights ago at the Institute for Tropical Ecology and Conservation in Bocas del Toro, Panama after eight days of intensive coral reef research. For the past three weeks, the class has been traveling through Central America, applying the ecology knowledge and research skills we have worked tirelessly on during the semester to conducting mini-research projects at each site, while simultaneously eating our weight in beans and rice.
Starting in Costa Rica, we visited La Selva Biological Station, which has also been my home for the past two summers while I worked on an independent research project for Oxy. Pre-breakfast birding, medicinal plant workshops, talks by resident researchers, group terrestrial organism studies, and some intense class games of Bananagrams only scratches the surface of our activities in the neotropical rain forest. From La Selva, we headed up the Costa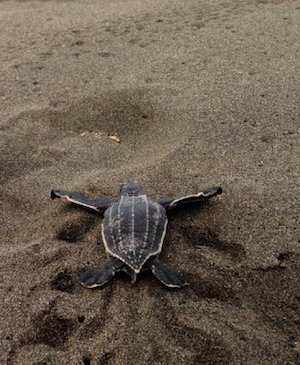 Rican coast to Pacuare Sea Turtle Preserve, where we volunteered to assist researchers with their projects, including releasing Leatherback Sea Turtles (quite possibly the cutest organisms I have ever seen!) and going on night patrols to watch for mother Leatherbacks laying eggs, measuring her size and making sure the nest site is in a place that is less likely to be found by poachers. We then traveled though La Amistad International Park to Talamanca, Costa Rica where we had the fantastic opportunity to stay with the Bribri indigenous group. Here, we were immersed in the Bribri's sustainable farming methods, their spiritual beliefs, their governmental struggles, and even got to meet with two of their Awawpa, or medicine men, to learn about their medical practices. As someone who used to pride themselves on knowing a fair amount about the area in which I conduct research, I was perplexed at the lack of knowledge I had about Costa Rican indigenous groups. As one of my classmates pointed out, people are an integral part of an ecosystem just as much as plants or animals are, and knowledge about the communities within and near the science we are interested in is as important as the research itself. After our visit with the Bribris, we made our way to our final destination: Bocas Del Toro, Panama, for a week's worth of snorkeling, spelunking in bats caves, and coral reef group research projects. Sleepy and slightly sunburned, we headed back to the capital where most of the class caught an early morning flight back to the US. I headed back to La Selva to finish up a research project, along with numerous other Oxy students who have been working on these projects for the past five years.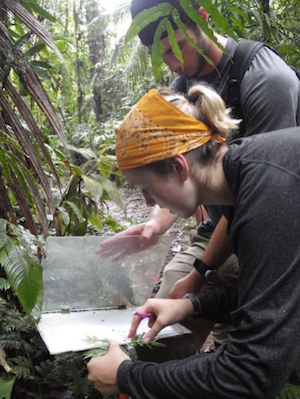 Known by research students as "The Census", the project initiated by Dr. Elizabeth Braker is investigating the high mortality rates of saplings of a common Costa Rican tree, Pentaclethra macroloba, by keeping track of herbivory by insects, soil type, growth rates, and light exposure of approximately 500 saplings. You may think that you would have to give up a summer job or pay a ton of money out of pocket in order to do research abroad, but not with the help of the Undergraduate Research Center's Summer Research Program! The Summer Research Program allows around 150 students to stay on campus to conduct independent research projects, ending with a research conference and a substantial stipend. A handful of those students choose to do their projects abroad, with the help of additional funding through the Richter program or through an outside grant attained by a professor like me. Research opportunities are also plentiful during the semester, which you can do in an established lab or group led by a professor, or make up your own project. Semester research can also count for course credit and are available in all departments on campus! In my opinion, SRP and semester research are two of Oxy's best kept secrets. Undergraduate research provides students with real, hands-on research experiences, provides them opportunities to create and test original questions, and challenges them to defend their work in a public space, which many people do not get to do while pursuing an undergraduate degree.
I am eternally grateful to all of the professors, Undergraduate Research Center and International Program Office staff members, and fellow student researchers who have made my undergraduate research experience incredibly rewarding and unforgettable. I bid you adieu (a bit teary eyed I admit!) as I spend my last few days as an Oxy student measuring Pentaclethra trees and reflecting on my undergraduate research career. I wouldn't have it any other way!