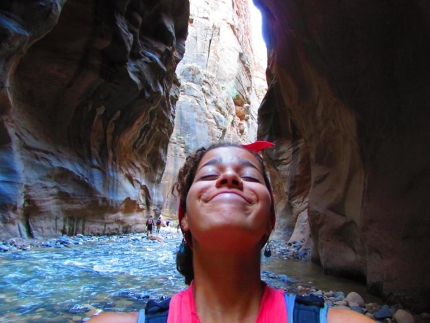 Hello friends, foes, prospective students, and whoever else may be reading this!
This is not my first time around the Oxy student voices blog block but it has been quite some time so allow me to reintroduce myself…
My name is Rhys, pronounced like "Reese" but spelled this way because my parents have been committed to giving me a hard time since day one (kidding!). I am a current junior cognitive science major, public health minor, from Seattle, and I work in the Office of Admission as a Diversity Initiative Intern.
This semester has been an interesting one. After finding out about my acceptance to study abroad over the summer--starting in January I will be going to New Orleans, Vietnam, South Africa, and Argentina for a global health program--I was hesitant about returning to school in LA. I love Oxy and couldn't imagine having a better undergraduate experience anywhere else but my adventurous spirit couldn't help being somewhat distracted knowing that there were only a few months between me and traveling the world.
I was apprehensive before but I am so appreciative for the past few months that I have had here at school. I feel like I have really found my niche at Oxy and finally understand how to navigate the academic pathways as well as the vibrant social and cultural opportunities that the school has to offer.
About a month ago I had one of the most memorable experiences of my college career thus far when I went to Zion National Park in Utah with a few friends. Considering we were all city kids road tripping from LA, we found ourselves a little unprepared for the Zion Wilderness. The hikes turned out to be a bit more taxing than expected (both emotionally and physically), the nights got a little cold, and we had a couple of mildly sketchy occurrences come up while passing through Vegas.
All this being said, the whole trip ended up being one of the most amazing experiences that I have had so far. I know that I will look back fondly down the road with family as well as the friends that I shared the experience with because I'm confident that we will be friends for quite some time.
The main take away that I guess I'm trying to get at is this: just when you think you've figured it all out at Oxy, you get hit with the unexpected--that sounds harsh but I think that it is a great thing. My biggest fear upon returning in August was that I would be bored as a junior who has "lived it all" but this has turned out not to be true at all. Even at my third year in I am being challenged in new ways and enjoying experiences that will shape me for a long time to come. I would be lying if I said that I am no longer ecstatic about studying abroad next semester, but it would also be untrue to say that I won't miss Oxy while I am gone. As they say, distance will make the heart grow fonder and I cannot wait to come back and tackle everything that comes my way next year as a senior.